After Maui officials named 388 unaccounted for after fires, many call to report they are safe
LAHAINA, Hawaii - Within a day of Maui County releasing 388 names of people unaccounted for following the deadliest U.S. wildfire in more than a century, more than 100 of them or their relatives came forward to say they're safe, the FBI said Friday.
The agency is reviewing the information they provided and working to remove the names from the list.
"We're very thankful for the people who have reached out by phone or email," Steven Merrill, the FBI's special agent in charge in Honolulu, said in a news conference. "As we get someone off of a list, this has enabled us to devote more resources to those who are still on the list."
Several people on the list told The Associated Press earlier in the day that they are alive and well, with a few also saying they were confused or frustrated to be on it. At least two others were among the victims of the fire — people who are known to have perished but have not yet been positively identified as deceased in the official tally, which currently stands at 115.
RELATED: Hawaii officials urging families of people missing after deadly wildfires to give DNA samples
Arturo Gonzalez Hernandez wound up on the list even though he moved away from Lahaina, the historic seaside community demolished in the blaze, three years ago, and he called the FBI on Friday to provide his name and birthdate. An inaccurate list could cause unnecessary stress, he said.
"Some people are still struggling with the impact of so many people dying," said Gonzalez, who now lives up the coast near Kapalua.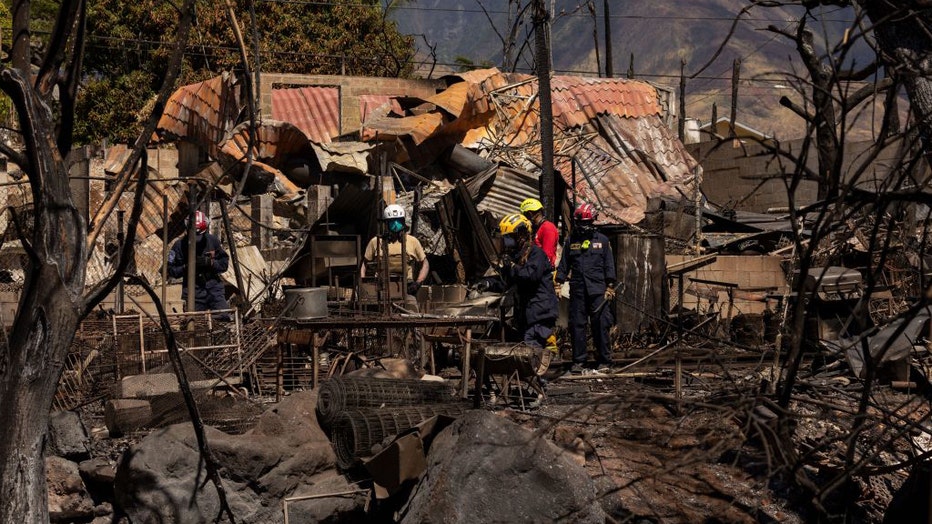 Search and recovery team members check charred buildings and cars in the aftermath of the Maui wildfires in Lahaina, Hawaii, on August 18, 2023. (YUKI IWAMURA/AFP via Getty Images)
Terrí Thomas was killed when fire overtook her car as she fled from her apartment with her two dogs and two friends, said her cousin, Tammy Cruz, of Columbus, Georgia. The car became stuck in traffic and only one of the friends escaped. He later told Cruz that Thomas was crying hysterically when he last saw her, the car growing hotter by the second.
Thomas' niece provided a DNA swab to help identify her remains, Cruz said Friday, but the family hasn't received notification of her death.
"Her dogs were her world to her," Cruz said. "I knew she wouldn't have left her dogs."
The 388 names represented a portion of a broader list of up to 1,100 people reported missing that the FBI said earlier this week it was working to validate. Maui County said the newly published list included those for whom it had first and last names as well as verified contact information for someone who reported them missing.
"Once those names come out, it can and will cause pain for folks whose loved ones are listed," Police Chief John Pelletier said in a statement as they were released late Thursday. "This is not an easy thing to do, but we want to make sure that we are doing everything we can to make this investigation as complete and thorough as possible."
RELATED: United Airlines pilot cuts Maui vacation short, flies tourists off island amid wildfires
Officials asked anyone who knows someone on the list to contact authorities.
Something similar happened after a wildfire in 2018 that killed 85 people and destroyed the town of Paradise, California. Authorities published a list of the missing in the local newspaper, a decision that helped identify scores of people who had made it out alive but were listed as missing. Within a month, it dropped from 1,300 names to only a dozen.
Heidi Mazur, of Lahaina, told AP she was frustrated to be on the unaccounted-for list when she has been active on Facebook and started an online fundraiser after the fire.
"They will find me in a New York minute if I don't pay my car registration or taxes, but they can't seem to locate me in a disaster here in Lahaina!" she said via Facebook Mesenger.
MalamaKai Watson, 40, was not in Lahaina during the fires but on the other side of the island. With cellphone and internet service disrupted, she understood when she first appeared on a grassroots Facebook list of the missing. But she was quickly listed as found after she was able to get in touch with her loved ones.
She was baffled to be on the new, more official list. She called the FBI to say she was safe, but didn't see any changes online Friday.
"Now it's annoying," she said. "There are people on there who are definitely missing. The focus needs to be on the people needing to be found still."
Seth Alberico, a soccer coach from California's Bay Area, said his name and his daughter Kalia's had previously circulated on the unofficial, crowdsourced list, but he didn't realize they were also on the new "verified" list until AP told him.
"I would love to be taken off the list," he said. "We are both safe."
He was staying in a condo on Kaanapali Beach not far from the burn area at the time of the Aug. 8 fire. A former player knew he had been on Maui and knew he had a daughter, and she reported them missing when she couldn't reach him on Facebook afterward, he said. His daughter hadn't even been with him, he said.
He said he sent messages on Facebook and Instagram trying to be taken off the list, to no avail.
An additional 1,732 people reported missing had been found safe as of Thursday afternoon, officials said.
Crews have been searching for remains among the ashes of destroyed businesses and multistory residential buildings. The search will take weeks to complete, with many of the last structures posing complicated challenges, Army Col. David Fielder, deputy commander of the joint task force responding to the wildfires, said in a news conference Friday.
Dozens of searchers have also been combing a 4-mile (6.4-kilometer) stretch of water for signs of anyone who might have perished after climbing over a seawall to try to escape the flames and black smoke enveloping downtown.
Earlier in the week, officials pleaded for relatives of people where were still unaccounted for to come forward and give DNA samples to help identify remains, promising that the samples would not be entered into law enforcement databases or used in any other way. At the time, DNA had been collected from only 104 families, a figure officials described as concerningly low.
Maui Prosecuting Attorney Andrew Martin, who is leading the family assistance center, said there has been a slight increase in the donation of samples since then, but "we're still not where we want to be."
Among the many reasons people may be hesitant is a "historical and generational mistrust of the government," Martin said, referring to a sentiment rooted in the 1893 overthrow of the Hawaiian Kingdom.
As of Thursday, officials had notified the families of 35 victims who have been identified, but relatives of 11 more had not been located or notified.
___
Johnson reported from Seattle; Boone from Boise, Idaho; and Dupuy from New York. Heather Hollingsworth in Mission, Kansas; Andrew Selsky in Salem, Oregon; and Mark Thiessen in Anchorage, Alaska, contributed.