Marathon runner with alopecia bullied online finds support from Twitter community
Lindsay Walter had just crossed the finish line of the London Marathon, one of more than 50 marathon events she's participated in and finished. 
She later took to Twitter to post a celebratory photo marking her finish, but it was followed by one users' comment that said, "You look like a sick, ugly man," Walter, 31, told LiveNOW from FOX. 
Walter has alopecia and began losing her hair when she was just two years old.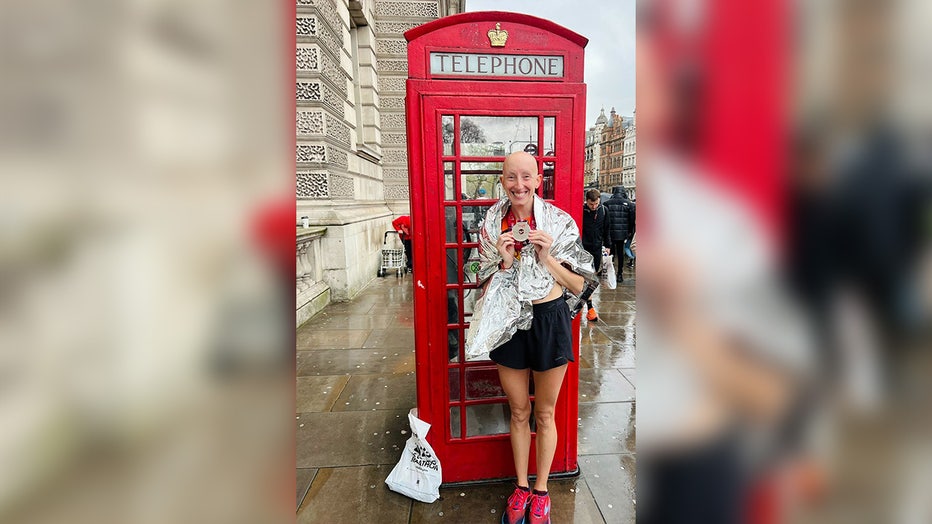 FILE - Lindsay Walter standing in front of one of London's iconic red phone booths and proudly showing her medal after completing the London Marathon.  (Lindsay Walter)
Walter said that she had been bullied for her appearance since she was a child and seeing the comment was very triggering, so she removed the photo. 
"I was constantly referenced as a man and/or a boy and for me that's such a trigger and so I immediately deleted it," Walter explained. "I felt so self-conscious and was on that high and then just felt so defeated." 
But after taking some time to look back on her life and at all of the hardships she overcame despite her disease, she decided to post her photo once more and Twitter lit up. 
"I decided I'm not letting negativity win," Walter said. "I just ran this marathon, I've done so much, I've overcome so much and have a lot to be proud of." 
Her image has now been retweeted thousands of times and followed by many positive messages. 
Walter has lived with alopecia since she was very young. The autoimmune skin disease often leads to loss of hair in patches and total hair loss in most severe cases. Some 6.7 million Americans live with alopecia, according to the National Library of Medicine. 
Walter wore a wig for some 20 years until embracing her baldness and running to raise awareness with others with alopecia like her, she said. 
In the wake of the positive response from the Twitter community, she said she is overwhelmed by the response. 
"I feel so proud and that one small little comment doesn't even matter anymore because of how kind people were and I just feel so encouraged and so inspired to keep being proud of my alopecia and paving the way for anyone in the alopecia community," Walter said.