Louisiana senior, 16, awarded more than $9 million in scholarships
Maliq Barnes, 16, has broken a national record for the most scholarships offered to a graduating senior, his high school claims. 
Barnes is graduating from the International High School of New Orleans (IHSNO) in Louisiana and has been accepted to 175 colleges and universities. While that is an impressive feat by itself, Barnes has also been offered more than $9 million in scholarships from more than 125 different schools, a national record, according to his school. 
"Whenever I started to see the first offers rolling in, it was a pretty good feeling. It was not surprising to me because I anticipated it. I was trying to be a million dollar scholar like the scholars that came before me at International," Barnes told FOX TV Stations.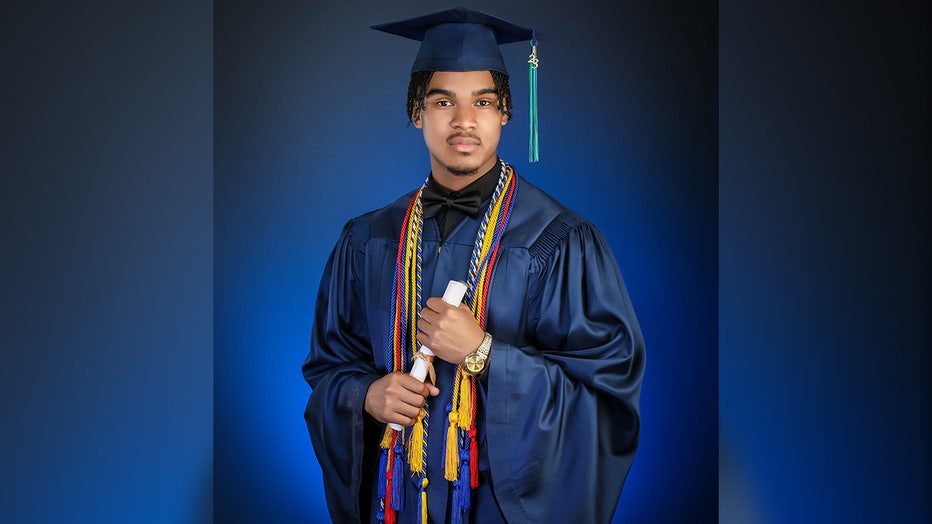 Dennis Maliq Barnes senior graduation photo. (Carl Lynch/Image 1 Photography)
Barnes, whose full name is Dennis Maliq Barnes, had his eye on the prize ever since he began going to International but he never anticipated it would amount to him breaking a national record. 
The last record for top college scholarship recipient went to a high school senior in Lafayette, Louisiana, in 2019, IHSNO claimed. That student received $8.7 million but the school is still working to confirm that Barnes is now the new record holder. 
FOX TV Stations reached out to Guinness World Records to confirm the new record but Guinness could not confirm it at this time. The school is also working to confirm Barnes' record.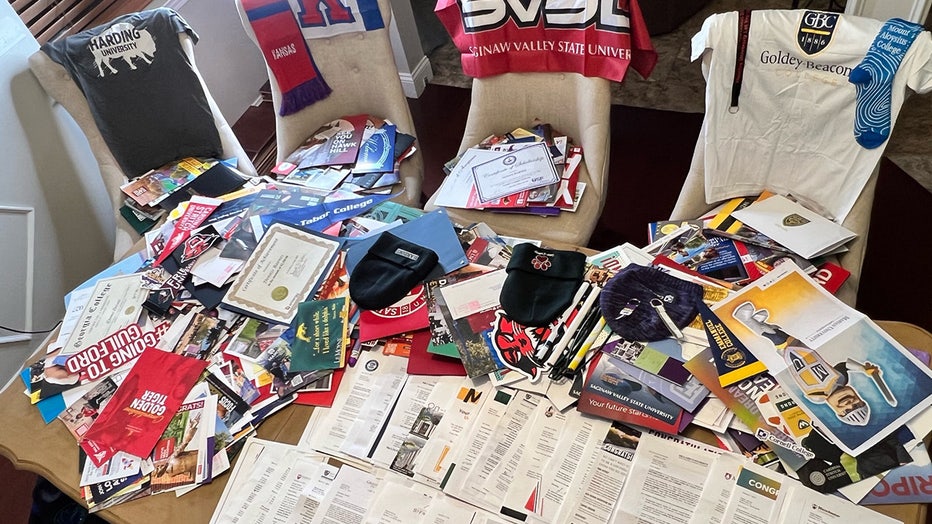 Maliq's many college/university offerings.  (IHSNO)
Barnes chalked up his amazing achievement to hard work and most importantly, sticking to his goals. 
"Dennis has demonstrated and handled the depth and complexities of his renowned academic accomplishments," said IHSNO College Admissions Counselor Denise James. "He is humble, a goal-setter, a positive thinker, and his words of encouragement towards his peers are rewarding." 
A long list of academic accomplishments follow Barnes as he takes his next step in his educational journey.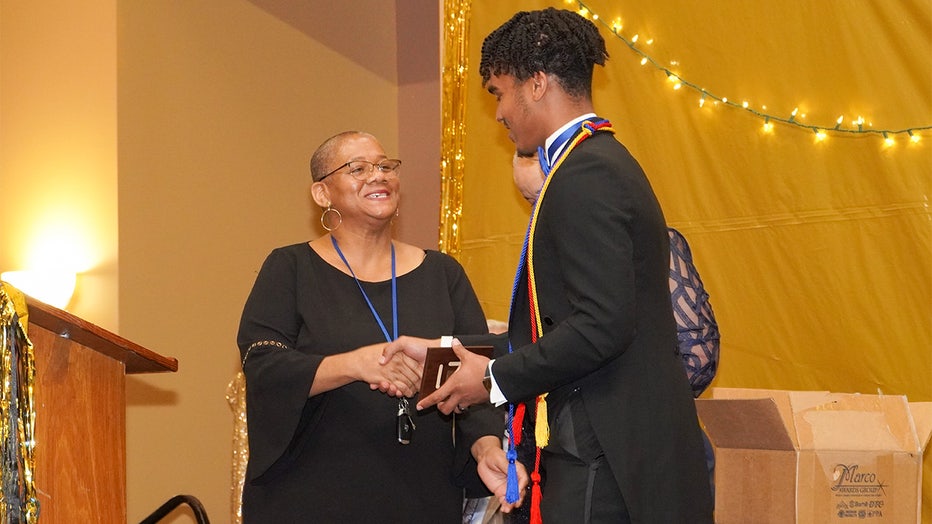 Maliq during his National Honor Society induction in late March 2023.  (IHSNO)
Barnes maintained an above 4.0 grade point average and was a candidate for the Principal Honor Roll during his time at IHSNO.  
He's also been enrolled at Southern University of New Orleans for the past two years in order to gain college credits while attending high school. 
He participated in extracurricular activities such as track and was a former football player. 
"I like the Kansas City Chiefs, that's one of my favorites," Barnes said.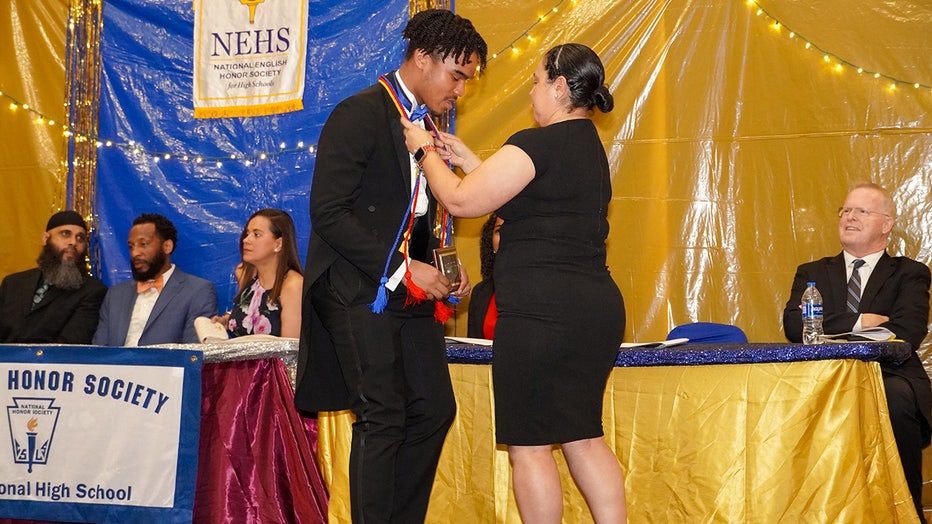 Maliq during his National Honor Society induction in late March 2023.  (IHSNO)
Barnes was moved up grade levels due to his exceptional academic performance, which is why he will be graduating at 16. 
Furthermore, he's fluent in Spanish and has received a "Diplomas en Español" from the Inistitute Cervantes on behalf of Spain's Ministry of Education, Culture and Sports. 
He was also recently awarded the Jose Luis Baños Award for Excellence in the Spanish Language by Maria Page, Honorary Consul of Spain in New Orleans, Louisiana. 
Barnes hopes to reach $10 million in scholarships by the end of April and come May 2, he will make his official decision on which college he will attend. 
"We're just trying to allow our feet to touch the ground. We're just so grateful, humble. We always knew that it was something special about Maliq and he's just been a joy to raise," said Maliq's father, who's also named Dennis. "He's really a good kid." 
Barnes plans to get a dual major in computer science and criminal justice once he's enrolled in his chosen college.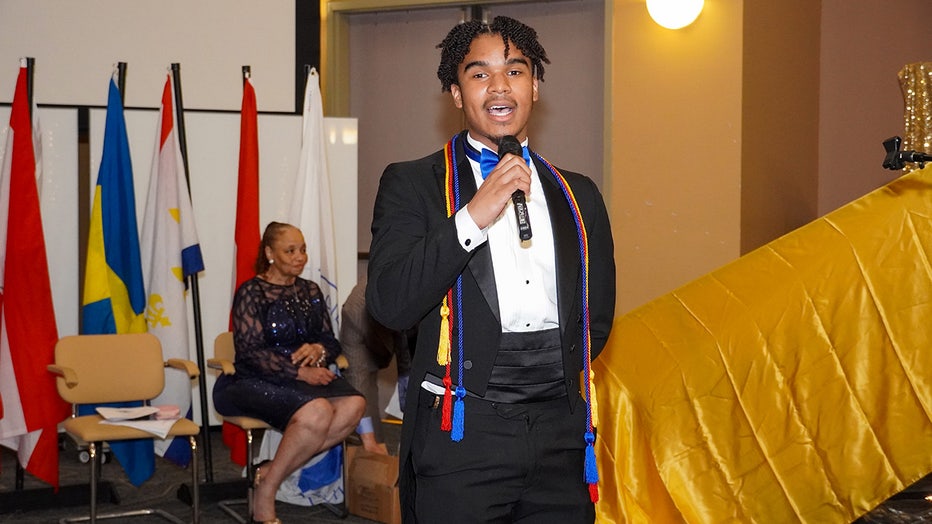 Maliq speaking during his National Honor Society induction in late March 2023.  (IHSNO)
"We have AI, we have cybersecurity, so many different things that can be improved on right now and that I want to be a part of," Barnes explained. "I love law too. That was a direction I considered going in but dealing with these new technologies, developing technologies, there's going to be things like intellectual property and NFTs and things that you're going to need a law degree for. Just like how you own anything else, just like how you go to court for anything else, that's going to be something that you need a lawyer for." 
He also wants the dual major so he can be flexible in his future career path. 
As Barnes prepares for graduation and for the summer break, he'll still be keeping busy with his ongoing internship at the Louisiana State Bar Association and he's looking forward to working as a teacher for a program called Breakthrough New Orleans. 
"I'm not sure what grade I'm going to be teaching yet. I hope to be teaching math. But I definitely look forward to that," he said. 
Barnes also plans to spend a lot of time hanging out with his 14-year-old sister over the summer break. 
This story was reported from Los Angeles.