Lawyers allege cable TV, phone companies are also responsible in Maui wildfires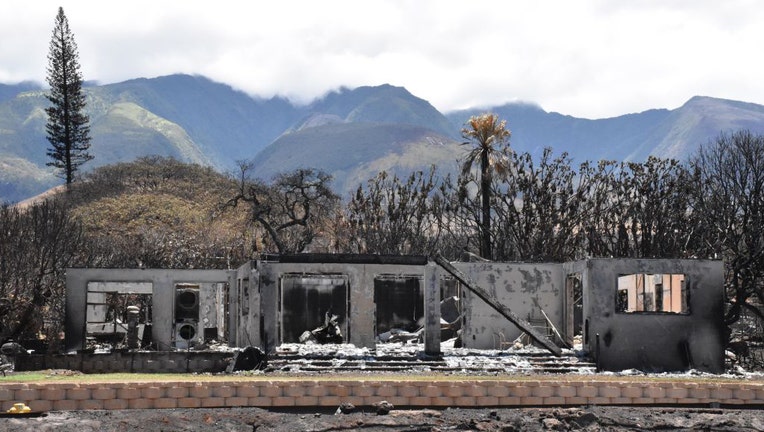 article
HONOLULU - After a visit to a warehouse where Hawaiian Electric Company is housing power poles and electrical equipment that may be key to the investigation of last month's devastating fires on Maui, lawyers for Lahaina residents and business owners told a court Tuesday that cable TV and telephone companies share responsibility for the disaster because they allegedly overloaded and destabilized some of the poles.
The lawyers said the cables were attached in a way that put too much tension on the poles, causing them to lean and break in the winds on Aug. 8 when flames burned down much of Lahaina, killing at least 115 people and destroying more than 2,000 structures.
LippSmith LLP has filed a proposed class action against Hawaii's electric utility and Maui County in state court in Hawaii. Attorney Graham LippSmith is now asking the court to add multiple telecommunications companies and public and private landowners to the original suit.
RELATED: Pictures of Maui fire damage 'will shock you,' Hawaii governor says
"In a disaster of this magnitude, it takes some time for all the potentially responsible parties to come into focus and be brought into court. Our investigation thus far shows a constellation of many serious failures that together led to this horrible tragedy," MaryBeth LippSmith, co-founder of the Hawaii- and California-based firm, said in an interview Tuesday.
Pacific Gas & Electric in California filed for bankruptcy in 2019 due to a succession of harrowing wildfires ignited by its long-neglected electrical grid in Northern California.
But LippSmith rejected the suggestion the firm is seeking extra defendants in the event that Hawaiian Electric declares bankruptcy. Rather it's trying to get at the root of multiple failures in order to prevent this kind of tragedy in the future, she said. The lawsuit seeks damages and injunctive relief, including a court order to force the defendants to address fire risk.
When LippSmith's team visited the warehouse, together with officials with the Bureau of Alcohol, Tobacco, Firearms and Explosives, they said they saw a pole that had snapped at the base and fallen to the ground, damaging the cross arms of a neighboring pole. Because sections of poles had been cut up, apparently with a chainsaw, they could not tell if one pole or several had snapped, and they said they were not allowed close enough to identify pole numbers.
RELATED: 4 family members die in Hawaii wildfire: 'It's like a gut punch'
The cables had also been stripped off the poles and Hawaiian Electric only brought its own equipment to the warehouse, they said. The sterile display bears little relation to the equipment after the fire, so the attorneys and their fire investigators viewed pre-fire photos of the poles. They said those showed no slack in the cable TV and telephone lines that ran between the poles, mid-height. That over-tensioning and the uneven distribution of weight caused the poles to lean downhill, they claim.
Charter Communications, which owns cable TV provider Spectrum, declined to comment.
The proposed amended complaint still holds the power utilities responsible for the wildfires. It accuses them of failing to shut off power preemptively despite exceptionally high winds and dry conditions, failing to replace old wooden poles too weak to withstand 105 mile per hours winds as required by a 2002 national standard, briefly recharging the lines on Aug. 8 in parts of Lahaina and blocking evacuation routes while crews serviced downed lines.
RELATED: Hawaii officials urging families of people missing after deadly wildfires to give DNA samples
The complaint also seeks to hold other parties responsible. It says when old wooden power poles fell, they landed on highly flammable vegetation that had not been maintained by private and state landowners and both "ignited the fire and fueled its cataclysmic spread." It says the county should have properly maintained vegetation, aggressively reduced nonnative plants, and sounded sirens to warn people of the approaching fire.
Hawaiian Electric acknowledged last week that its power lines started a fire on the morning of Aug. 8, but faulted county firefighters for declaring the blaze contained and then leaving the scene, only to have a second wildfire break out nearby and become the deadliest in the U.S. in more than a century.
Hawaiian Electric is a for-profit, investor-owned, publicly traded utility that serves 95% of Hawaii's electric customers. It faces a spate of new lawsuits that seek to hold it responsible.
In response to a request for comment, a utility spokesperson said Tuesday the company doesn't comment on pending litigation. The Hawaii Department of Land and Natural Resources, named as a defendant, said the same.
"We are awaiting guidance from our legal counsel before addressing," a Maui County spokesperson said when asked for comment.
Maui County is blaming the utility for failing to shut off power. John Fiske, an attorney at a California firm that's representing the county, has said the ultimate responsibility rests with Hawaiian Electric to properly keep up its equipment, and make sure lines are not live when they're downed or could be downed.
McDermott reported from Providence, Rhode Island.