Krispy Kreme unveils festive doughnuts ahead of 4th of July
CHARLOTTE, N.C. - In honor of the Fourth of July, Krispy Kreme is celebrating with new holiday-themed doughnuts. 
According to the doughnut giant, beginning June 21, customers can purchase the "Stars and Stripes Dozen," which features three all-new doughnuts. The treats can be purchased individually or by the dozen in a custom, Fourth of July-themed box.
The new doughnut flavors featured are: 
Red Velvet Sparkler Doughnut – A red velvet cake doughnut topped with cream cheese icing and a stars and pearls sprinkle blend.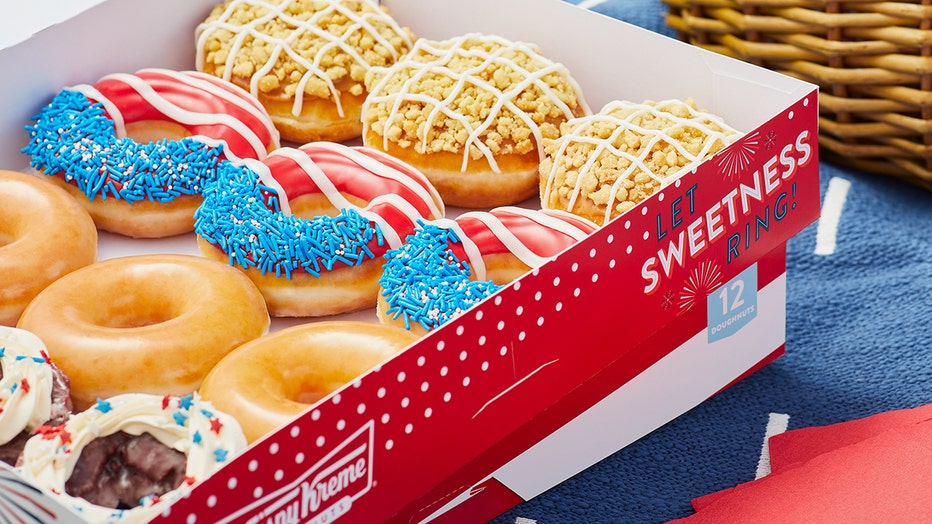 Product images of holiday-themed Krispy Kreme doughnuts (Credit: Krispy Kreme)
NEW Freedom Flag Doughnut – an original glazed doughnut dipped in red icing and decorated like an American flag with a blue and white sprinkle blend, and white icing stripes.
All-American Apple Pie Doughnut – an unglazed shell filled with apple cinnamon filling, dipped in caramel icing and a graham cracker crumb, finished with a drizzle of white icing.
"Family, friends, food, fireworks … the Fourth of July is so much fun, and our new Stars and Stripes doughnuts will let sweetness ring at any gathering – from backyard barbeques to lined sidewalks at neighborhood and community parades across the land," said Dave Skena, Krispy Kreme's global chief brand officer.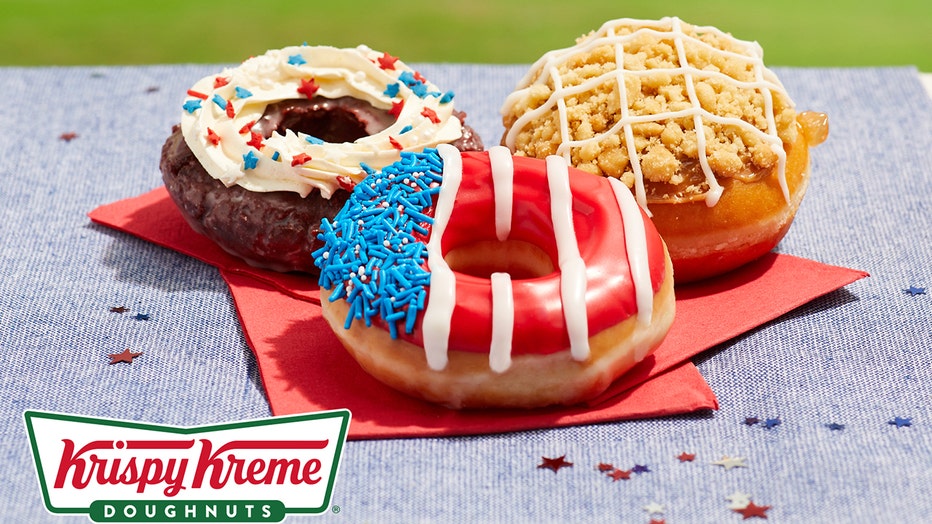 4th of July-inspired Krispy Kreme doughnuts (Credit: Krispy Kreme)
The Charlotte, North Carolina-based doughnut chain will also offer a six-pack featuring holiday-themed doughnuts at select grocery stores including Walmart, Kroger, Food Lion, Publix, Stater Brothers and Wakefern.
RELATED: The History of Krispy Kreme
The offer is available for a limited time and is available in-shop and for pickup or delivery via Krispy Kreme's app and website at participating shops across the U.S.
In addition, fans who wear red, white and blue to participating Krispy Kreme shops will receive a free original glazed doughnut.
This story was reported from Los Angeles.