Krispy Kreme bringing 'fan favs' back to menu for limited time
CHARLOTTE, N.C. - Krispy Kreme on Tuesday announced plans to bring back four "fan favorites" from the past five years for a limited time. 
The doughnut chain said the returning items, which it calls the "Fan Favs" collection, were the most popular and top-selling flavors of previous limited-time offerings. 
The four includes a Banana Pudding Doughnut, described as a doughnut filled with Banana Pudding Kreme, hand-dipped in yellow icing, and decorated with white Kreme and vanilla wafer cookies. 
Another favorite returning to the menu is the Chocolate Kreme Pie Doughnut, which features Chocolate Custard Kreme filling, chocolate icing, and mini chocolate chip pieces. 
The Key Lime Pie Doughnut has a Key Lime Kreme filling, is dipped in lime green icing and topped with graham cracker crumb pieces. 
The last Fan Fav item is the Strawberries & Kreme Doughnut, which is similarly filled with Strawberry & Kreme filling, dipped in strawberry icing and decorated with swirls of white icing.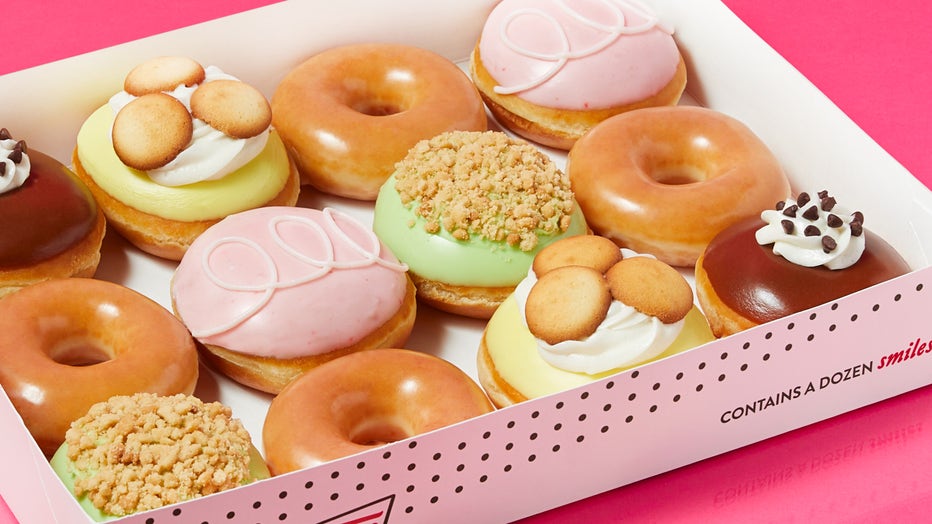 The Krispy Kreme "Fan Favs" are pictured in a provided image. (Credit: Krispy Kreme)
"Our fans know what they want, so we thought, 'let's give them what they want'," Dave Skena, Krispy Kreme's global chief brand officer, said in a statement. 
Starting Tuesday, Krispy Kreme said the four Fan Favs will be available at U.S. stores and for pickup or delivery via Krispy Kreme's app and website.  
The Charlotte, N.C.-based doughnut chain often makes headlines for its inventive promotions. Last month, it offered a "sweet tax break" deal on doughnuts for Tax Day, debuted a new line of cookie-flavored doughnuts that use Oreo and Chips Ahoy! pieces, and made news for its ongoing deal offered to students who get A's on their report cards. 
The latest promotion is one commonly seen among restaurant chains: bringing back items periodically to generate brand buzz.
Taco Bell executives have indicated in the past that the company's "magic formula" for growth includes this tactic. Last year, Taco Bell demonstrated this by bringing back another popular menu item: the Mexican Pizza. 
RELATED: Taco Bell letting fans decide which discontinued menu item to bring back
This story was reported from Cincinnati.