Here are the key moments from the first Republican presidential debate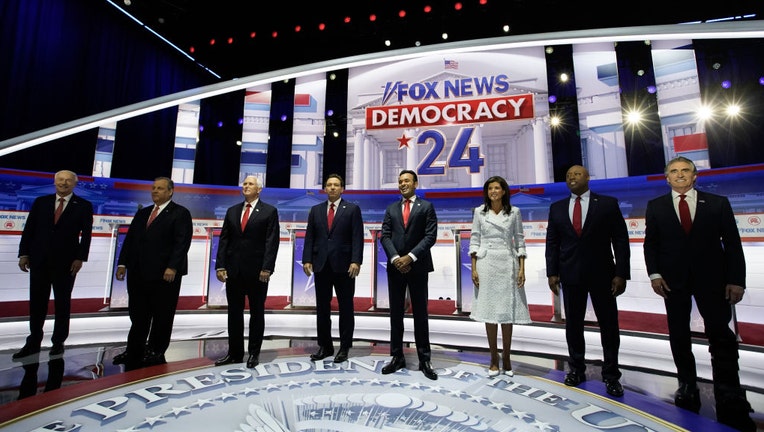 article
MILWAUKEE - Former President Donald Trump and Florida Gov. Ron DeSantis have dominated the Republican presidential nomination fight for much of the year. Neither dominated the debate stage Wednesday night.
Trump, of course, decided to skip the GOP's opening presidential primary debate given his overwhelming lead in the polls. DeSantis showed up, but he was overshadowed for much of the night by political newcomer Vivek Ramaswamy.
And there was no shortage of aggressive performances from the others on stage either. Former United Nations ambassador Nikki Haley, former Vice President Mike Pence and former New Jersey Gov. Chris Christie were aggressive when given the opportunity.
It took more than an hour for moderators to ask about Trump's legal battles, a discussion previewed with a video of the Atlanta jail where he will surrender on charges Thursday.
RELATED: Republican debate: 2024 presidential candidates on Trump
The former president scheduled counterprogramming with an interview aired on X, formerly known as Twitter, while his team suggested that the debate was essentially an audience to see who's best positioned to serve as his running mate.
Here are our takeaways from an action-filled night:
Vivek grabs the spotlight
At the center of the stage, and the center of the debate's hottest exchanges, was a 38-year-old man who no one expected to be there even a few months ago – a novice candidate and technology entrepreneur named Vivek Ramaswamy.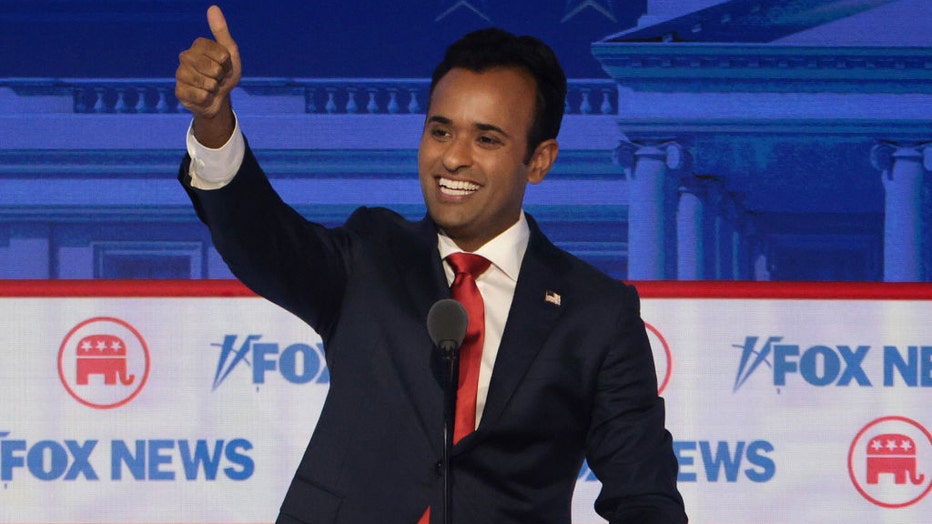 Republican presidential candidate, Vivek Ramaswamy participates in the first debate of the GOP primary season hosted by FOX News at the Fiserv Forum on August 23, 2023 in Milwaukee, Wisconsin. Eight presidential hopefuls squared off in the first Repu
Though he's well behind Trump, Ramaswamy has crept up in recent polls, leading to his position next to DeSantis at center stage. And he quickly showed why when he showcased his ready-for-video, on-message approach — talking about how his poor parents moved to the U.S. and gave him the chance to found billion-dollar companies.
Then Ramaswamy started to throw elbows. At one point he declared, "I'm the only person on the stage who isn't bought and paid for." He slammed his rivals as "super PAC puppets" who were using "ready-made, pre-prepared slogans" to attack him.
RELATED: Republican debate: Candidates tangle in Milwaukee, vying to be leading alternative to Trump
He seemed to be betting that primary voters preferred something memorable said to something done. His rivals were having none of it.
"Now is not the time for on-the-job training," Pence said. "We don't need to bring in a rookie."
Christie cut in during one of Ramaswamy's most biting attacks. "I've had enough of a guy who stands up here who sounds like ChatGPT," Christie said, adding that Ramaswamy's opening line about being a skinny guy with a hard-to-pronounce name reminded him of former President Barack Obama — not a compliment on a Republican stage. Ramaswamy responded by asking Christie for a "hug," referencing when Obama visited Christie's state following Hurricane Sandy.
Haley attacked Ramaswamy's argument that the U.S. shouldn't support Ukraine in its defense against Russia's invasion. "Under your watch, you would make America less safe. You have no foreign policy experience and it shows," Haley told him, standing directly to his left.
Navigating Trump
It took more than an hour for the candidates to confront the elephant not in the room.
And when they did, most of the participants raised their hands to say they'd support Trump even if he was convicted. That's after the moderators noted that Trump is facing more than 90 criminal counts in separate cases across four jurisdictions.
Ramaswamy vowed to pardon Trump if given the chance.
"Let's just speak the truth. President Trump, I believe, was the best president of the 21st century. It's a fact," Ramaswamy said.
Christie, a former U.S. attorney and frequent Trump antagonist, pushed back aggressively despite being drowned out at times by the audience's boos.
Even if people disagree with the criminal charges, Christie said, "The conduct is beneath the office of the president of the United States."
Divide on abortion post-Dobbs
The Republicans on stage did not downplay their strong opposition to abortion rights when given the opportunity. But there was a clear divide among the candidates over whether to push for a federal abortion ban.
Haley called on her opponents to be honest with voters that a federal law that imposes an abortion ban on all states would likely never get through the narrowly divided Congress. She said the issue should be sent back to the states. She also made a personal appeal.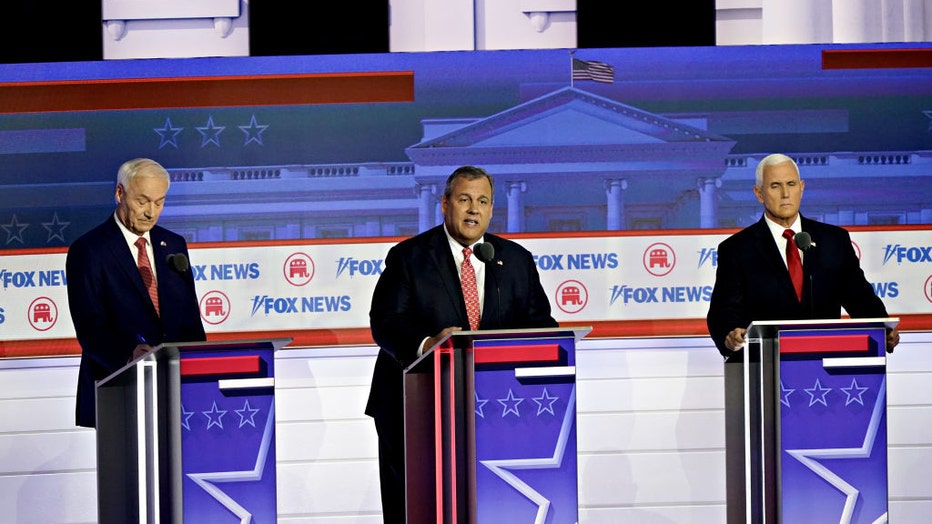 Asa Hutchinson, former governor of Arkansas and 2024 Republican presidential candidate, from left, Chris Christie, former governor of New Jersey and 2024 Republican presidential candidate, and Former Vice President Mike Pence, 2024 Republican preside
"We need to stop demonizing this issue," Haley said. "We aren't going to put a woman in jail ... if she has an abortion."
On the other side: Pence, an evangelical Christian who has long fought against abortion rights. Both Pence and Scott openly endorsed a national ban on abortions at 15 weeks at least. Pence said that Haley's call to find consensus in the states "is the opposite of leadership."
"It's not a states-only issue. It's a moral issue," he said.
As for DeSantis, who signed a 6-week abortion into Florida law just this spring, he didn't take a position on a federal ban when asked directly. He said he was "proud" to sign his state's abortion ban, which is one of the strictest in the nation.
Democrats were likely happy with the discussion. They already plan to make abortion a central issue in next fall's general election.
DeSantis in the background
The Florida governor was the highest polling contender on stage. Yet at the debate, he seemed to slide into the background as Ramaswamy took most of the attacks and fought with others on stage.
DeSantis rarely waded into the back-and-forth, preferring to wait for a moment when he could give a lengthy statement. His critics – especially Trump – have hammered him for being awkward and wooden, and he had relatively few opportunities to dispel that impression.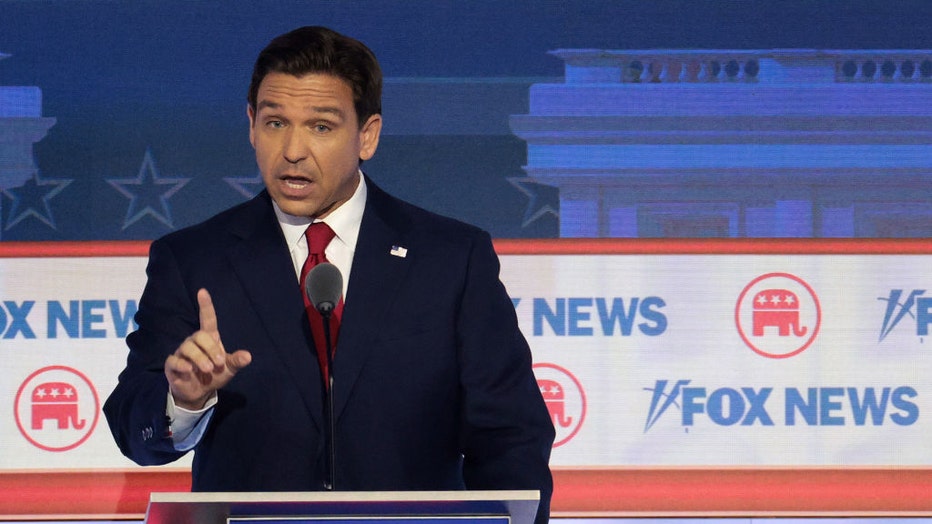 Republican presidential candidate, Florida Gov. Ron DeSantis participates in the first debate of the GOP primary season hosted by FOX News at the Fiserv Forum on August 23, 2023 in Milwaukee, Wisconsin. Eight presidential hopefuls squared off in the
That's not to say DeSantis didn't have strong moments. He grabbed hold of a question about liberal billionaire George Soros, a major donor to left-leaning causes and frequent conservative target. DeSantis noted he was the only person on the stage who's removed Democratic prosecutors who were elected with donations from Soros' network.
"As president, we are going to go after all of these people because they are hurting the quality of life," DeSantis said.
But even when DeSantis successfully walked the tightrope that has defined his campaign – avoiding direct Trump criticism while making a case for why he'd do the job better – he was brought down to Earth.
The candidates were asked whether Pence did the right thing by letting Congress certify President Joe Biden's election on Jan. 6, 2021. DeSantis was notably quiet and had to be asked twice by the moderators for his answer. "I've answered this, Mike did his duty, I've got no beef with him," DeSantis said, contending that Democrats wanted the GOP to talk about Jan. 6 while pivoting to the future, saying the election has to be about Jan. 20, 2025 – the day the next president is sworn in.
Bret Baier, one of the moderators, retorted, "Donald Trump is beating you by 30 to 40 points in the polls so it is an issue we have to face."
It's not clear whether DeSantis changed that dynamic. With roughly four months left to go until voting starts, he may not have many other big opportunities to do so.
The lone woman on stage
With eight candidates on the stage, it was a challenge to stand out. But one stood out immediately – Haley – because she was the only woman there and the only person not in a dark suit and Republican-red tie.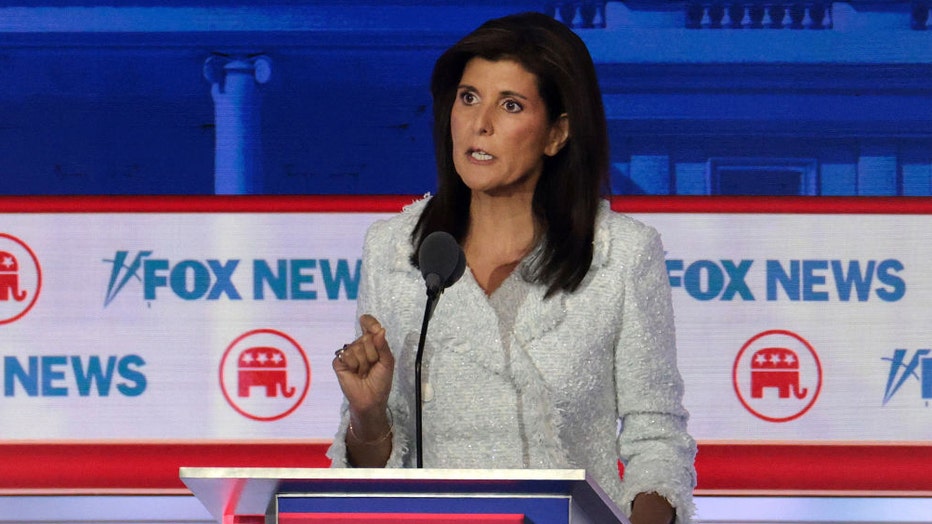 Republican presidential candidate, former U.N. Ambassador Nikki Haley participates in the first debate of the GOP primary season hosted by FOX News at the Fiserv Forum on August 23, 2023 in Milwaukee, Wisconsin. Eight presidential hopefuls squared of
Haley quoted Margaret Thatcher about how women get things done while men talk, stressing the importance of educating girls and arguing that keeping transgender girls out of female sports was a woman's issue. "I am going to fight for girls all day long because strong girls become strong women and strong women become strong leaders," Haley said.
She also explicitly referenced the general election even as she remains a longshot in primary polls. Some of her most memorable moments came when she sparred with Ramaswamy on whether the U.S. should send weapons and funding to Ukraine.
Rejection of Trump's false claims
Trump has almost made it a prerequisite for people vying for his party's nomination to claim that he won the 2020 election. In 2022, Republican candidates in several debates were quick to say they disbelieve the 2020 election results.
Not on Wednesday. Instead, candidate after candidate praised Pence – who may end up a witness in one of the federal prosecutions against Trump – for rejecting the former president's pleas to halt Biden's certification as the victor on Jan. 6. Only Ramaswamy declined to support Pence.
"Mike Pence stood for the constitution and he deserves not grudging credit but our thanks as Americans," Christie said.
Pence has been attacked by Trump repeatedly and pursued by hecklers still angry that he didn't try to keep Trump in office. While an Associated Press poll earlier this month found that 7 out of 10 Americans think Biden legitimately won the election, 57% of Republicans do not agree with that statement. That's a reflection of both Trump's repetition of his election lies and the way a conservative media world parrots those lies, or at least shies away from contradicting them.
Fox News recently paid $787 million to settle a libel suit from voting machine firm Dominion Systems over airing lies about the 2020 election, so it was especially striking to hear such robust statements on the network, including Pence's final statement about Trump.
"He asked me to put him over the Constitution," Pence said of the former president, "and I chose the Constitution."
An unruly event, at times 
Things started off quietly as the candidates beat up on Biden's economic policies. But when the participants turned against each other, Baier and fellow moderator Martha MacCallum struggled to control the action at times.
DeSantis helped set the tone early by rejecting the moderators' request for candidates to raise their hands if they believed human behavior caused climate change.
"We're not schoolchildren," DeSantis charged. And the moderators abandoned their request.
At one point, Ramaswamy and Haley shouted over each other for more than 30 seconds when the conversation turned to foreign policy. The candidates waved their fingers at each other as they yelled. The moderators stayed silent.
Baier and MacCallum let the candidates drive the action for much of the night — which is typically what the audience wants, although there will be critics who would have preferred a more orderly affair.