Kevin Spacey acquitted on sexual assault charges dating back to 2001
LONDON - Kevin Spacey charmed the jury in his sexual assault trial with humor, humility and emotion as he dropped names of fellow stars and stories from his once-celebrated career while his lawyer called his accusers liars and said the Oscar winner was the real victim.
Spacey was acquitted of sexual assault Wednesday after his star turn as a witness in his own defense spared him a possible prison term and gave him a shot at a career comeback.
RELATED: Elton John testifies for defense in Kevin Spacey's sex assault trial
Tears rolled down Spacey's cheeks as the final "not guilty" verdict was read. The actor looked at the jury, placed his hand over the lapel of his blue suit and pink shirt, and mouthed "thank you." It was his 64th birthday.
"I imagine that many of you can understand that there's a lot for me to process after what has just happened today," a humbled Spacey said outside Southwark Crown Court after thanking a handful of jurors in the lobby. "I am enormously grateful to the jury for having taken the time to examine all of the evidence and all of the facts carefully before they reached their decision."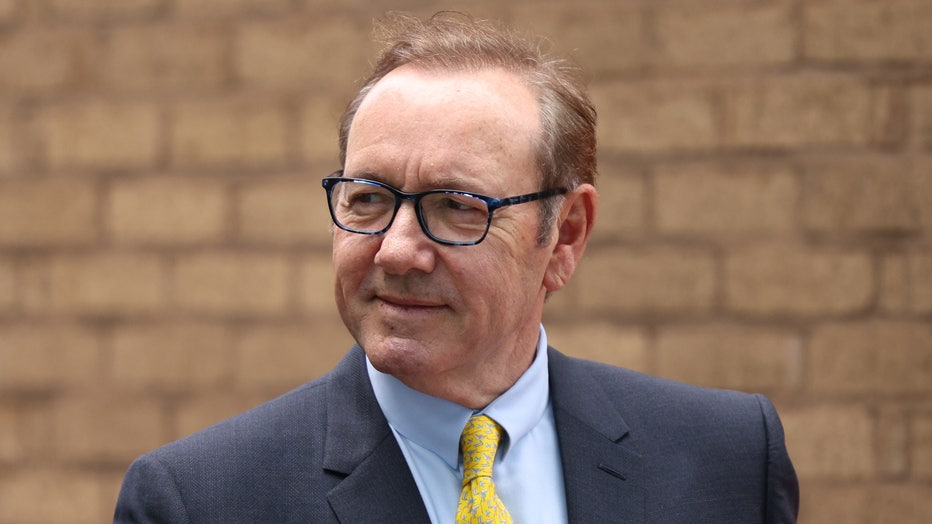 Kevin Spacey arrives at Southwark Crown Court on July 25, 2023 in London, England. (Photo by Dan Kitwood/Getty Images)
Spacey's wide-ranging testimony over two days culminated as he choked up speaking of the six years he went without work after sex abuse allegations surfaced against him during the #MeToo movement in the U.S. in 2017.
"My world exploded," Spacey testified. "There was a rush to judgment and before the first question was asked or answered, I lost my job, I lost my reputation, I lost everything in a matter of days."
Three men accused the Oscar winner of aggressively grabbing their crotches, describing him as "vile" and a "slippery, snaky" predator. A fourth, an aspiring actor, said he awoke to the actor performing oral sex on him after falling asleep or passing out in Spacey's London apartment where he had gone for career advice and a beer.
Spacey said he was a "big flirt" who had consensual flings with men and whose only misstep was touching a man's groin while making a "clumsy pass."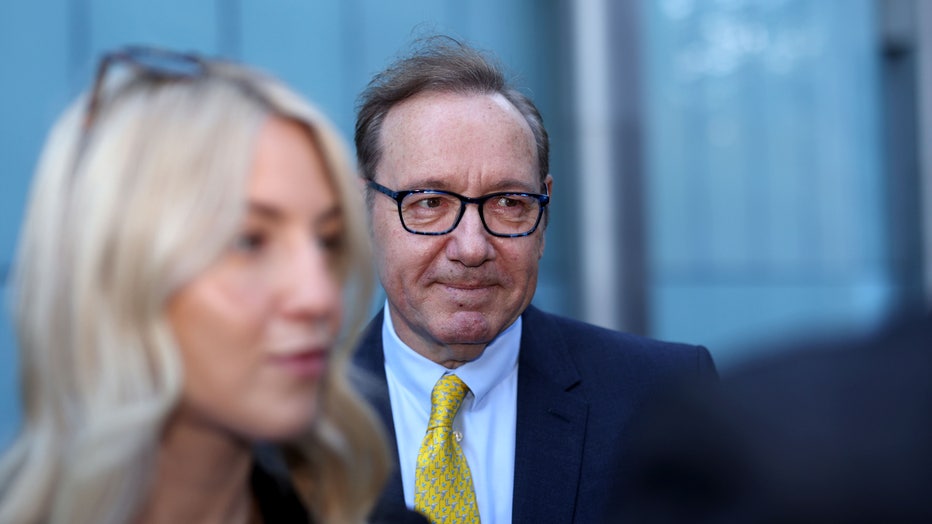 Kevin Spacey arrives at Southwark Crown Court on July 25, 2023 in London, England. (Photo by Dan Kitwood/Getty Images)
Defense lawyer Patrick Gibbs said three of the men were liars and that incidents had been "reimagined with a sinister spin." He accused them of hopping on a "bandwagon" of complaints in the hope of striking it rich. Two of the men have sued Spacey.
Prosecutor Christine Agnew called Spacey a "sexual bully" who preyed on younger men. She said he was shielded by a "trinity of protection" — he knew men were unlikely to complain; they wouldn't be believed if they did complain; and if they did complain, no action would be taken because he was powerful.
Spacey had faced nine charges, including multiple counts of sexual assault and one count of causing a person to engage in penetrative sexual activity without consent.
Spacey had viewed the London case as a chance for redemption, telling German magazine Zeit last month that there were "people right now who are ready to hire me the moment I am cleared of these charges in London."
The verdict came about 20 minutes after jurors said they were deadlocked and the judge told them they could reach verdicts without unanimity — a provision allowed in English criminal cases.
Justice Mark Wall told the panel of nine men and three women that it could reach verdicts if at least 10 of 12 jurors agreed. They deliberated nearly 12.5 hours over three days in a trial that spanned nearly a month.
Shortly before reaching the impasse, jurors had asked Wall to summarize the testimony of a man who said the actor grabbed his crotch so forcefully while he was driving to a gala at Elton John's that he almost ran off the road.
In a cameo appearance, the rock star and his husband, David Furnish, testified by video from Monaco and offered a timeline that cast doubt on the driver's account. They said Spacey didn't attend the White Tie & Tiara Ball the year the man said, but had been a surprise guest three or four years earlier in 2001.
That was significant because the man said he had begun working with Spacey in the early 2000s and suffered from unwanted fondling for years. He said the incident in the car was the final straw and he avoided the star afterwards.
The accusations dated from 2001 to 2013 and included a period when Spacey — after winning Academy Awards for "The Usual Suspects" and "American Beauty" — had returned to the theater. He served as artistic director of the Old Vic Theatre in London for most of that time.
The men came forward after an American actor accused Spacey of sexual misconduct as the #MeToo movement heated up in 2017.
One of the men called his encounter with Spacey "completely traumatic and life-ruining." One said he sought solace by working out and drinking more. Several said they couldn't bear to watch productions starring the actor.
With the confidence of a seasoned performer, Spacey took his seat in the witness box in what had to be the smallest stage of his career — a laminated oak desk at the front of a brightly lit courtroom.
He spoke in the warm, rich, calming voice that most audiences would instantly recognize. When pressed by Agnew, he did not take the menacing, cold tone of some of his characters, but maintained his composure and showed only flashes of indignation delivered with a flourish.
When asked about grabbing the genitals of a man backstage at a charity event, he snapped: "Absolute bollocks!"
As laughter rose in the gallery, Agnew retorted: "That's exactly where you did grab him, isn't it?"
"Really?" Spacey said as he looked up at Wall in disbelief.
He then denied the act and later dismissed the prosecution case as weak.
Jurors laughed and smiled at parts of his testimony and Wall occasionally had to rein him in when irrelevant anecdotes strayed.
Spacey sounded like a regular guy at times, speaking about how he liked to smoke marijuana but was incapable of rolling a joint and acknowledging that he sought sex during lonely periods, quipping "welcome to life." He insisted that being promiscuous does not make him a bad person.
At other moments, though, it was clear he was from a different walk of life to the jurors. He talked about acting in high school with Val Kilmer, buying the most expensive Mini Cooper ever at Elton John's charity gala, and how he taught Judi Dench to play table tennis while filming "The Shipping News" and later bought her a ping pong table.
Gibbs said Spacey was "monstered" on the internet every night and became toxic in the entertainment industry.
Spacey was booted from "House of Cards" and his scenes in "All the Money in the World," were scrubbed and he was replaced by Christopher Plummer. Aside from some small projects, he has barely worked as an actor in six years.
The court victory is his second since he beat a $40 million lawsuit last fall in New York brought by "Star Trek: Discovery" actor Anthony Rapp.
Prosecutors in Massachusetts dropped charges when the alleged victim suddenly refused to testify.
Los Angeles prosecutors declined to bring charges after the death of a massage therapist who said Spacey forced him to touch the actor's genitals during a rub down at Spacey's home in Malibu in 2016.
Spacey said that being out of work had left him with bills he's still paying.
An arbitrator in LA ordered Spacey to pay nearly $31 million to the makers of "House of Cards" for violating his contract by sexually harassing crew members.
Spacey can now resume his career "without a stain on his character" said Mark Stephens, a London media lawyer.
"These were allegations made at the height of the #MeToo allegations in Hollywood, and out of an abundance of caution, essentially Kevin Spacey was canceled by Hollywood," Stephens said. "I suspect he'll be snapped up by Hollywood producers desperate to get on and make new movies."