Golden Globes: 'Yellowstone' star Kevin Costner says he had to miss ceremony due to flooding after LA storms
LOS ANGELES - Kevin Costner announced he missed the 2023 Golden Globe Awards due to flooding from rainstorms in Los Angeles County.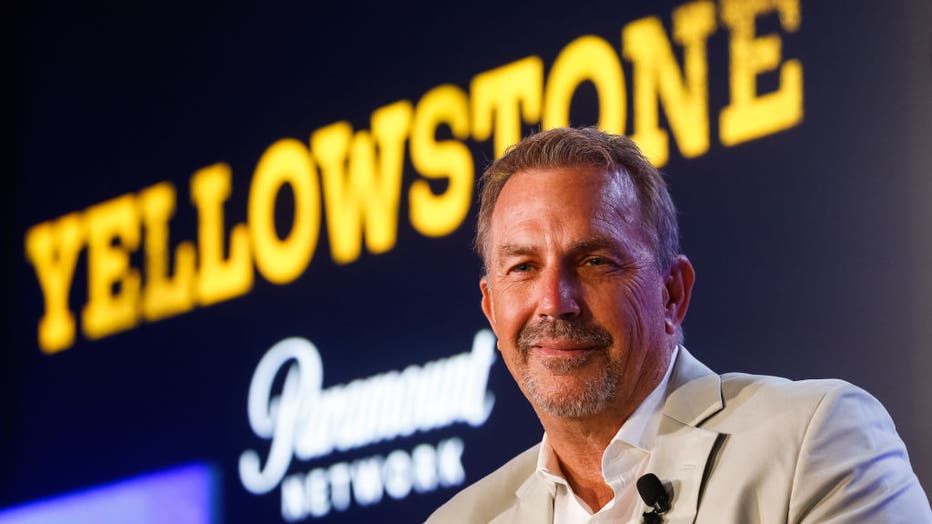 Kevin Costner. (Photo by Richard Bord/Getty Images for Cannes Lions)
The 67-year-old "Yellowstone" star, who was nominated for best actor in a drama series at the awards ceremony, shared a Twitter video in which he explained that he and his wife Christine Baumgarter would be absent from the show.
"Hi everyone. Look, I'm so sorry for everyone who might have been tuning in to watch the Golden Globes — Chris and I aren't going to be there," Costner said in the video that he posted shortly before the Golden Globes began airing on Tuesday.
"Yesterday we had to pull the kids out of school in Santa Barbara," the actor continued. "This is the second time in five years that the freeway has flooded out, we found ourselves on the wrong side of the town and we couldn't get back last night."
"Nobody's sadder than us that we can't be there at the Golden Globes," Costner added. "Chris had a beautiful dress, I was looking forward to walking down the red carpet with her."
Costner went on to apologize. "I'm just so sorry that I can't be there. I really wanted to, I know how bad Chris wanted to support me," Costner shared. "She went out and bought me some gold and yellow and black and silver balloons so we're going to sit at the television and see what happens."
"Thank you for your support," he concluded. "I'm really sorry to the Golden Globes and the international press and I hope we're invited back. Thanks."
Southern California was battered by powerful rainstorms that caused heavy flooding in some areas. The coastal community of Montecito in Santa Barbara County, home to celebrities including Prince Harry, Ellen DeGeneres and Oprah Winfrey, was ordered to evacuate on Monday.
RELATED: Ellen DeGeneres documents Montecito flooding 5 years after mudslide killed 23
Costner, who plays family patriarch John Dutton in the hit Paramount+ series, was competing in the category against Jeff Bridges ("The Old Man"), Diego Luna ("Andor"), Bob Odenkirk ("Better Call Saul") and Adam Scott ("Severance").
It was the only category for which "Yellowstone" received a nomination and also the show's first Golden Globe nod after five seasons since beginning its run in 2018.
Costner has been nominated for seven Golden Globes over his decades-long career. He won for best actor in a limited series, anthology series or television motion picture for his performance in 2013 and took home the best director trophy for his 1991 film "Dances with Wolves."
The California native's "Yellowstone" co-stars Cole Hauser and Mo Brings Plenty represented the show as presenters at the 2023 ceremony. Hauser announced that he would be taking the Golden Globes stage with his castmates in an Instagram post that he shared on Monday.
"Excited to represent @yellowstone @paramountnetwork with my brother @mobringsplenty tomorrow night @goldenglobes enjoy!" the 47-year-old actor wrote.
On the red carpet ahead of the event, Hauser shared his thoughts on working with Costner. "I love him like a brother, he's awesome," the "Good Will Hunting" star told Fox News Digital.
Tuesday marked the star-studded event's return for the first time since 2021 after a controversy involving the Hollywood Foreign Press Association (HFPA). At the time, the HFPA came under fire after a Los Angeles Times investigation revealed ethical lapses and a stunning lack of diversity — there was not a single Black journalist in the 87-person group.