Jeff Bezos and Lauren Sanchez offer $100 million to Maui recovery effort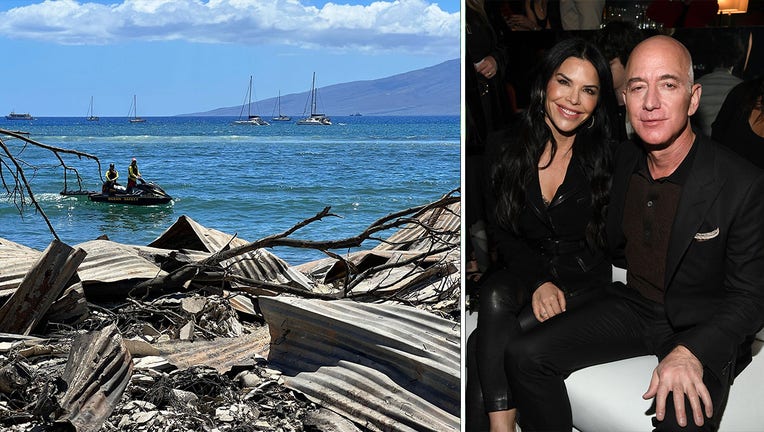 article
Jeff Bezos and his fiancée are making a financial donation to help fund the relief and recovery efforts in Maui, Hawaii.
Bezos's fiancee, Lauren Sánchez, announced via Instagram on Friday that the couple would be donating $100 million to create a relief fund.
"Jeff and I are heartbroken by what's happening in Maui," Sánchez wrote. "We are thinking of all the families that have lost so much and a community that has been left devastated."
US AIRLINES ADDING MAUI FLIGHTS TO HELP RESIDENTS, VISITORS FLEE
"Jeff and I are creating a Maui Fund and are dedicating $100 million to help Maui get back on its feet now and over the coming years as the continuing needs reveal themselves," she added.
Bezos, who got engaged to Sánchez earlier this year, has publicly committed to donating the majority of his wealth in his own lifetime.
HAWAII WILDFIRE KILLS AT LEAST 36 PEOPLE ON MAUI, DESTROYS DOZENS OF STRUCTURES
The devastation in Maui has been at the forefront of international humanitarian efforts this week after residents began scrambling to escape a raging blaze that devastated homes and commercial properties.
Major U.S. carriers are adding flights to help passengers flee Maui as one of the deadliest wildfires in U.S. history continues to decimate parts of the island.
DEADLY HAWAII WILDFIRES DEVASTATE HOMES, BUSINESSES
A spokesperson for Hawaiian Airlines told FOX Business that it is extending its operations Thursday with six additional flights to Honolulu from Kahului to help evacuate travelers affected by the brush fires on Maui. The fires were driven by fierce winds from a hurricane and have already killed at least 36 people.
Officials in Hawaii warned Thursday that the death toll could rise with the fires still burning and teams spreading out to search charred areas.
Bezos — the third-richest person in the world — purchased a new home this month in Florida's "Billionaire Bunker" and reportedly spent approximately $68 million for the property. 
The couple is expected to bulldoze the site and build a new mega-mansion on the beautiful waterfront plot. 
Fox News Digital's Daniella Genovese contributed to this report.