Jacksonville shooter killed devoted dad, beloved mom and teen helping to support his family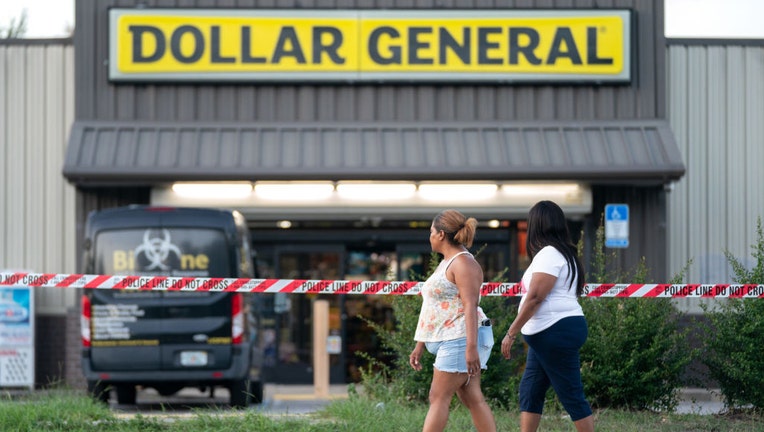 article
JACKSONVILLE, Fla. - A.J. Laguerre worked at a Dollar General store after finishing high school to help support the grandmother who raised him. Angela Michelle Carr was an Uber driver beloved by her children. Jerrald Gallion relished weekends with his 4-year-old daughter.
All three were slain Saturday when a gunman with swastikas painted on his rifle opened fire at the Dollar General where Laguerre worked in Jacksonville. The sheriff said writings left by the killer, a 21-year-old white man, made clear that he was motivated by racism. Each victim was Black.
"I never thought I'd have to bury my baby brother," Quan Laguerre said Monday outside the family's house not far from the store
"They say don't question God," he said. "But I just want to know why."
RELATED: Jacksonville shooting: 3 people killed in racially-motivated mass shooting in Florida, sheriff says
A.J. Laguerre, 19, was the youngest of five siblings, all raised by their grandmother after their mother died in 2009, his brother said. The family celebrated in 2022 when A.J., like his older siblings before him, graduated from high school. As he looked into going to college to study cybersecurity, he got a job at the Dollar General store several months ago to help their grandmother pay the bills.
When he was off the clock, A.J. played Fortnite and other videogames on the live-streaming platform Twitch, his brother said, using the gamer tag galaxysoul. His goal was to build a large online following.
"He had dreams and aspirations of being a professional streamer," Quan Laguerre said. "So after he would get off work, he'd just stay up until 3 or 4 in the morning just grinding, you know, trying to get that stance and have followers."
A.J. Laguerre was shot inside the store trying to flee the gunman, Jacksonville Sheriff T.K. Waters told reporters.
RELATED: Jacksonville killings refocus attention on city's racist past, struggle to move on
Carr, 52, was killed in the parking lot when the shooter fired multiple bullets into her car.
"My mother, she was a good woman," son Chayvaughn Payne told The Associated Press in a brief phone call Monday.
Civil rights attorney Ben Crump, who is representing the Carr family, said at news conference later Monday that Carr had just dropped off a customer and was waiting for the person to get back in the car.
Carr joined St. Stephen African Methodist Episcopal Church in Jacksonville when she was 3 years old and still attended services there. The pastor said the church community has rallied behind her family.
RELATED: Jacksonville Dollar General shooting suspect: What we know
"She was just a loving, caring mother," the Rev. David Green said.
Gallion, 29, was shot while entering the store's front door with his girlfriend, who escaped.
"My brother shouldn't have lost his life," his sister, Latiffany Gallion, said. "A simple day of going to the store, and he's taken away from us forever."
Family members recalled Gallion's sense of humor and work ethic. He worked two to three jobs — including as a restaurant manager — to provide for his daughter, Je Asia Gallion.
Je Asia's fifth birthday is approaching, and the family had planned a big party, said Sabrina Rozier, the child's maternal grandmother. Gallion was looking forward to a father-daughter dance in February.
"He was so excited about it, talking about the colors they would wear," Rozier said, as Je Asia played with the microphones during Monday's news conference. "Now she's asking, 'Who shot my daddy?' "
Although Gallion's relationship with the child's mother didn't last, they worked together to raise Je Asia. That earned him lasting affection from Rozier.
"He never missed a beat," Rozier said. "He got her every weekend. As a matter of fact, he was supposed to have her (Saturday)."
Gallion never made it to pick up his daughter. Now the pastor of the church he attended is preparing to bury him.
"In two weeks I have to preach a funeral of a man who should still be alive," the Rev. John Guns of St. Paul Missionary Baptist Church said during the vigil. "He was not a gangster, he was not a thug — he was a father who gave his life to Jesus and was trying to get it together."