Idaho sued by college professors over law they say criminalizes classroom abortion discussions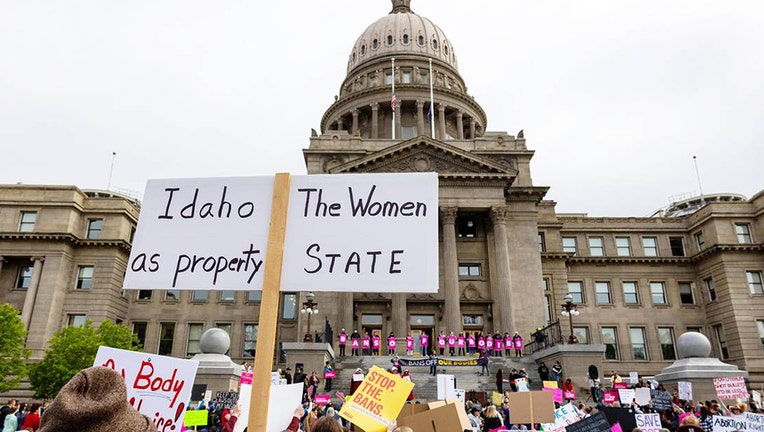 article
BOISE, Idaho - Six university professors and two teachers' unions are suing Idaho over a law that they say violates their First Amendment rights by criminalizing teaching and classroom discussion about pro-abortion viewpoints.
The 2021 No Public Funds for Abortion Act prohibits state contracts or transactions with abortion providers and also bans public employees from promoting abortion, counseling in favor of abortion or referring someone to abortion services. Public employees who violate the law can be charged with misuse of public funds, a felony, and be fired, fined and ordered to pay back the funds they are accused of misusing.
The law is "simultaneously sweeping and unclear" and places a "strait jacket upon the intellectual leaders" of Idaho's public universities, the educators, represented by the American Civil Liberties Union of Idaho, wrote in the lawsuit.
The case was brought by five University of Idaho professors who teach philosophy, political science, American literature and journalism, as well as a Boise State University professor of social work. Other plaintiffs include the Idaho Federation of Teachers, which represents faculty at UI, BSU and Idaho State University, and the University of Idaho Faculty Federation.
The University of Idaho and Boise State University both warned staffers last year not to refer students to abortion providers or tell them how to get emergency contraception because of the law. The law also sparked questions about the potential impact on other public employees, including journalists for public media outlets.
The educators say the law is vague and doesn't define exactly what it means to promote or counsel in favor of abortion. As a result, one philosophy professor cut an entire module on human reproduction from her biomedical ethics course because she fears prosecution, the lawsuit states.
Others have significantly altered their course content in a variety of subjects like sociology, law, human reproduction and women in media by pulling reading materials, curtailing lectures and declining to give meaningful feedback on some student research and writing.
RELATED: Idaho court tosses lawsuits aiming to block abortion bans
Earlier this year, Lewis-Clark State College officials censored several works of art from an exhibit at the school that focused on health care issues. The artists were told that the works were removed from the show because administrators feared they would run afoul of the new law.
The purpose of public universities is to foster an open and robust exchange of ideas on issues of social, legal and political importance, ACLU-Idaho wrote in the lawsuit.
"In Idaho, the legislature has determined these ideals no longer apply to academic inquiry about abortion — one of today's most urgent social, moral, and political issues," the ACLU wrote.
RELATED: South Carolina's top court strikes down state's abortion ban
But the Idaho Family Policy Center, a conservative anti-abortion organization that helped draft and promote the law, took issue with the educators' claims. The law aimed in part to stop university-run health care centers from prescribing abortion-inducing drugs or referring students to abortion providers, the center's President Blaine Conzatti said in a news release.
Conzatti called the lawsuit a "baseless legal challenge."
"The 'No Public Funds For Abortion Act' simply does not infringe on academic speech protected by the First Amendment, including classroom discussion on the topics related to abortion," he said.
The educators are asking a federal judge to declare the law unconstitutional as it is applied to academic institutions, and to bar the state from enforcing it with respect to speech that promotes or counsels in favor of abortion.