Here's how many autoworkers have been laid off by Detroit's Big Three due to UAW strike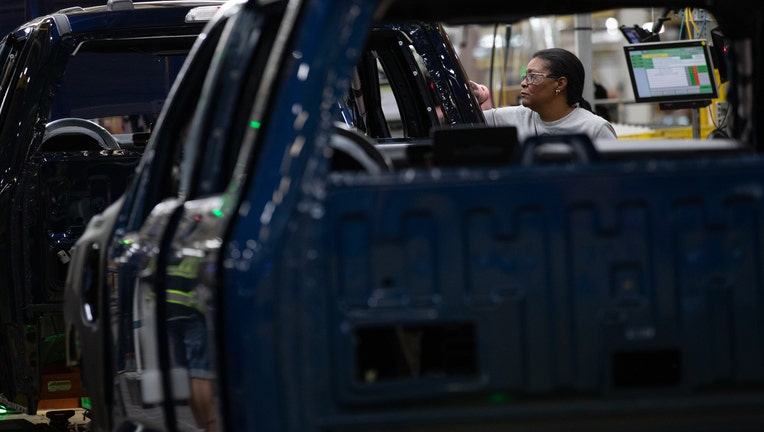 article
DETROIT (FOX 2) - This week marks the fifth week since the start of the UAW Strike against Detroit's Big Three – Ford, Stellantis, and General Motors. With no end in sight, there are nearly 34,000 UAW members on strike against the three domestic automakers.
The UAW, led by union President Shawn Fain, is calling for a record contract from each of the automakers. He's leading a unique approach to the strike: rather than strike all 150,000 members at once, Fain and the UAW have slowly called on members to strike since it started on Sept. 15.
As of Tuesday, Oct. 17, there are 44 facilities on strike across the country.
It started with three factories in Michigan, Missouri, and Ohio on the day the strike expired, at midnight on Sept. 15. Each company had a plant affected in the first strike. 
A week later, the strike expanded to 38 facilities – all of which were either GM or Stellantis as Fain cited significant progress with Ford. However, a week after that, he announced strikes against Ford's Chicago Assembly plant and GM's Lansing Delta Assembly. 
Then, last week, Fain hit Ford hard by calling on the Kentucky plant to join the strike. That added 8,700 UAW members to the picket line as the union continues to demand higher wages from the automakers. The UAW is seeking big raises and better benefits — pointing to CEO pay raises and profits that the three companies have raked in recent years. They also want to get back concessions that the workers made years ago.
The UAW is seeking a new deal for the first time since 2019 and originally was asking for a 46% wage increase, a 32-hour workweek, and more for members. The request was later lowered to 36% raise over four years. The union is also seeking eliminated tiered wage system, restorative of Cost of Living Adjustments (COLA), and more pensions for all workers.
How many automaker employees are laid off due to the strike?
As the union rolled out its strike plan, Detroit's Big Three have said that the moves have impacted them as well.  
Along with the 34,000 UAW members on strike, Ford, Stellantis, and GM have laid off a total of more than 6,000 workers.
While Ford accounts for over 16,600 UAW members on strike at three plants, the Dearborn-based company has laid off 2,730 workers across ten plants – the largest of which is at the Michigan Assembly plant where 600 employees have been laid off.
General Motors has over 9,200 UAW members striking against them at two plants and 18 distribution centers. The company has laid off roughly 2,330 employees at six plants. The majority of those layoffs, 1,600, are at the Fairfax, Kansas, assembly plant.
Meanwhile, Stellantis has 7,800 employees on strike at its Toledo Assembly plant and 20 distribution centers. It has laid off 1,420 employees at four plants, most of which are at the Kokomo, Indiana, transmission plant. 
**These layoffs do not include suppliers to Detroit's Big Three.
When with the UAW strike end?
There is currently no end in sight for the strike to end. Last week, Fain announced he would change his cadence for announcing striking locations.
"We're done waiting until Fridays to escalate our strike," Fain said. "Today, we are not announcing an expansion of our strike, but we are prepared at any time to call on more Locals to stand up and walk out."
Fain said this change is because the automakers have been waiting until Friday mornings to make substantial changes to their offers because they know the announcement will be coming. 
"We changed the rules and now there's only one rule - pony up," he said.
On Monday, Ford Executive Chair Bill Ford said that the company's international competitors are enjoying the fight between the union and Ford.
"This should not be Ford vs the UAW. It should be Ford and the UAW vs Toyota, Honda, Tesla, and all the Chinese countries that want to enter our home market," he said, noting that these other automakers love watching the UAW strike drag out. "If it continues, it will have a major impact on the American economy and devastate local communities."
Ford, along with the other Big Three automakers, have made numerous offers to the union, but none have met their demands.
"Despite this (offer) the UAW leaders decided to escalate and strike our Kentucky Truck Plant last week," Ford said.
"It's not the UAW and Ford against foreign automakers. It's autoworkers everywhere against corporate greed. If Ford wants to be the all-American auto company, they can pay all-American wages and benefits. Workers at Tesla, Toyota, Honda, and others are not the enemy—they're the UAW members of the future," Fain said.
Watch FOX 2 News Live