Despite heat wave, people are flocking to the hottest place on Earth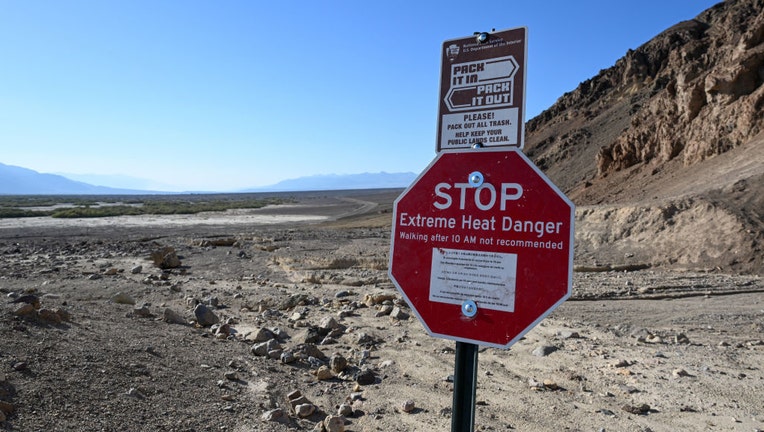 article
DEATH VALLEY NATIONAL PARK, Calif. - As uninviting as it sounds, Death Valley National Park beckons.
Even as the already extreme temperatures are forecast to climb even higher, potentially topping records amid a major U.S. heat wave, tourists are arriving at this infamous desert landscape on the California-Nevada border.
Daniel Jusehus snapped a photo earlier this week of a famed thermometer outside the aptly named Furnace Creek Visitor Center after challenging himself to a run in the sweltering heat.
"I was really noticing, you know, I didn't feel so hot, but my body was working really hard to cool myself," said Jusehus, an active runner who was visiting from Germany. His photo showed the thermometer reading at 120 degrees Fahrenheit (48.8 degrees Celsius).
Most visitors at this time of year make it only a short distance to any site in the park — which bills itself as the lowest, hottest and driest place on Earth — before returning to the sanctuary of an air-conditioned vehicle.
RELATED: Several cities have heat emergency plans. Are they enough in a warming world?
This weekend, the temperatures could climb past 130 F (54.4 C), but that likely won't deter some willing to brave the heat. Signs at hiking trails advise against venturing out after 10 a.m., though nighttime temperatures are still expected to be over 90 F (32.2 C). The hottest temperature recorded at Death Valley was 134 F (56.6 C) in July 1913, according to the park service.
Other parks have long-standing warnings for hikers. At Grand Canyon National Park in Arizona, officials are cautioning people to stay off the trails for most of the day in the inner canyon, where temperatures can be 20 degrees hotter than the rim.
In west Texas, Big Bend National Park near the Rio Grande is expected to be at least 110 F (43.3 C). The National Weather Service has said it's best to just stay off the trails in the afternoon.
The precautions vary across parks and landscapes, said Cynthia Hernandez, a National Park Service spokesperson. Certain trails might be closed if conditions are too dangerous. Alerts and restrictions are posted on websites for individual parks, Hernandez said.
RELATED: Summer heat is the 'No. 1 weather-related killer,' doctor warns
Preliminary information form the park service shows at least four people have died this year from heat-related causes across the 424 national park sites. That includes a 65-year-old man from San Diego who was found dead in his vehicle at Death Valley earlier this month, according to a news release.
Death Valley National Park emphasizes self-reliance over expectations of rescue. While rangers patrol park roads and can assist motorists in distress, there's no guarantee lost tourists will get aid in time.
More than 1.1 million people annually visit the desert park, which sits over a portion of the California-Nevada border west of Las Vegas. At 5,346 square miles (13,848 square kilometers), it's the largest national park in the Lower 48. About one-fifth of the visitors come in June, July and August.
Many are tempted to explore, even after the suggested cutoff times. Physical activity can make the heat even more unbearable and leave people feeling exhausted. Sunbaked rocks, sand and soil still radiate after sunset.
RELATED: Climate danger: UN forecasts 2 in 3 chance of briefly hitting key heat limit soon
"It does feel like the sun has gone through your skin and is getting into your bones," said park Ranger Nichole Andler.
Others mentioned feeling their eyes drying out from the hot wind sweeping through the valley.
"It's very hot. I mean, especially when there's a breeze, you would think that maybe that would give you some slight relief from the heat, but it just really does feel like an air blow dryer just going back in your face," said Alessia Dempster, who was visiting from Edinburgh, Scotland.
Death Valley is a narrow, 282-foot (86-meter) basin that is below sea level but situated among high, steep mountain ranges, according to the park service's website. The bone-dry air and meager plant coverage allows sunlight to heat up the desert surface. The rocks and the soil emit all that heat in turn, which then becomes trapped in the depths of the valley.
The park's brownish hills feature signage saying "heat kills" and other messaging, such as a Stovepipe Wells sign warning travelers of the "Savage Summer Sun."
Still, there are several awe-inspiring sites that draw tourists. Badwater Basin, made up of salt flats, is considered the lowest point in all of North America. The eye-opening 600-foot (183-meter) Ubehebe Crater dates back over 2,000 years. And Zabriskie Point is a prime sunrise viewing spot.
Eugen Chen from Taiwan called the park "beautiful" and an "iconic ... very special place."
Josh Miller, a visitor from Indianapolis who has been to 20 national parks so far, shared that sentiment.
"It's hot, but the scenery is awesome," he said. ___ Associated Press writer Terry Tang in Phoenix contributed to this story.