George Maharis, star of TV's 'Route 66,' dies at 94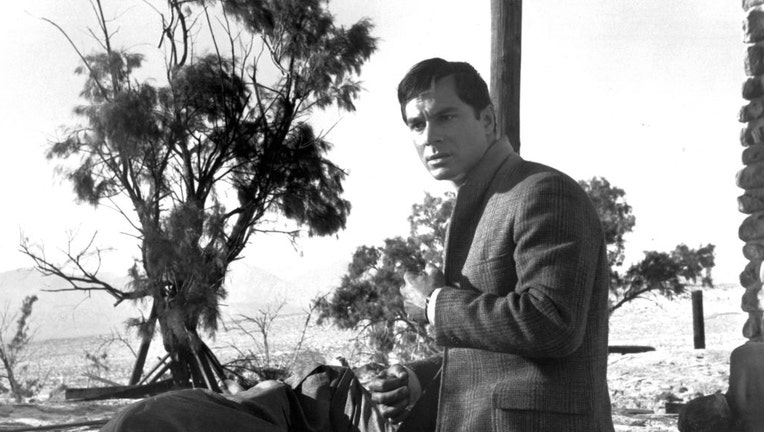 article
LOS ANGELES (AP) - George Maharis, a stage-trained actor with rough-hewn good looks who became an icon to American youth in the 1960s as he cruised the country in a Corvette convertible in the hit television series "Route 66," has died.
Maharis' friend and caretaker Marc Bahan said in a Facebook post that he died Wednesday. Bahan told the Hollywood Reporter, which first reported Maharis' death, that he died at his home in Beverly Hills, California, after contracting hepatitis. He was 94.
On "Route 66," Maharis played Buz Murdock, a hardened survivor of New York City's Hell's Kitchen. His co-star Martin Milner, who died in 2015, was Tod Stiles, a young man raised in wealth who upon his father's death was left with nothing but a shiny new Corvette.
The pair decided to travel the highway author John Steinbeck had dubbed "The Mother Road." Each week brought a new adventure in a new city, and audiences tuned in in droves.
RELATED: Ed Ames, star of TV series 'Daniel Boone,' dies at 95
"Route 66" was the rare series at the time that was filmed on location, moving to new towns and cities for each new episode. It featured as guest stars future stars including Robert Redford, James Caan, Robert Duvall and Alan Alda in some of their earliest roles.
The storied highway itself was as much a star of the show as Maharis and Milner. Since bypassed in favor of bigger, faster interstates, it stretched unbroken from Chicago to the Pacific Ocean and was venerated as a driving force behind the country's 20th century westward migration.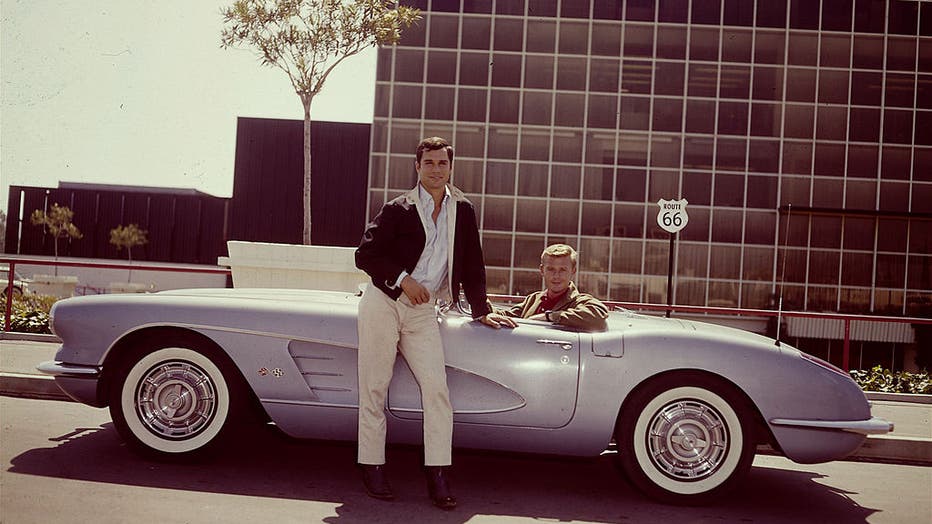 American actors George Maharis (standing) (as Buz Murdock) and Martin Milner (as Tod Stiles) pose with their blue Corvet from the television show 'Route 66,' 1960. Filmed on location, the show followed best buddies Stiles and Murdock as they traveled
"Route 66" was said to have been inspired by Jack Kerouac's novel "On the Road," and it spawned its own hit song, an instrumental composed by Nelson Riddle. The more familiar tune, "(Get Your Kicks On) Route 66," was not connected to the series.
Maharis left the show after the third season — it would continue for one more without him — and never again achieved the same fame.
He got a name check that introduced him to subsequent generations in director Quentin Tarantino's 2019 "Once Upon a Time in Hollywood," when fictional actor Rick Dalton, played by Leonardo DiCaprio, says he was considered for the Steve McQueen role in "The Great Escape" along with three Georges: "Peppard, Maharis and Chakiris."
A native New Yorker, one of seven children born to Greek immigrants, Maharis really was raised in Hell's Kitchen. His parents ran a successful restaurant, and they wanted George to join the family business.
RELATED: 'The Brady Bunch' home hits the market for $5.5M
"Growing up in Hell's Kitchen, at least for me, was all about 'I'm not gonna stay here,' " he said in a 2007 interview. "Life is all about the journey, the going. I had to get out."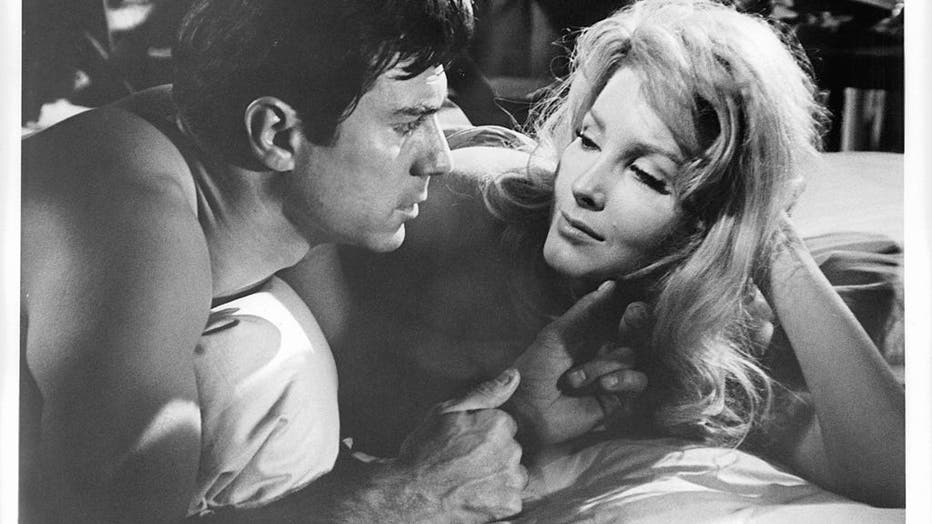 George Maharis laying next to Laura Devon in a scene from the film 'A Covenant With Death', 1967. (Photo by Warner Brothers/Getty Images)
He hoped to be a singer but damaged his vocal cords, so he switched to acting. After training under Lee Strasberg and Sanford Meisner at the Actors Studio, he began appearing in off-Broadway plays.
Excellent notices for his work in Edward Albee's play "Zoo Story," and in appearances on the television drama "Naked City," attracted attention. After a small role in the 1960 film "Exodus" and a few other parts, he landed "Route 66."
After leaving the series, Maharis was cast as a star in such films as "Quick Before It Melts," "The Satan Bug," "Sylvia." "A Covenant with Death." "The Happening." "The Desperadoes" and "Land Raiders."
In 1970, he returned to weekly television, playing a criminologist in "The Most Deadly Game," but the show lasted only one season.
Maharis kept acting in the ensuing decades, appearing in such TV movies as "Escape to Mindanao" and "Murder on Flight 502," "Disaster in the Sky," "Crash of Flight 401," "Death in Space" and on TV series including "Fantasy Island," "The Bionic Woman" and "Murder, She Wrote."
The late AP Entertainment writer Bob Thomas provided biographical material for this story.