Frozen fruit sold at Costco recalled amid outbreak of hepatitis A infections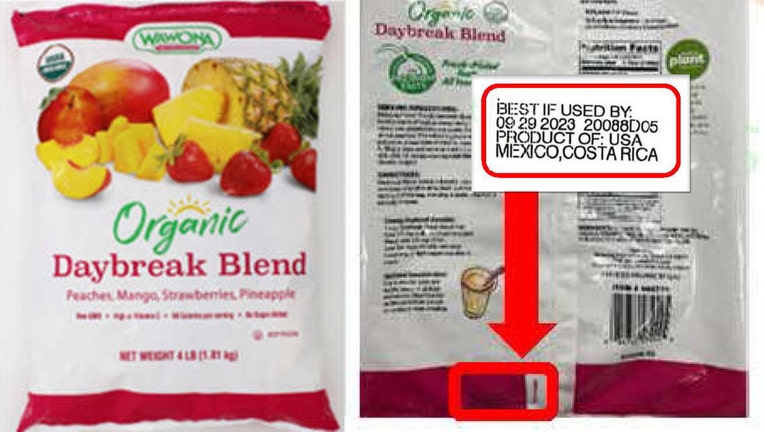 article
California-based Wawona Frozen Foods is recalling year-old bags of frozen fruit that were shipped to Costco stores as federal health officials continue to investigate an outbreak of hepatitis A infections. 
The 4-pound packages of recalled Organic DayBreak Blend include organic frozen strawberries that were grown in Mexico and "may have the potential to be contaminated with Hepatitis A," according to the recall notice posted by The Food and Drug Administration (FDA).  
FDA has been identifying firms, including Wawona, that may have received potentially contaminated organic strawberries from Baja California, Mexico, that have been tied to nine hepatitis A infections, including three hospitalizations, in three states. The first illness was detected in November 2022. 
MEXICO FROZEN STRAWBERRY SUPPLIER LINKED TO RECENT HEPATITIS A OUTBREAK, IDENTICAL TO 2022 CASES: FDA
The bags of frozen fruit were distributed to Costco Wholesale stores in Arizona, California, Colorado, Utah and Washington between April 15, 2022, and June 26, 2022, according to federal health officials.  
Although the bags were sold at stores last year they have "Use By" dates in September and October 2023, "therefore consumers are urged to check their freezers for the recalled blend, not to consume it and either discard the product or return it," the recall continued. 
FROZEN FRUIT RECALLED OVER RISK OF HEPATITIS A CONTAMINATION
Wawona said the recall was issued out of an abundance of caution and that there haven't been any illnesses reported. Additionally, the product is no longer on store shelves.
The hepatitis A virus strain causing illnesses in this outbreak is genetically identical to the strain that led to the foodborne hepatitis A outbreak in 2022, which was also linked to fresh organic strawberries imported from Baja California, Mexico, and was sold at various retailers, according to the Centers for Disease Control and Prevention (CDC). 
GET FOX BUSINESS ON THE GO BY CLICKING HERE
Illnesses will usually start between 15 and 50 days after consuming food or water that has been contaminated with the hepatitis A virus, according to the CDC. Symptoms include fatigue, nausea, vomiting, abdominal pain, jaundice, dark urine as well as pale stool. However, in some instances, children under the age of 6 may be asymptomatic. 
Infection can last anywhere from a few weeks to several months. In rare cases, hepatitis A infections can progress to liver failure in those with a pre-existing severe illness or who are immune compromised.