Frontier launches monthly all-you-can-fly pass, but there's a catch
Frontier Airlines has launched a monthly all-you-can-fly-pass for $149, but there's a catch.
According to the airline, the new monthly pass is a spinoff of the GoWild! All-You-Can-Fly Fall and Winter Pass, which allows unlimited travel from Sept. 2, 2023 - Feb. 29, 2024 for $299.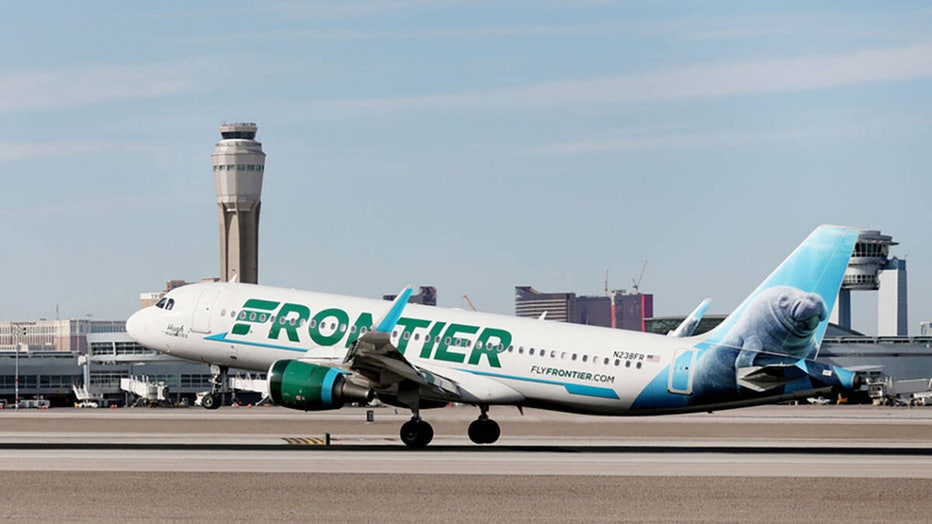 A Frontier Airlines plane lands at the McCarran International Airport in Las Vegas on Feb. 27, 2020. (Elizabeth Page Brumley/Las Vegas Review-Journal/Tribune News Service via Getty Images)
Passholders can book as many flights as they want in 30 days with the monthly pass, with access to more than 85 U.S. and international destinations. But there are black-out periods and other restrictions: for both passes, you can only book domestic travel 24 hours in advance. International flights can be booked 10 days before departure.
"[It's] a great option for those who want to 'test the waters' and give the pass a try," said Tyri Squyres, vice president of marketing, Frontier Airlines, in a prepared statement. "It's also a great option for people who know they want to travel within a given month and have flight scheduling flexibility. Scores of consumers are using and enjoying the GoWild! Pass to travel affordably and see amazing new destinations or visit family and friends."
READ MORE: Americans traveling to Europe will need 'visas' starting in 2024
Previous reports have detailed the pros and cons of buying the Frontier unlimited passes. Some customers have complained about not being able to book flights when they want to go somewhere, while others have united on social media to make the best of the pass they already purchased.
READ MORE: Kentucky woman describes Allegiant flight that was forced to take 'evasive actions' to avoid incoming jet
A Frontier spokesperson told NBC the passes are meant for "people with almost unlimited freedom, like retirees, remote workers and college students on summer break."