Photos: See Freddie Mercury's stage costumes and song drafts on display before auction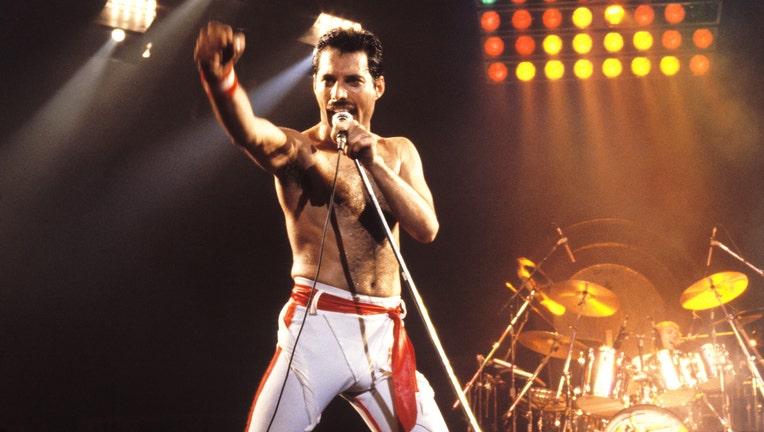 article
LONDON - More than 1,400 of Freddie Mercury 's personal items, including his flamboyant stage costumes, handwritten drafts of "Bohemian Rhapsody" and the baby grand piano he used to compose Queen's greatest hits, are going on display in a free exhibition at Sotheby's London ahead of their sale.
The vast collection of the singer's personal belongings, which had been left to Mercury's close friend Mary Austin, had remained undisturbed in his west London mansion for 30 years since his death in 1991.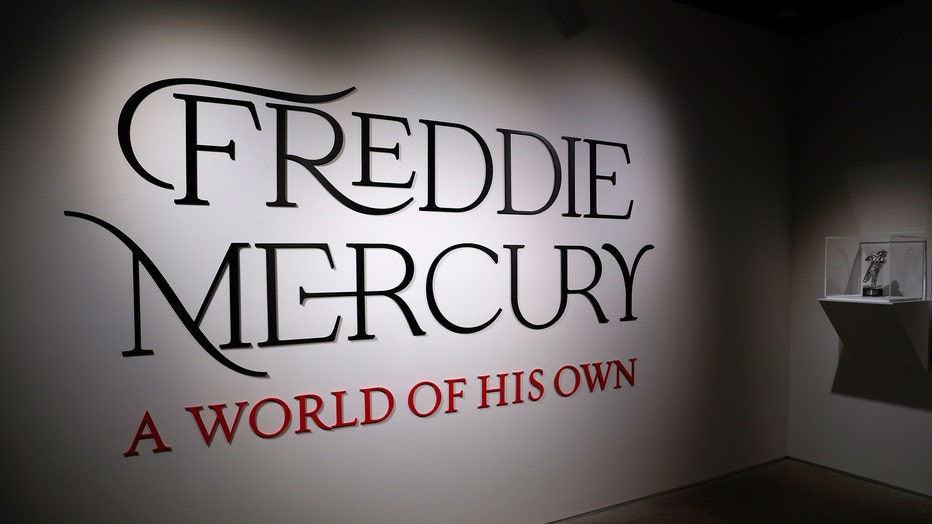 A view of the sign and the MTV Music Award Moonman for Best Video from a Film from 1992 are seen at Sotheby's unveils Freddie Mercury's handwritten working lyrics at Sotheby's on June 01, 2023 in New York City. (Photo by John Lamparski/Getty Images)
Austin, 72, said in a BBC interview in April that she has decided to sell almost all the items to "close this very special chapter in my life" and "put my affairs in order."
Among the hundreds of Mercury's personal treasures were previously unseen working drafts of hits "Don't Stop Me Now," "We Are the Champions" and "Somebody to Love."
READ MORE: Apple shoes on sale for $50K: Here's why the 'ultra rare' sneakers are so expensive
The handwritten draft of "Bohemian Rhapsody" — which shows that Mercury experimented with naming the song "Mongolian Rhapsody" before crossing it out — is expected to fetch 800,000 to 1.2 million pounds ($1 million to $1.5 million.)
Freddie Mercury's signature crown and cloak ensemble, worn throughout Queen's 1986 'Magic' Tour, is pictured during a press preview ahead of the "Freddie Mercury: A World of His Own" auctions, at Sotheby's auctioneers in London on August 3, 2023. (Photo by DANIEL LEAL/AFP via Getty Images)
"We have here working lyrics for pretty much every song that Freddie Mercury wrote through the 1970s," said Gabriel Heaton, a specialist at the auction house. "We've got extensive working drafts that really showed how songs developed, how they changed, how they took shape in the most wonderful way."
The star of the show, however, is Mercury's beloved Yamaha baby grand piano, which is set to sell for 2 million to 3 million pounds ($2.5 million to $3.8 million). The piano survived several house moves, took center stage at his mansion, and was the heart of Mercury's musical and personal story from 1975 until his death, auctioneers said Thursday.
READ MORE: Princess Diana's iconic sheep sweater up for auction
"Of all the objects that he had, this is the one that meant the most to him," Heaton said.
Many of the highlights conveyed Mercury's love of theatre and showmanship. There were his dazzling sequinned, skin-tight catsuits, leather jackets and the lavish red cape and crown he wore on his last Queen performance in 1986, as well as his collection of Japanese silk kimonos.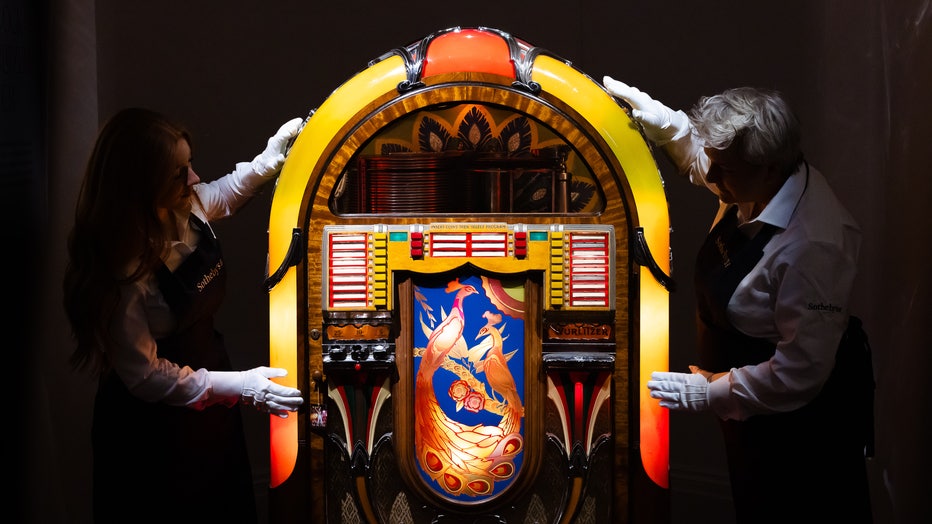 A 1941 Wurlitzer jukebox owned by Freddie Mercury on display at Sotheby's on August 03, 2023 in London, England. The private collection of over 1,400 items will be sold at a series of six of auctions between the 6th and the14th September, 2023. (Phot
Other items were more personal and intimate, including a school book with the singer's name, Fred Bulsara, dating from the 1960s when he had just arrived in the U.K. with his family from Zanzibar. Visitors could study Mercury's detailed dinner party seating plans and menus, as well as handwritten invitations to his famous birthday bashes — including one dated 1977 that instructed guests to "Dress to Kill!"
READ MORE: 'Exceptionally rare' Rembrandt portraits rediscovered after 200 years in hiding
Also on sale are Mercury's art collection, featuring works by Pablo Picasso, Salvador Dali and Marc Chagall, as well as his eclectic antique furniture and numerous cat figurines.
"(Mercury) wrote this: 'I like to be surrounded by splendid things. I want to lead a Victorian life, surrounded by exquisite clutter,'" said Sotheby's furniture and decorative arts specialist Thomas Williams.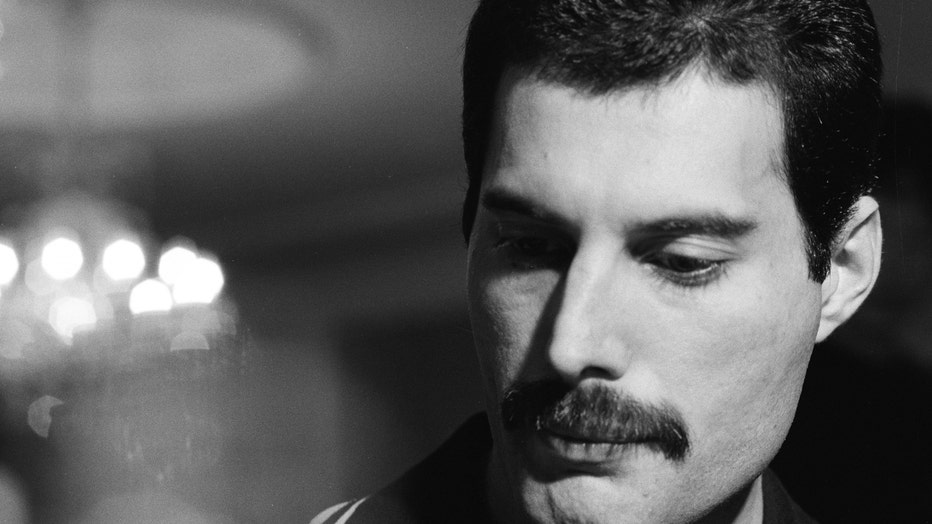 Freddie Mercury of Queen, interview and photo session for 'Music Life' magazine, on the band's Hot Space Japan tour at a hotel in Fukuoka, Japan, 19 October 1982. It was the band's fifth visit to Japan. (Photo by Midori Tsukagoshi/ShinkoMusic/Getty I
The hundreds of items have turned the auction house's elegant central London building into a shrine to Mercury, with all 15 of its galleries devoted to his story. It is the first time Sotheby's is opening its entire gallery space to the public for the weekslong exhibition, Williams said, adding it is perhaps its "most democratic sale," with objects like Mercury's chopsticks and sewing kit starting at under 100 pounds ($125) each.
"Freddie Mercury: A World of His Own," which is free to view, opens Friday and runs until Sept. 5. The items will then be sold in a series of auctions later that month.
Sotheby's expects buyers to include institutions like museums, as well as members of Mercury's worldwide fanbase. Asked whether the rare objects may be better displayed in a museum, rather than sold individually by lot, Williams said Mercury "didn't want a stuffy museum."
"He conveyed that to Mary (Austin) and to his personal assistant," Williams said. "This is absolutely the vehicle he would have loved."