FDA proposes new limits for lead in processed baby foods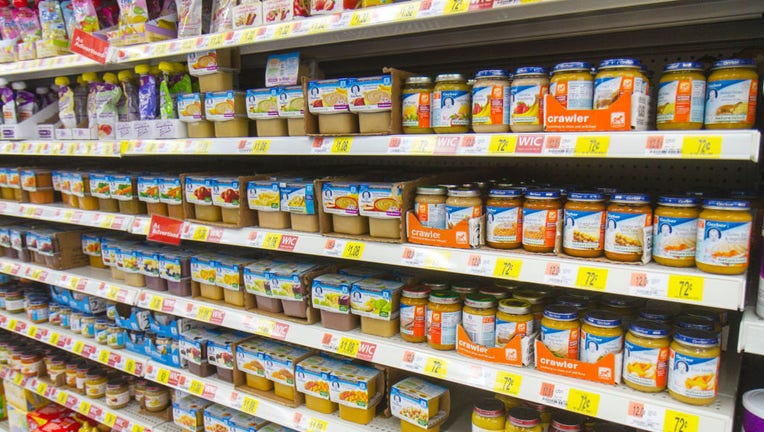 article
WASHINGTON - The U.S. Food and Drug Administration this week proposed new maximum limits on levels of lead in processed baby foods, such as pouches and jars, intended for the youngest Americans.
The agency estimated that such limits could reduce young children's exposure to lead in these foods by as much as 27%.
The new FDA draft guidance, published on Tuesday, applies to processed foods, including those packaged in jars, pouches, tubs, and boxes, and are intended for babies and children under age 2. 
It would limit the concentration of lead in certain fruit, vegetable, yogurt, and other mixture products to 10 parts per billion. It would also limit root vegetable products (single ingredient) to 20 parts per billion and dry cereals to 20 parts per billion. 
The new guidance is part of the FDA's ongoing Closer to Zero action plan to reduce exposure to arsenic, cadmium, lead, and mercury from foods eaten by babies and young kids. This young age group was prioritized because "their smaller body sizes and metabolism make them more vulnerable to the harmful effects of these contaminants," the FDA states on its website.
Such heavy metals can negatively affect a baby's brain development and are among the most common metals that get into food, according to the U.S. Centers for Disease Control and Prevention and the American Academy of Pediatrics (AAP). 
These heavy metals are found naturally in the Earth's crust and are also released into the environment as pollution that gets into the water and soil used to grow food, according to the AAP. The toxins can also get into food from food manufacturing and packaging.
Exposure from all sources "should be minimized," the AAP states.
As part of the Closer to Zero action plan, the FDA has been studying possible "action levels" or standards for toxic metals in various baby foods, as well as other foods that are commonly eaten by young children. Proposals for these action levels and finalized decisions are expected to happen through at least 2024.
"The proposed action levels announced today, along with our continued work with our state and federal partners, and with industry and growers to identify mitigation strategies, will result in long-term, meaningful and sustainable reductions in the exposure to this contaminant from foods," FDA Commissioner Dr. Robert Califf said in a statement.
"For babies and young children who eat the foods covered in today's draft guidance, the FDA estimates that these action levels could result in as much as a 24-27% reduction in exposure to lead from these foods," Califf added.
The FDA said processed baby foods have differing allowable levels of lead in the new draft guidance to account for "variances in consumption levels of different food products" as well as the fact that some foods take up higher amounts of lead from the environment. 
"Just as fruits, vegetables and grain crops readily absorb vital nutrients from the environment, these foods also take up contaminants, like lead, that can be harmful to health," the FDA stated about the new draft guidance. "The presence of a contaminant, however, does not mean the food is unsafe to eat."
Healthy Babies Bright Futures (HBBF), an alliance of nonprofits, scientists, and donors aimed at reducing babies' exposure to toxic chemicals, commended the new limit for sweet potatoes, which it said often exceeds the proposed FDA lead limit of 20 parts per billion. But the group said the action is not enough overall to protect babies from harmful heavy metals.
"Nearly all baby foods already meet the action levels FDA lays out in this draft," Jane Houlihan, HBBF's Research Director and the author of HBBF's previous baby food studies, said in a statement. "Grain-based snacks are not even covered, even though they account for 7 of the 10 highest lead levels we've seen in over 1,000 tests."
The proposed limits are not binding. Instead, the FDA said it "would consider these action levels, in addition to other factors, when considering whether to bring enforcement action" against companies that exceed the lead limits in food.
RELATED: FDA's ongoing analysis finds toxic arsenic, lead in certain baby foods — tips for parents to limit exposure
What are the standards for toxic heavy metals in baby foods? 
As part of the Closer to Zero action plan, the FDA has already set action levels for lead in apple juice (10 parts per billion, or ppb) and in chocolate and hard candy (100 ppb). It has also set a standard for inorganic arsenic in apple juice (10 ppb) and infant rice cereal (100 ppb).
Additionally, it has established bottled water standards: 5 ppb for lead, 10 ppb for arsenic, 5 ppb for cadmium, and 2 ppb for mercury.
The agency's Closer to Zero action plan came after a 2019 study by Healthy Babies Bright Futures. The study found that 95% of baby foods tested contained one or more toxic heavy metals, which led to the early 2021 Congressional report showing dangerous levels of heavy metals in several top baby food brands.
U.S. congressional investigators requested internal documents and test results from seven of the largest manufacturers of baby food in the U.S. and found that many top baby foods carried dangerous levels of inorganic arsenic, cadmium, lead, and mercury.
RELATED: Government report finds 'alarming levels' of heavy metals in more baby foods
The FDA's Closer to Zero action plan was announced in April 2021 to drive down levels of heavy metals in food. 
"We recognize that Americans want zero toxic elements in the foods eaten by their babies and young children. In reality, because these elements occur in our air, water and soil, there are limits to how low these levels can be," the FDA states on its website.
Therefore, the FDA's goal is to reduce the levels of arsenic, lead, cadmium and mercury in baby foods to "the greatest extent possible."
"We are also sensitive to the fact that requiring levels that are not currently feasible could result in significant reductions in the availability of nutritious, affordable foods that many families rely on for their children," the agency adds.
Before the newest proposed guidance is finalized, there is a 60-day period of public comments.
RELATED: USDA cracks down on 'organic fraud' in food with new regulations
This story was reported from Cincinnati.