'Dumb phones' on the rise in US as young people look to unplug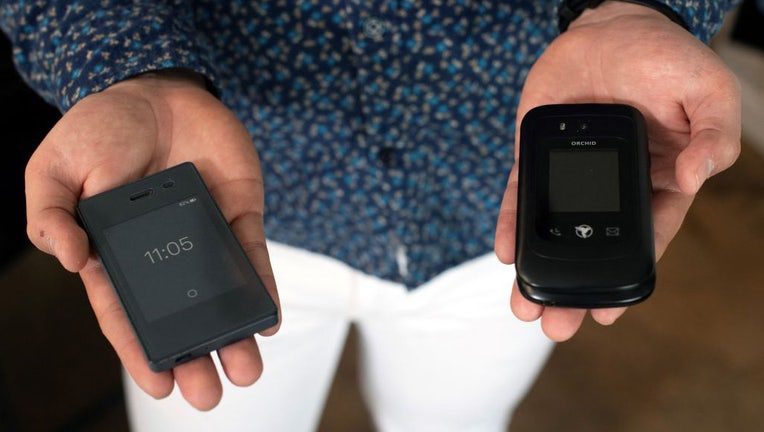 article
While it may seem like everyone around you is scrolling through a smartphone, there are still consumers being lured by the simplicity of a "dumb phone" – or one with basic functions and limited connectivity. 
More people – particularly younger generations – are seeking to unplug from social media and other apps in an effort to improve their real-life interactions, experts say.
"People want freedom from screens," said Jose Briones, a digital minimalist and moderator of the subreddit r/dumbphones. "They want useful features while leaving the time-wasting devices at bay. Many also switch for mental health reasons and to slow down their lifestyle."
Flip phones on the rise
HMD Global, maker of Nokia phones, told FOX Television Stations that market share in the flip phone category "globally doubled" during 2022 compared to 2021, and it's expected to grow during 2023 even in a declining market.
Many Americans are opting for what's known as a "feature phone," or one that has more functions than a basic cell phone, such as internet accessibility, but lacks all the capabilities of an iPhone or other. 
"While global sales of feature phones have decreased worldwide, this is still a massive segment, and there are a few key regions and price points that are bucking the trend," a spokesperson for HMD Global's U.S. team said, adding that "tens of thousands" of Nokia flip phones are sold in the U.S. each month.
"The growth in this market supports the trend of consumers buying premium feature phones as part of an effort to improve their quality of social connections by unplugging from their always-on smartphones," the spokesperson said.
Counterpoint Research, a technology market research firm, echoed this sentiment. While feature phones took a hit in 2020 during the pandemic, the market has indeed grown again in recent years – with TCL and Nokia having a majority of the market share in the United States.
For perspective, the vast majority are still buying smartphones. In the first quarter of 2023, feature phones grew to about 2.5% of total handset sales in the U.S. from about just 2% in 2022, according to Counterpoint Research.
But still, experts say these simplified phones still have their place due to simplicity, affordability, and even durability. Counterpoint Research noted how some companies give feature phones to employees who only need to use it for voice, older populations still seek them out for basic functionality, and workers in certain industries may opt for a more rugged, durable phone due to the nature of their jobs. 
What's the best dumb phone? It depends
For someone looking to make the switch to a more basic phone, there are plenty of options with varying features and functionality depending on the user's needs.
Certain phone brands, including Light Phone 2, Punkt, or the Mudita Pure, have been developed with a focus on a growing trend of minimalism. 
Punkt sells for about $379 on Amazon, offering a basic phone experience with Signal Messenger. It also offers bluetooth, an alarm clock, notes with reminders, a calculator, and a basic calendar. Mudita Pure, which also comes with features like a music player and bluetooth, is listed for about $370 but remains out of stock on its website.
The Light Phone – which retails for about $299 – is advertised on its website as one that "will never have social media, clickbait news, email, an internet browser, or any other anxiety-inducing infinite feed." It does, however, come with calls, texts, a calculator, alarms, a hotspot, and the ability to add simple tools for music, podcasts, and directions.
Briones, who previously used an iPhone and switched to the Light Phone 2 in late 2019, started documenting his journey online and still uses the phone to this day. On his website, he operates a "Dumbphone Finder" and even a "Dumbphone Quiz" to help others figure out the best basic phone to fit their needs.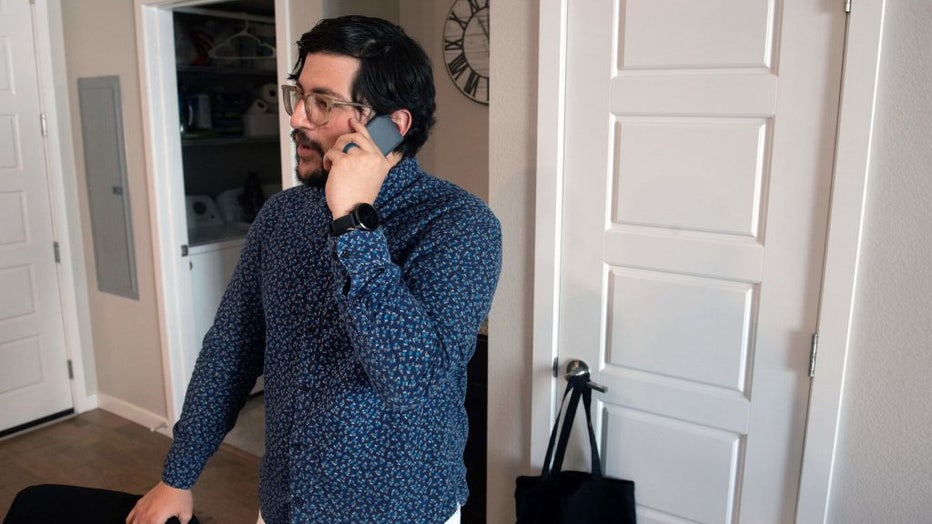 FILE IMAGE - Jose Briones speaks to a coworker while using what he refers to as a dumbphone at his apartment in Littleton, Colorado, on March 24, 2023. (Photo by JASON CONNOLLY/AFP via Getty Images)
To him, the main roadblock of switching from an uber-connected smartphone to a basic phone is changing one's lifestyle. 
"People have gotten used to the convenience of having everything on their phones and leaving that behind is hard," Briones told FOX Television Stations. "(Dumbphones) are not the only way to regain control over our digital lives, but they are definitely helpful to tons of people."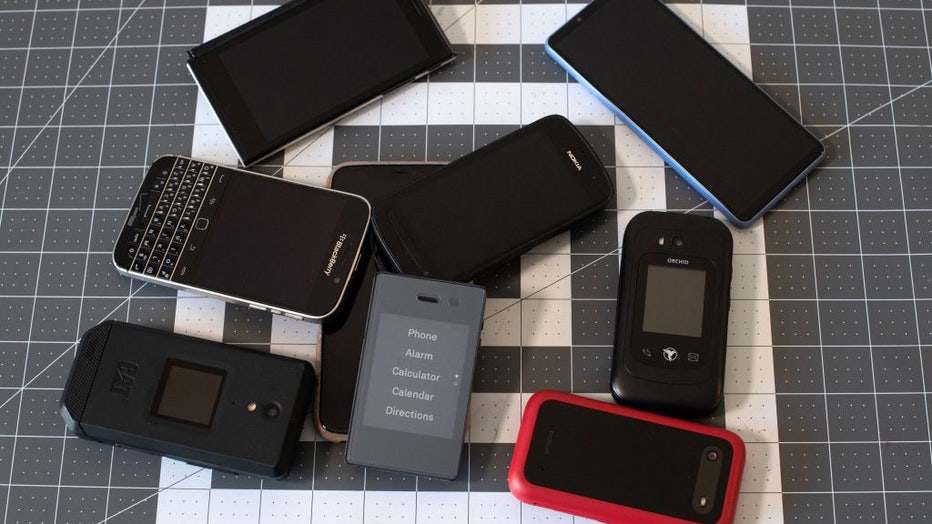 FILE - A Light Phone 2 (center) is surrounded by smartphones in a file image dated March 24, 2023. (Photo by JASON CONNOLLY/AFP via Getty Images)
'The problem is not the device, it's the lifestyle'
While smartphones can serve as a wallet, library, search engine, and even boarding pass, their excessive use and constant connectivity to social media has been linked to harmful health impacts, particularly among adolescents and young adults. 
Some research has suggested that smartphones may negatively impact cognition, or the process of acquiring and applying knowledge through thought, experiences and the senses. However, research remains limited. Other studies have even suggested that the quick convenience at our fingertips to find answers can lead to "lazy thinking."
Regardless, there are over 300 million smartphone users in the U.S., a market that has continually risen since 2009 and expected to keep rising steadily in the future, according to Statista Digital Market Insights.
"There is no perfect approach, but people can enjoy using a simple device if they decide to slow down their lifestyle. The problem is not the device, it's the lifestyle," Briones said. "Once you understand that, everything else fits in."
This story was reported from Cincinnati.