DC police formed specialized team to confiscate illegal ATVs and Dirt Bikes
WASHINGTON - With the recent warm weather, some people in the District are claiming more illegal ATVs and dirt bikes have been popping up in certain parts of the city.
A viewer shared a video with FOX 5 showing maybe eight to nine illegal riders going through the intersection of 7th and K Streets. Northwest. She described the scene as, "off-putting." 
The woman said the ride happened a little after 5:30 p.m. Wednesday. Video shows the vehicles moving into oncoming lanes and stopping traffic during the evening rush in the Downtown D.C. area.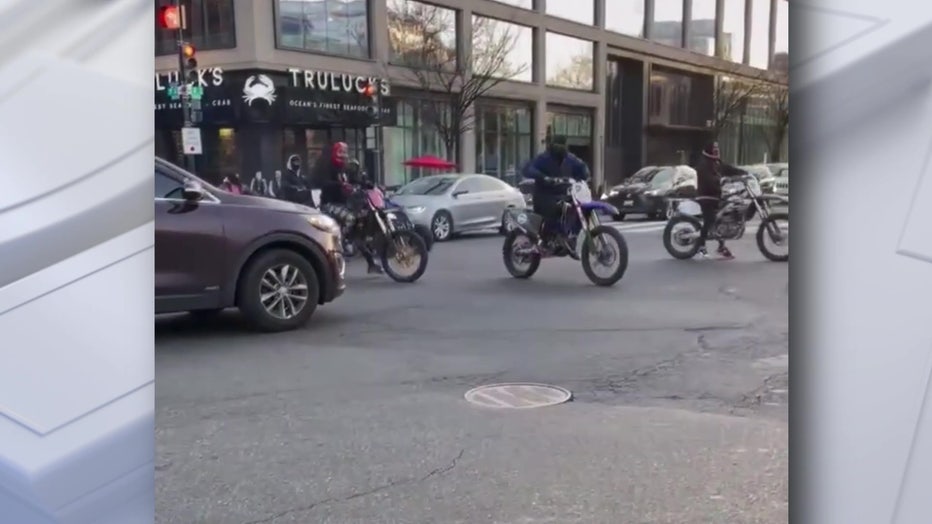 Last summer, Mayor Muriel Bowser told FOX 5 she had tasked the District's police chief with looking more into how to address this. FOX 5 followed up with police but no announcement was ever made. It's been several months.
FOX 5 followed up on Thursday. We were not granted an interview with the chief or an official overseeing this matter. However, D.C. Police Spokesperson Dustin Sternbeck did confirm an ATV Investigation Unit was created last summer.
Sternbeck told FOX 5 it's not a task force and that the ATV Investigation Unit is made up of officials from MPD's Violent Crime Suppression Units. The goal is to recover the illegal vehicles before they even hit the streets.
RELATED: DC officials weigh solutions to illegal dirt bike riding
At a recent D.C. Council oversight hearing on the police department, Police Chief Robert Contee III told the Judiciary and Public Safety Committee Chair Brooke Pinto, "We did a different enforcement action, I'll call it that. And we recovered about 200 or so ATVs last year. While it didn't get every ATV out of communities, it certainly sent a message. And I think on the back end of the summer, consistent with the crime numbers, we started to see the temperature turn on that a little bit."
The chief said most of the confiscations were done last summer. His office was not able to share any other data on Thursday that would provide context as to how the 200 or so illegal vehicles confiscated compares to the number of those taken away in previous years.  
The chief also noted in the recent hearing how his officers and the department need to be supported in doing this work, especially when riders aren't necessarily willing to give up their all-terrain vehicles.
Illegal ATV and dirt bike riding has been a long-standing battle in the city. ATVs and dirt bikes are illegal to ride on D.C. public streets. However, D.C. police have a no-chase policy, making it harder to stop them.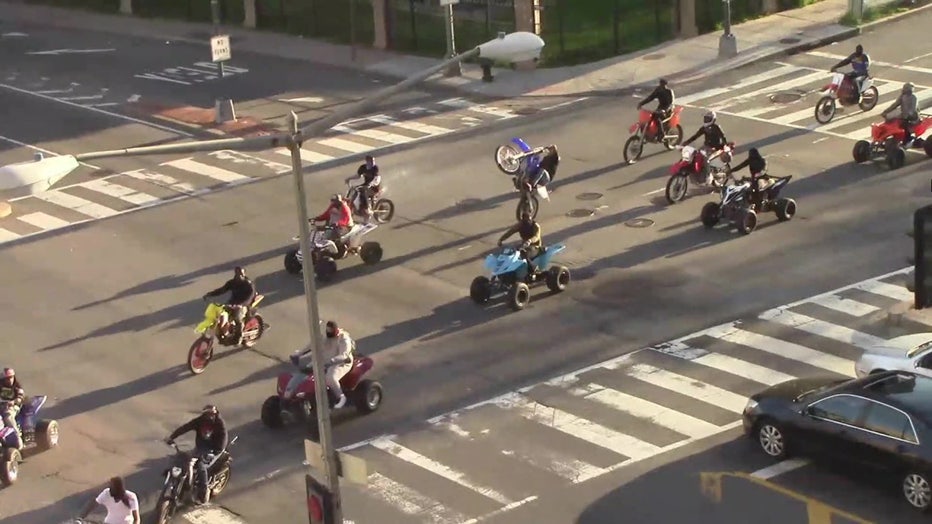 Many residents have argued its lawlessness and want more done.
"It's ridiculous," Lisa Brokenborough told FOX 5 Thursday, "because they do wheelies in front of cars. Last week, they told me a couple of them got hit."
There are also some who believe the riders are mistaken and that illegal riding is an expression of D.C. culture. Lamar Stephens is one of those people.
"I think it's cool. I think people are just expressing something that they want to display when they're riding the bikes," he said. "I like it, I like it, I think it's a good idea. Do I think it should happen often? No, I think it should be a weekend thing." 
Stephens also suggested allowing these illegal riders to use bike lanes, in addition to being permitted to ride during certain days and times of the week.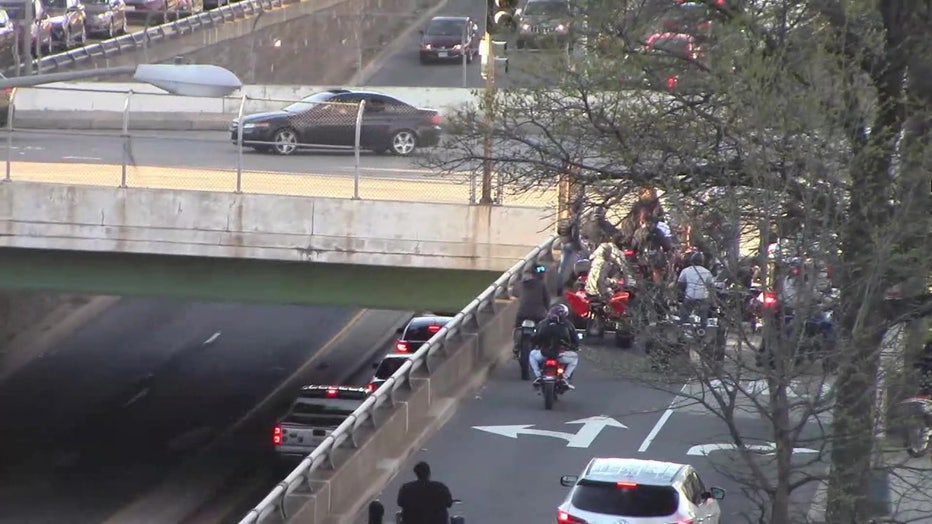 FOX 5 asked another man named "Bobby" if he agreed with the argument that illegal riding is part of D.C. culture. He didn't hesitate before responding, "No."
"It's just dangerous on all parts. It could hit somebody, hurt somebody, then who's at fault?" 
Most of the people who spoke against the illegal riding told FOX 5 on and off camera, they feel the city is not doing enough to address the issue.
FOX 5 also reached out to council members Brooke Pinto, Brianne Nadeau and Vincent Gray's offices. Those council members deal with illegal riding in their different capacities.
Councilmember Nadeau shared a statement last year that discussed increasing community outreach to the riders. It also mentioned potentially finding a site where these ATV and dirt bike users can ride legally, even though many people feel another place would not work if the point is to show off maneuverers on these vehicles.
Councilmember Nadeau's office did not get back to FOX 5 in time for this report.
Judiciary and Public Safety Committee Chair Brooke Pinto told FOX 5 in an emailed statement: "I am very concerned about the prevalence of illegal dirt bike and ATV riding in our city. I have been working with the ATV Task Force to support MPDs efforts to fine and confiscate these vehicles. We've had some success in finding information through video footage with local businesses and as the months get warmer, we will be working with DDOT, DPW, MPD on additional strategies to stop this illegal activity."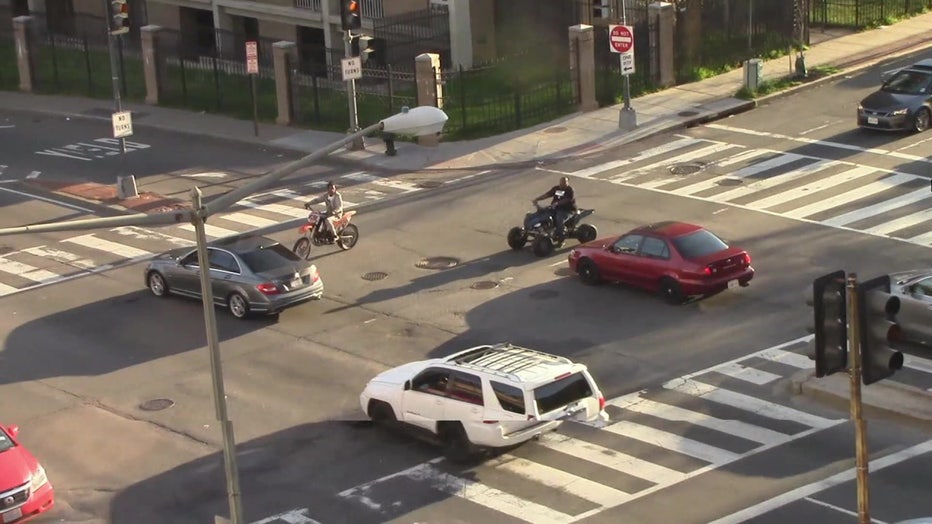 Councilmember Gray responded to FOX 5 in email, "Less than a year ago, a person was shot* after an encounter with a group of illegal ATV riders across the street from my home. I know this dangerous problem all too well. I have voiced concerns about illegal ATV and dirt bike use to MPD and other public safety officials. Curtailing this dangerous activity is complicated, given that MPD is not allowed to chase ATVs or dirt bikes."
"Police do their best to investigate video footage and other tips that lead to the confiscation of illegal ATVs, but as we know, MPD is under-resourced. I encourage the public to assist in identifying places where illegal ATVs are stored and alerting the MPD anonymous tip-line at (202) 727-9099. When illegal riders know that we'll take their ATVs, more will be discouraged from breaking our laws and, ideally, they will find lawful places to ride. I support designating safe, off-road locations for ATV recreation, but we need to know that riders will use them before dedicating resources to a solution like this."