Carowinds shares timeline to replace cracked 'Giga' coaster beam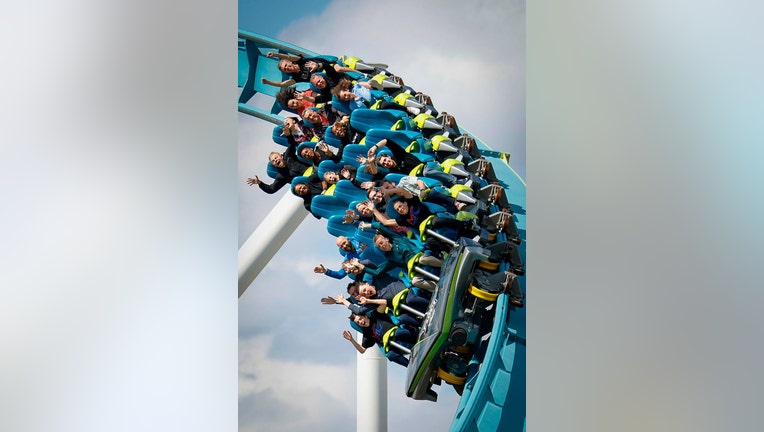 article
CHARLOTTE, N.C. - Carowinds amusement park will remove and replace the fractured support beam that has closed its popular Fury 325 "Giga coaster," the company announced Thursday.
The Charlotte, North Carolina park said reps from the ride's manufacturer have been inspecting the cracked roller coaster since July 1, a day after a park visitor noticed and recorded video with his phone.
The video showed a key support beam bending with the top visibly detached as cars packed with unsuspecting passengers whirled by at speeds of up to 95 mph. It's known as a "Giga coaster" due to its dramatic height of 325 feet.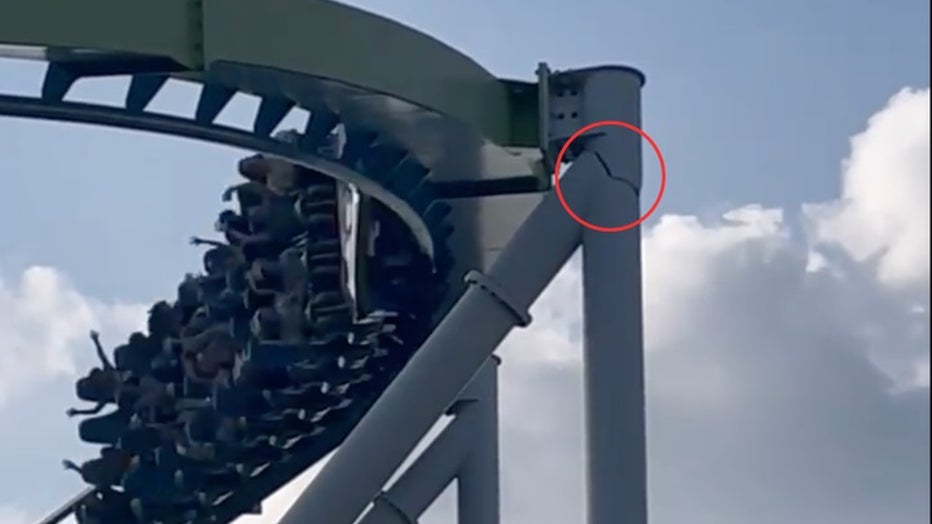 Jeremy Wagner posted to Facebook on Friday that he discovered the crack on Carowinds Fury 325 giga roller coaster and notified officials at the amusement park, who temporarily closed down the ride. (Credit: Jeremy Wagner)
Carowinds has not revealed what caused the crack, but said a replacement beam will be delivered to the park next week:
Following the installation of the new column, and as part of our normal protocol for rides such as Fury 325, we will conduct an extensive series of tests to ensure the safety and integrity of the coaster. These will include an accelerometer test that uses sensors to measure any variation in the ride experience. After that, we plan to operate the ride for 500 full cycles, performing tests and inspections of the entire ride throughout that period. Once this phase is completed, we will ask B&M and the third-party testing firm to perform a final inspection to ensure the ride exceeds all required specifications.
Carowinds said they will use camera-fitted drones to inspect "hard-to-reach" areas of the coaster, in addition to regular inspections.
READ MORE: Roller coaster riders stuck upside down for hours at Wisconsin festival after 'mechanical failure'
Shortly after footage was released of the crack inside Fury 325's support structure, riders on a roller coaster in northeastern Wisconsin were trapped upside down for three hours before emergency responders arrived to rescue them.
The ride had been inspected recently when a mechanical failure occurred, halting the coaster mid-ride, according to Capt. Brennan Cook of the Crandon Fire Department.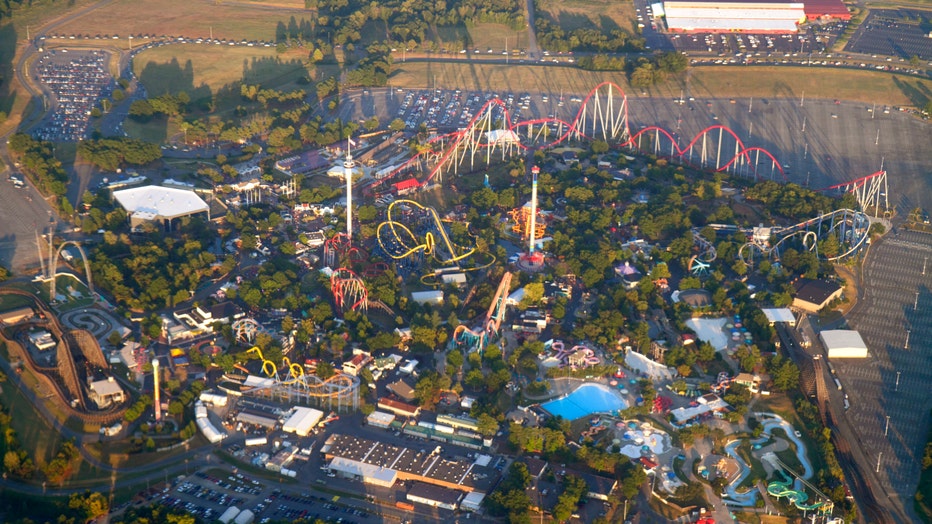 Aerial view of a Carowinds amusement park. (Photo by: Jeffrey Greenberg/Universal Images Group via Getty Images)
Industry experts have been quick to counter that millions of Americans hop on roller coasters, Ferris wheels, water slides and many other rides without ever experiencing issues. They note injury rates are extremely low.
A 2021 survey compiled on behalf of the International Association of Amusement Parks and Attractions found "0.9 injuries per million rides," said Caitlin Dineen, the group's spokesperson. That year, more than 1,200 ride-related injuries were reported out of the typical 1.7 billion rides that take place each year across 400 locations in North America.
In 2022, Orlando's International Drive district removed a towering 400-foot (122-meter) ride after it was directly linked to the death of 14-year-old Tyre Sampson — a Missouri teen who fell to his death while on the ride the year prior.
READ MORE: Orlando FreeFall death: Florida leaders announce $250K fine after Tyre Sampson's deadly fall
Sampson, who lived near St. Louis, Missouri, was visiting Orlando during spring break when he died.
An initial report from outside engineers hired by the Florida Department of Agriculture said sensors on the ride had been adjusted manually to double the size of the opening for restraints on two seats, resulting in the teen not being properly secured.
The Associated Press contributed to this report.