'California Henge' stuns crowds with epic San Francisco sunrise
SAN FRANCISCO - Crowds stood in awe at a San Francisco intersection early Saturday morning for the highly anticipated California Henge.
The rare chance to see the sun rise over the Bay Bridge, perfectly framed by the cityscape of California Street, happens only twice a year, and hundreds gathered to see it.
A "henge" is when the sun aligns precisely with the street grid, and in this case it happened around 6:45 a.m. at Gough Street and California Street. The entire intersection was blocked by the sunrise seekers.
"I've never seen so many people for something like this," said Marc Donahue of Permagrin Films. "We're all in the middle of the street. It's crazy."
Donahue was capturing time-lapse drone footage and had arrived before 6 a.m. to get a good spot. He was joined by Sean Willis of Pixel Creative Designs and Alonso Orellana of Visual Street Films, all with tripods and multiple cameras set up in the middle of the street.
It was still dark as people started to cluster. Many drove from different parts of the Bay Area, others dropped by while walking their dog, and a lucky few who live in the Nob Hill neighborhood rolled out the door in their robes with a cup of coffee in hand.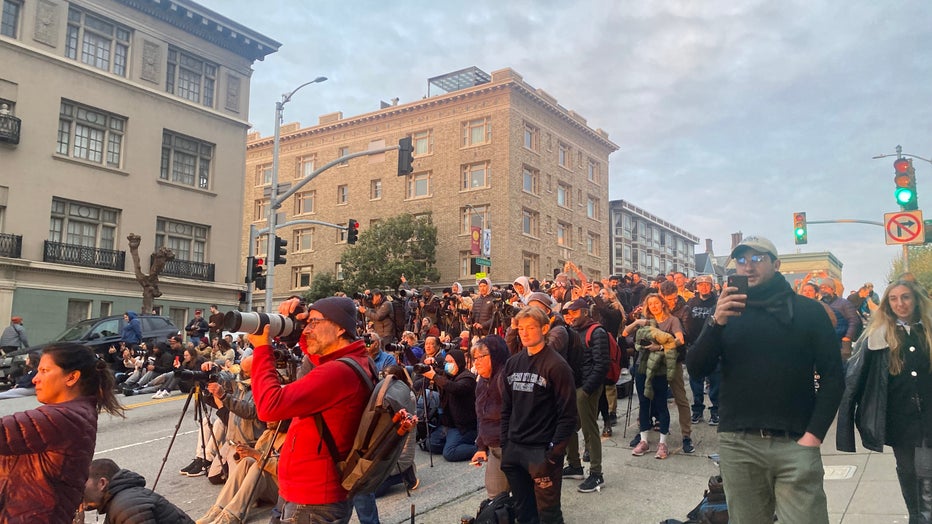 People gathered for California Henge at Gough and California Streets in San Francisco April 8, 2023.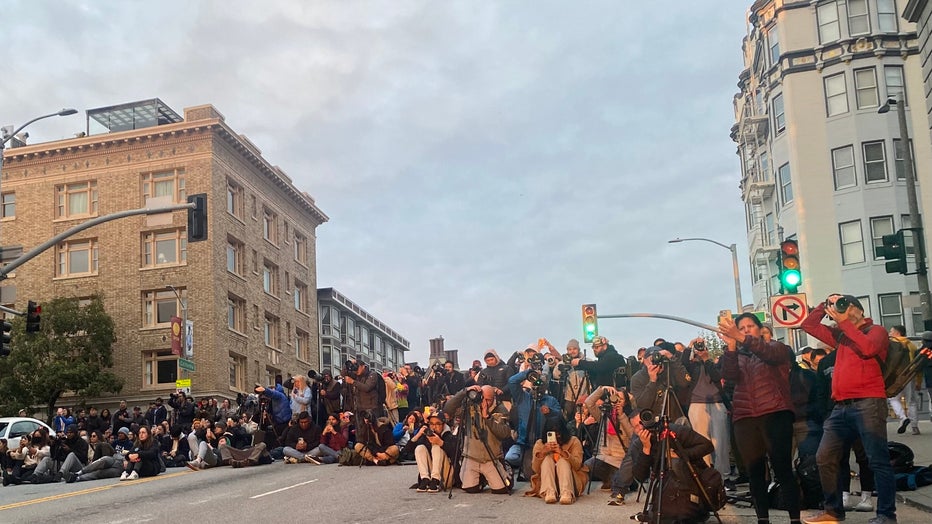 The intersection was totally blocked by the crowd at Gough and California Streets in San Francisco April 8, 2023. 
Stephanie Calabrese and Jasmine Wong live a block away and stood bundled with their dogs and coffee. They were anxious to take in the views without cameras.
"I think it was all over social media," said Wong. "You really couldn't miss it."
Cloud cover was apparent as light slowly started to reveal itself and many wondered if it would block the sun.
"The clouds actually help make it more dramatic," said Donahue. "It helps diffuse the light of the sun."
It was the first time seeing the henge for Victor Lo and Scott Sapinski, who live in Haight-Ashbury and Cole Valley. 
"I didn't realize it was happening until I saw it on the news this morning and decided to jump in the car," said Sapinski. "We came cruising down Franklin hoping we wouldn't miss it."
The fascination with the sun's alignment dates back to 2500 BC with Stonehenge. The sarsen stones carefully placed in the middle of the English countryside tracked the movement of the sun, moon and stars.
Other major cities have their own version of the henge, including Manhattan and Boston. Manhattanhenge also comes twice a year, but is when the sun sets precisely on the borough's grid. 
On this chilly morning in San Francisco, a few cars honked and pestered the massive crowd, but for the most part, drivers realized it was a battle they weren't going to win and went the other way.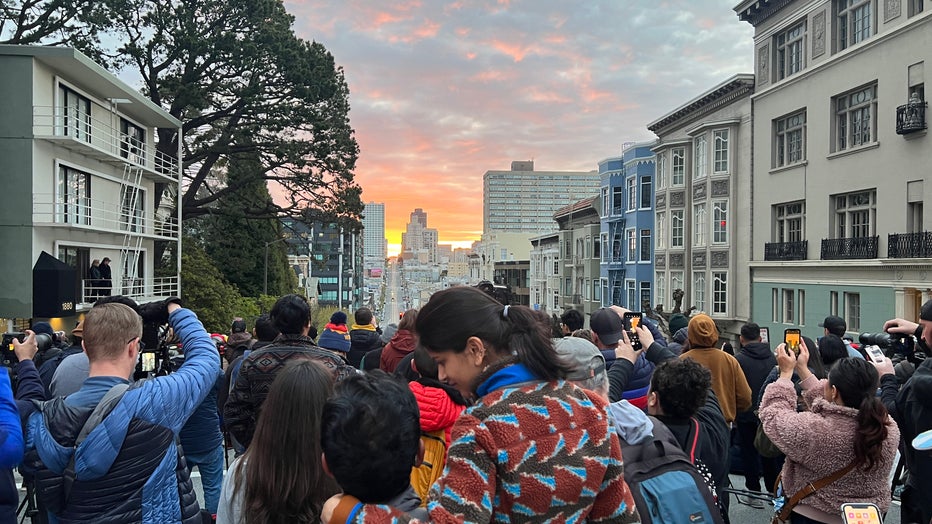 California Henge in San Francisco April 8, 2023. 
As the moment finally arrived and the sun was nestled on top of the Bay Bridge for a few precious seconds, the crowd stood mesmerized. Parents marked the moment by hugging their little ones as photographers continued to snap away for that once in a lifetime shot. 
San Francisco's henge is expected to shine again around 6:45 a.m. Sunday and Monday. It will return in September of this year.
Sara Sedillo is a digital reporter for KTVU. Email Sara at sara.sedillo@fox.com.