Burger King adding 2 ghost pepper items to its menu for spooky season
LOS ANGELES - Burger King has entered the chat this spooky season with some ghoulish menu items. 
Beginning Oct. 12 at participating locations, customers can try the all-new Ghost Pepper Chicken Fries and the fan-favorite Ghost Pepper Whopper. 
This will be the first time the brand's iconic Chicken Fries will come with the signature heat of the ghost pepper. 
"Earlier this year, we asked Guests if we should bring back the Ghost Pepper Whopper or introduce Ghost Pepper Chicken Fries. The results were split, so we're adding both products to our menus nationwide* this Halloween season, giving Guests multiple ways to enjoy the perfect combination of flavor and heat," said Pat O'Toole, Chief Marketing Officer, Burger King North America. "We're excited for fans to have a new way to enjoy our signature Chicken Fries and bring back the Ghost Pepper Whopper with an eye-catching orange bun achieved with the use of paprika, showing that spook-tacular innovations don't mean you have to sacrifice quality or flavor."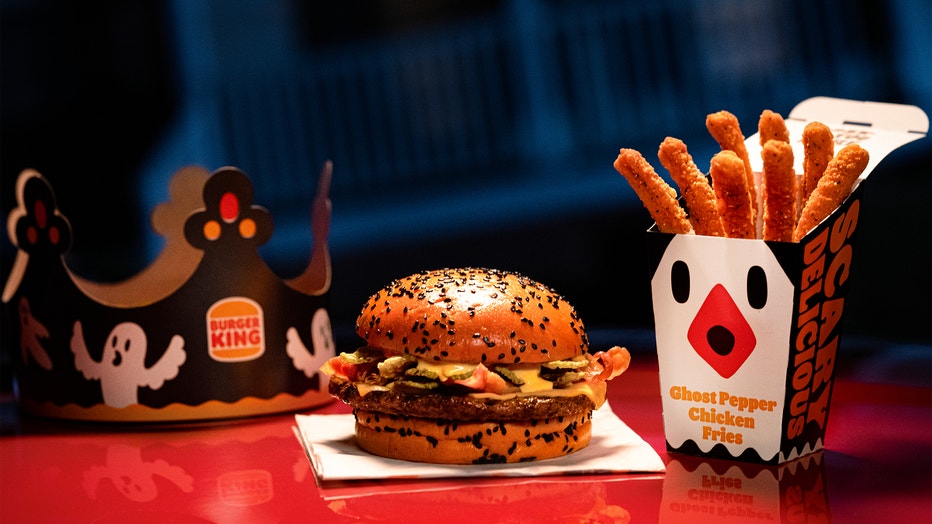 Burger King welcomes "Spooky Season" with the return of the Ghost Pepper Whopper and all new Ghost Pepper Chicken Fries – available starting October 12 while supplies last.  (Burger King)
The Ghost Whopper was first debuted by Burger King in 2019 after the customers were used to the jet-black "Halloween Whopper" and green-tinted "Nightmare King" burger. 
To find your nearest Burger King restaurant and sample these newly launched spookily innovative menu items, please visit www.bk.com.