Britney Spears, Sam Asghari split, 'headed for divorce'
LOS ANGELES - Britney Spears and her husband Sam Asghari have reportedly decided to part ways after one year of marriage, multiple sources have confirmed.
Asghari, 29, filed a petition to dissolve his 14-month-old marriage to the 41-year-old pop superstar in Los Angeles County court late Wednesday. He is seeking spousal support and attorneys' fees in their divorce, according to his divorce filing.
Like the vast majority of those who file for divorce in California, he cites irreconcilable differences as the reason for the split, according to the Associated Press. It also says he will try to get financial support from her while blocking her from getting any from him. And it seeks to have her pay for his divorce lawyers.
The document lists the couple's separation date as July 28, though reports of the split did not emerge until Wednesday.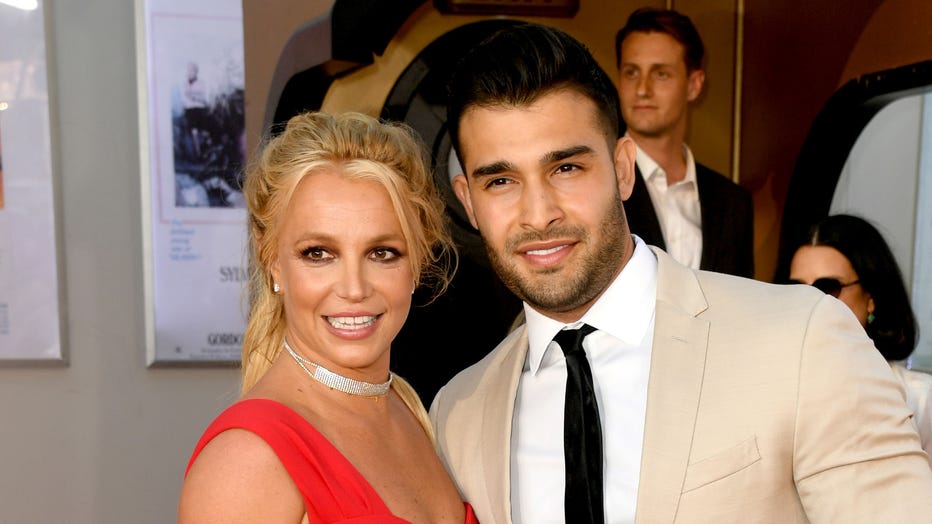 Britney Spears (L) and Sam Asghari arrive at the premiere of Sony Pictures' "One Upon A Time...In Hollywood" at the Chinese Theatre on July 22, 2019 in Hollywood, California. (Photo by Kevin Winter/Getty Images)
TMZ was the first news outlet to confirm the news, claiming the couple separated after an argument that involved "allegations of cheating" and were "headed for divorce."
TMZ said their sources claim Asghari confronted Spears over rumors she stepped out on him. Their source also said Asghari has moved out of their house and is now living in a place of his own. 
As one of their sources put it, "It's only a matter of time before Sam files for divorce."
FOX Television Stations reached out to Spears' and Asghari's reps for confirmation and comment. Spears has not addressed the split on social media. 
The couple, who got married in June 2022, have captured the public's attention, with many fans rooting for their happiness after Spears' highly publicized conservatorship battle. 
EARLIER: Britney Spears shares photos of fairytale wedding to Sam Asghari
The wedding happened nine months after the pair were engaged and nearly seven months after Spears' conservatorship ended. The couple's marriage had been seen by many as a symbol of Spears' newfound agency and freedom.
While seeking an end to the court case that controlled many aspects of her life, Spears expressed her desire to marry Asghari and have children. Spears also got pregnant last year but experienced a miscarriage. 
In March, Asghari addressed rumors after he and his wife were reportedly seen without their wedding rings. 
The actor's rep told Page Six that he and Spears were not having marital issues and that Asghari took off his ring because he was filming a movie. 
RELATED: Britney Spears' husband Sam Asghari addresses rumors after being spotted without wedding rings
The couple met on the set of the "Slumber Party" music video in 2016. Spears' memoir, "The Woman in Me," is scheduled to be released in October.