Brawl at Montgomery, Alabama riverfront dock caught on video
MONTGOMERY, Ala. - A massive brawl broke out on a riverfront dock in Montgomery, Alabama, on Saturday evening over what appeared to be the docking of a pontoon boat, and the city's mayor says several "reckless" individuals were detained.
The fight between a group of individuals and a man, who appeared to be a dockworker, was captured on video around 7 p.m. by onlookers aboard a nearby boat at Riverfront Park.
The woman recording the video can be heard saying that a worker was moving a black pontoon boat that had docked after the apparent owners were told they could not leave the boat in that area.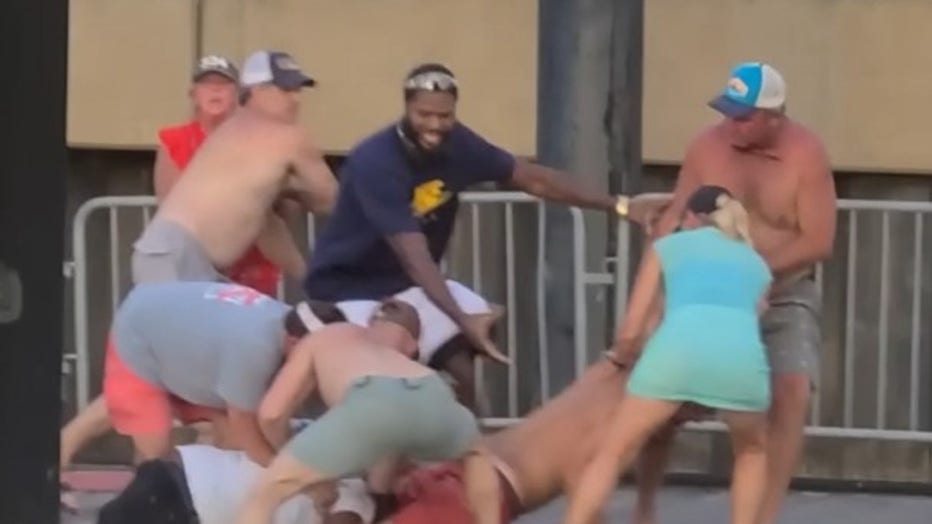 Brawl breaks out in Alabama. (Credit: Christa)
As the worker begins to move the boat on his own, a group of individuals approach and begin to argue with the man, the video showed. The verbal altercation then turns physical when one individual suddenly punches the worker in the head. 
DIRT BIKE RIDER WANTED IN PENNSYLVANIA AFTER 'INTENTIONALLY' HITTING MAN, RUNNING HIM OVER TWICE: POLICE
Other individuals in the group rush the worker and begin punching and kicking him while he is on the ground. Onlookers intervene and begin pulling the individuals off the worker, who then is seen standing up on his own and walking down the dock.
Fox News Digital reached out to the Montgomery Police Department but did not immediately hear back.
Mayor Steven L. Reed responded to the incident Sunday with a post on social media.
"Last night, the Montgomery Police Department acted swiftly to detain several reckless individuals for attacking a man who was doing his job," Reed wrote. "Warrants have been signed and justice will be served."
NYPD SEEK HELP IDENTIFYING MORE SUSPECTS AFTER TWITCH INFLUENCER KAI CENAT GIVEAWAY DEVOLVES INTO MASSIVE RIOT
Reed went on say that the "unfortunate incident" never should have happened.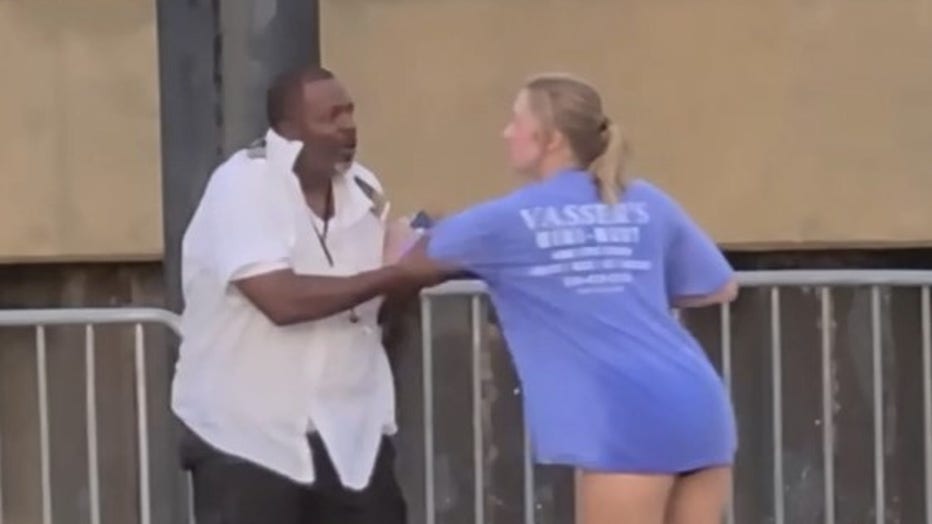 Brawl breaks out in Alabama. (Credit: Christa)
"As our police department investigates these intolerable actions, we should not become desensitized to violence of any kind in our community," the mayor wrote. "Those who choose violence will be held accountable by our criminal justice system."
Montgomery police said the incident happened at the 200 block of Coosa Street, and that several people were detained, the Montgomery Advertiser reported.
Four active warrants were issued, with the possibility of more after investigators review additional video of the incident, police said.
Authorities have yet to release the names of those who were detained or how many there were.
Read more of this story from FOX News.