Bob Barker, legendary game show host, was a 'national animal rights treasure'
Bob Barker was a household name and the face of "The Price is Right" for decades, but he was equally known to many as a passionate animal rights activist and philanthropist.
Barker died Saturday morning at his home in Los Angeles. He was 99 years old.
READ MORE: 'Very sad day': Drew Carey, Adam Sandler react to Bob Barker's death at 99
"Bob's influence on the entertainment industry is indisputable, but what mattered to him most was using his voice and prominent position to protect animals," People for the Ethical Treatment of Animals, or PETA, said in a statement. "To us—and to so many animals around the world—Bob will always be a national animal rights treasure."
Here's a look back at some of Barker's biggest contributions to animal rights worldwide. 
Why Bob Barker quit the Miss USA Pageant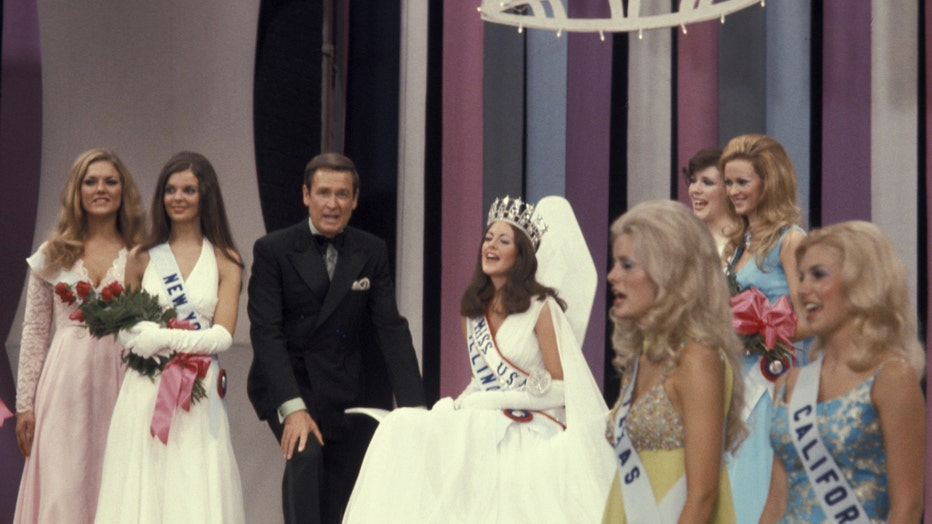 Bob Barker, the winner of The Miss USA Pageant Amanda Jones (Miss Illinois), and Miss USA contestants (Photo by Ron Galella/Ron Galella Collection via Getty Images)
Barker, a strict vegetarian, spent 20 years as host of the Miss USA Pageant and the Miss Universe Pageant, but it was his animal rights activism that led him to walk away from the role.
After successfully lobbying for "The Price is Right" to stop giving fur coats as prizes, he quit the Miss USA Pageant in 1987 in protest over the presentation of fur coats to the winners.
Bob Barker spoke out against SeaWorld, other attractions
Twelve years ago, Barker spoke out against SeaWorld and urged people not to visit the marine theme parks.
"Life in cramped tanks is no prize for orcas and dolphins, who want to be free with their families in the ocean. Many have died prematurely at SeaWorld after swimming in endless circles and performing dumb tricks day in and day out," he said in a video posted to PETA's YouTube page.
Barker also tried to get the Eastern Band of the Cherokee Nation to end the North Carolina town's displays of bears in pits and cages.
The game show host also campaigned for the better treatment of animals in the film and entertainment industry. 
Bob Barker's philanthropy
In 2010, Barker donated $2.5 million to PETA for a new building in Los Angeles.
Among Barker's other activities on behalf of animals was a $250,000 donation to Save the Chimps, the Fort Pierce, Florida-based organization said in an emailed statement Saturday.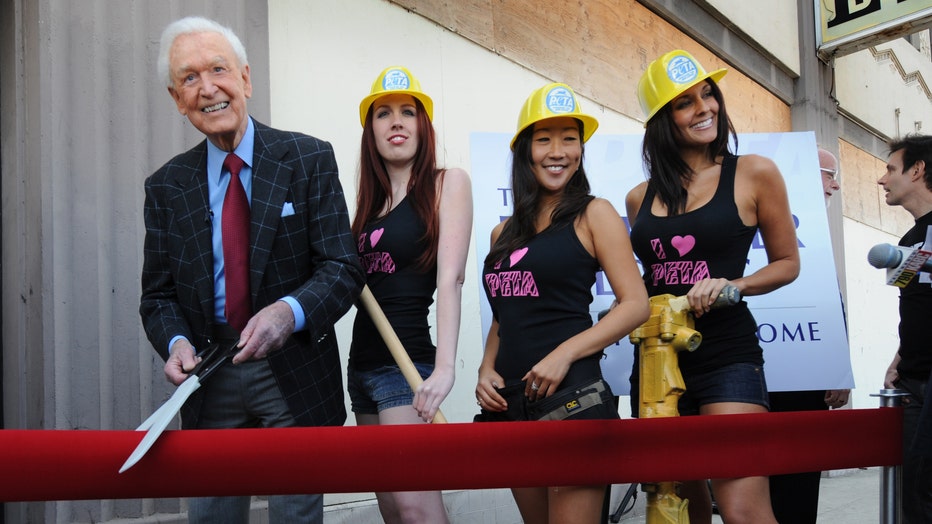 Television icon Bob Barker poses with animal rights activists from the group PETA dressed as construction workers during the groundbreaking ceremony for their new headquarters in Los Angeles on March 10, 2010. Barker donated USD 2.5 million to cover
"Bob Barker's kind spirit lives on at Save the Chimps, where we walk every day on the road named for him after his game-changing contribution," said Save the Chimps' CEO Ana Paula Tavares. At the time of the donation, Barker said that he hoped chimpanzees tortured "physically and mentally" for years when being used for research experiments would find "the first peace, contentment and love they have ever known at Save the Chimps."
According to The New York Times, Barker donated $5 million to the Sea Shepherd Conservation Society. The organization used the money to buy a ship named for Barker to use in their anti-whaling campaigns.
The DJ&T Foundation
In 1995, Barker founded the DJ&T Foundation, an organization aimed at reducing the overpopulation of domestic animals by providing free or inexpensive sterilization for cats and dogs. He poured $25 million into the charity.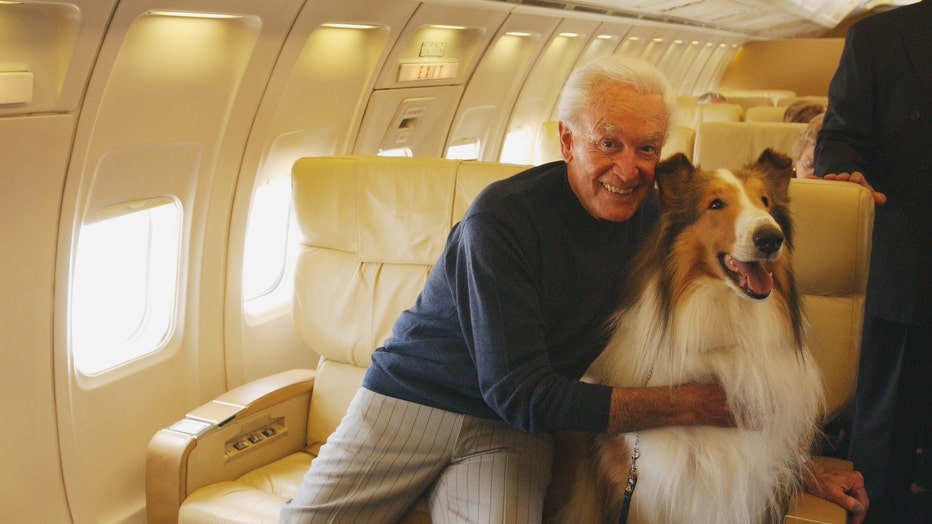 Prior to takeoff, American animal actor Howard, best known as Lassie, poses with American television personality and game show host Bob Barker on a chartered aircraft, Los Angeles, California, October 31, 2003. (Photo by Cliff Lipson/CBS Photo Archiv
At the end of each episode of "The Price is Right," Barker urged his viewers to "have your pets spayed or neutered."
Barker called for an end to animals in military training
After footage surfaced of U.S. armed forces harming live animals during military training, Barker, who served in the U.S. Navy during World War II, penned a letter to the top officials at the Pentagon calling for an end to the practice.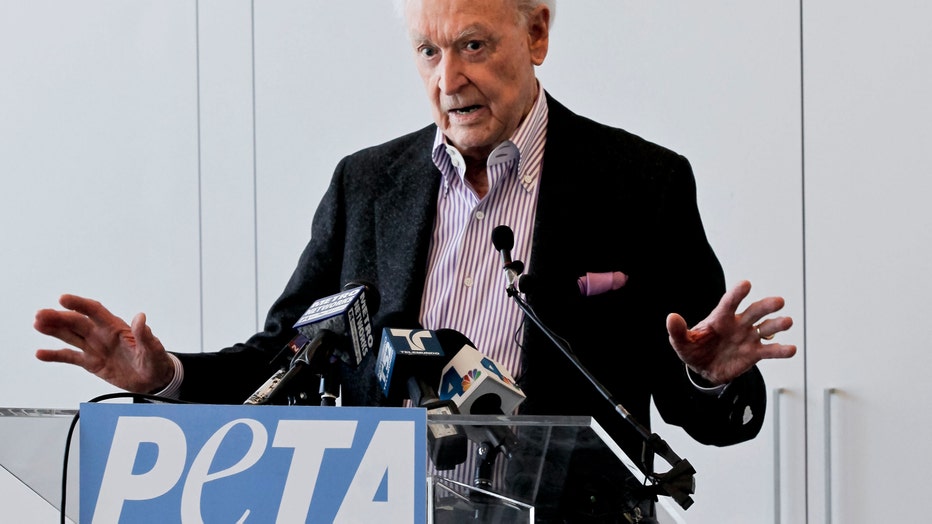 Bob Barker hosts press conference to reform 'No Animals Harmed' movie label at The Bob Barker Building on September 13, 2012 in Los Angeles, California. (Photo by Tibrina Hobson/FilmMagic)
"My own experience in the Navy left me with a strong belief that the brave Marines, sailors, Air Force members, and soldiers who risk their lives to protect our country deserve the best possible medical care, so this is not an issue that I approach lightly," he said in the letter. "It is clear from this video that dismembering and then trying to mend live goats in these crude procedures is worlds apart from treating an injured human on the battlefield. . . . I hope you will give this issue serious consideration and take steps to replace the armed forces' use of animals for trauma training with 21st century simulation technology."
The Associated Press and Fox News Digital contributed to this report.