'Real leader': Biden nominates Julie Su as next US labor secretary
WASHINGTON - President Joe Biden said Wednesday that his labor secretary nominee Julie Su is a "real leader" who has supported unions, enforced worker safety and protected the victims of human trafficking.
"Julie is the American dream," Biden said in remarks at the White House. "She's committed to making sure that dream is in reach for every American"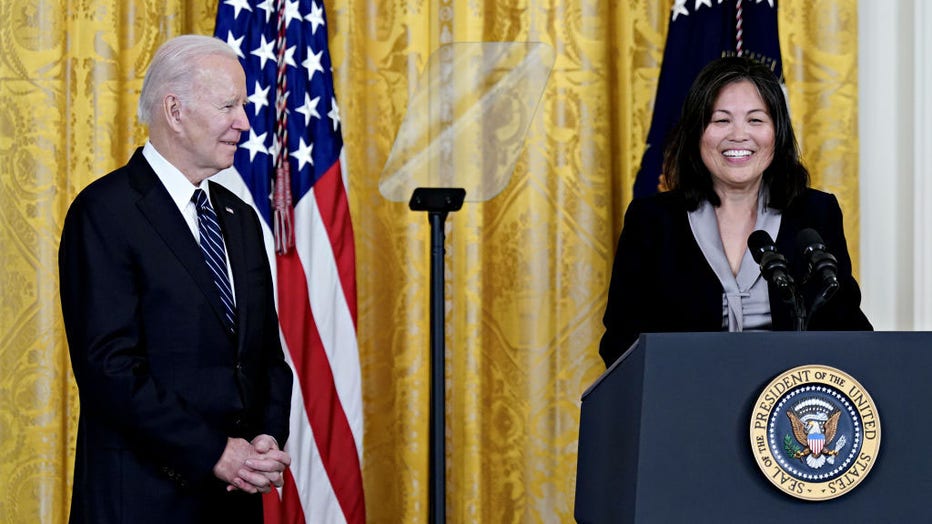 Julie Su, deputy US secretary of labor, speaks during a nomination event with US President Joe Biden, left, in the East Room of the White House in Washington, DC, US, on March 1, 2023. Photographer: Al Drago/Bloomberg via Getty Images
The daughter of an immigrant mother who arrived on a cargo ship, Su said she believes "in the transformative power of America." She noted that a union job gave her parents a path to the middle class, one that eventually led her to college at Stanford University and law school at Harvard University.
"To all workers who are toiling in the shadows, know that we see you, we stand with you, and we will fight for you," Su said.
Su, the current deputy labor secretary, would replace the departing incumbent, former Boston Mayor Marty Walsh, whom Biden hailed by saying, "If I ever want anybody in the foxhole with me, I want Marty Walsh."
A civil rights attorney and former head of California's labor department, Su was central to negotiations between labor and freight rail companies late last year, working to avert an economically debilitating strike. She also has worked to broaden employee training programs and crack down on wage theft. If confirmed by the Senate, Su would also be the first Asian American in the Biden administration to serve in the Cabinet at the secretary level.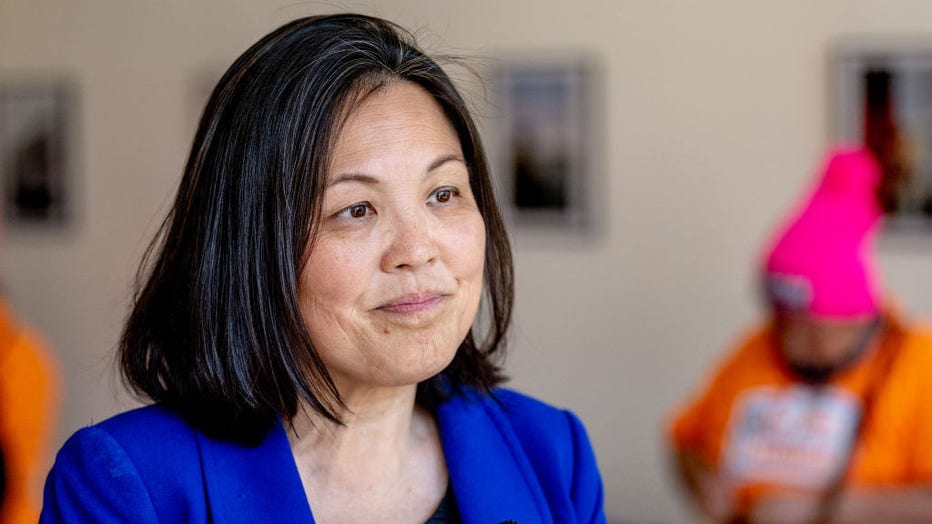 FILE - Deputy Labor Secretary Julie Su attends a Learn About Worker Experiences event at the Skal restaurant in Brooklynon April 11, 2022 in New York City. (Photo by Roy Rochlin/Getty Images for One Fair Wage)
Su was considered to lead the department when Biden won the White House but instead became the department's deputy. Walsh announced his intention to leave the administration earlier this month to lead the National Hockey League Players' Association. Su will serve as the acting secretary until the Senate acts on her nomination.
Biden had been under pressure from the Congressional Asian Pacific American Caucus and other Asian American and Pacific Islander advocates to select Su to head the department. This administration was the first in more than two decades to not have a Cabinet secretary of AAPI descent, despite its regular declarations that it was the most diverse in history. Vice President Kamala Harris and U.S. Trade Representative Katherine Tai are of AAPI descent but don't lead a Cabinet department.
RELATED: Fed officials signal more rate hikes likely amid sticky inflation, minutes show
Su, if confirmed, would also expand the majority of women serving in the president's Cabinet. She was confirmed by the Senate to her current role in 2021 by a 50–47 vote.
Su's nomination drew swift support from Democrats on Capitol Hill, with Senate Majority Leader Chuck Schumer saying Tuesday that she would be "phenomenal" in the job.
"The president couldn't have picked a better nominee," he told reporters. "I'm really excited about her, and we're going to move to consider her nomination very, very quickly."
Sen. Bernie Sanders, I-Vt., who will preside over Su's confirmation hearing as chair of the Senate health, education, labor and pensions committee, praised the selection. Sanders had urged consideration of Sara Nelson, the president of the flight attendants union, but made clear Su had his strong support.
"I'm confident Julie Su will be an excellent Secretary of Labor," he tweeted. "I look forward to working with her to protect workers' rights and build the trade union movement in this country."
But Louisiana Sen. Bill Cassidy, the top Republican on the Senate health, education and labor committee who opposed Su when she was selected for deputy secretary, called her work overseeing the department "troubling" and "anti-worker."
The committee should "have a full and thorough hearing process," Cassidy said.
Rep. Judy Chu, D-Calif., who chairs the Congressional Asian Pacific American Caucus, said she was "overjoyed" by the selection, thanking Biden in a tweet for "nominating your first AAPI Cabinet Secretary!"
"It certainly is better late than never," Chu said in a brief interview, citing CAPAC support for Su two years ago for the top Labor post and praising Su's credentials as a leader and enforcer of labor laws including minimum wage and occupational safety standards. She said GOP criticism about Su had been fully vetted two years ago and that the coming confirmation process will show their charges "have no basis."
Chu noted that Biden had said he would name a Cabinet that looked like America, and "he fulfilled that promise."
Su's nomination also comes at a key moment for labor unions, which have been facing a decline in membership for decades. Unions gained some momentum as workers at major employers such as Amazon and Starbucks pushed to unionize. But Biden — an avowed pro-union president — had to work with Congress to impose a contract on rail workers last year to avoid a possible strike.
The Labor Department said just 10.1% of workers last year were union members. That figure has been cut nearly in half since 1983 and could fall further, as younger workers are less likely to belong to unions.
___
Associated Press writers Josh Boak, Mary Clare Jalonick and Hope Yen in Washington contributed to this report.