Beyonce expresses love for Lizzo at Atlanta concert amid harassment allegations, video shows
ATLANTA - Beyonce gave Lizzo a shoutout at her recent concert in Atlanta, Georgia, following a lawsuit filed by three former dancers on Lizzo's tour accusing her of sexual harassment and creating a hostile work environment.
A video, recorded by Zackory Kirk, captured Beyonce expressing love for Lizzo during a performance of her song "Break My Soul (The Queens Remix)" during her 2023 Renaissance Tour.
"Lizzo, I love you, Lizzo!," Beyonce can be heard singing to the audience. 
The singer's support comes just weeks after Beyonce reportedly excluded Lizzo's name from the song when the dancers filed the lawsuit.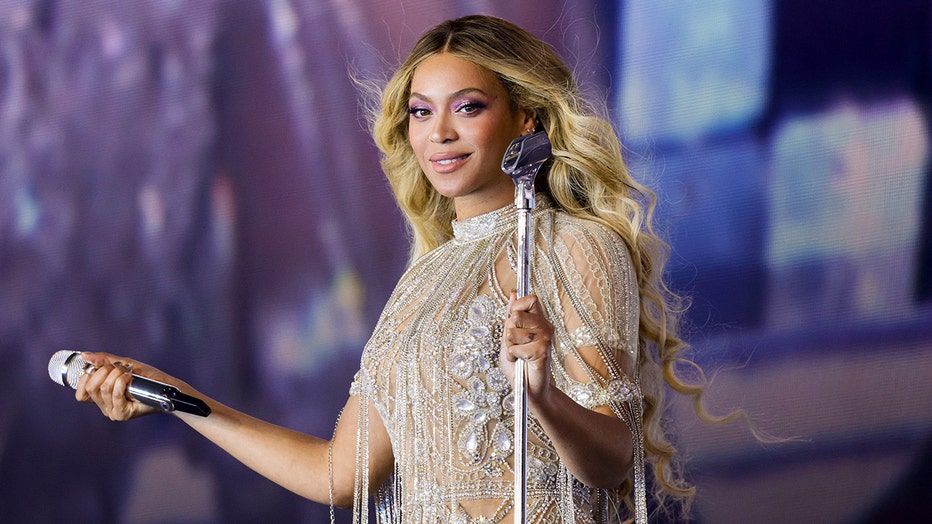 Beyoncé performs onstage during the "RENAISSANCE WORLD TOUR." (Credit: Kevin Mazur/WireImage for Parkwood)
According to Billboard, Beyonce excluded Lizzo's name during her August 1 show at Gillette Stadium in Boston, Massachusetts, but reinstated it during her August 7 show at FedEx Field in North Englewood, Maryland.
Normally, Lizzo's name appears in the lyrics of the song alongside others including Lauryn Hill and Nicki Minaj, as part of Beyoncé's song celebrating Black women in the entertainment industry.
Billboard also said that Beyonce's mother, Tina Knowles, said the omission of Lizzo was not intentional, pointing out that the singer also left out former Destiny's Child member Kelly Rowland's name on August 1, and "fans have noted that not every name in the remix makes it into every performance."
According to a press release provided to FOX 11 from West Coast Employment Lawyers, the complaint was filed in Los Angeles County Superior Court against Melissa Viviane Jefferson, which is Lizzo's legal name, along with her production company Big Grrrl Big Touring, Inc., and Shirley Quigley, captain of Lizzo's dance team.
RELATED: Lizzo hit with lawsuit filed by 3 former dancers alleging hostile work environment
"Usually I choose not to respond to false allegations but these are as unbelievable as they sound and too outrageous to not be addressed," Lizzo said earlier this month on Instagram.
Lizzo, who routinely champions body positivity, is accused of calling out Davis for her weight gain after accusing the dancer of not being committed to her role. Davis was fired in May for recording a meeting during which Lizzo had given out notes to dancers about their performances, according to the complaint.
RELATED: Lizzo responds to harassment claims, lawsuit by former dancers: 'Gut-wrenchingly difficult'
Lizzo denies the accusations.
This story was reported from Los Angeles. Storyful, FOX Los Angeles contributed.