150-lb. statue, other items stolen from set of 'Beetlejuice 2,' Vermont police say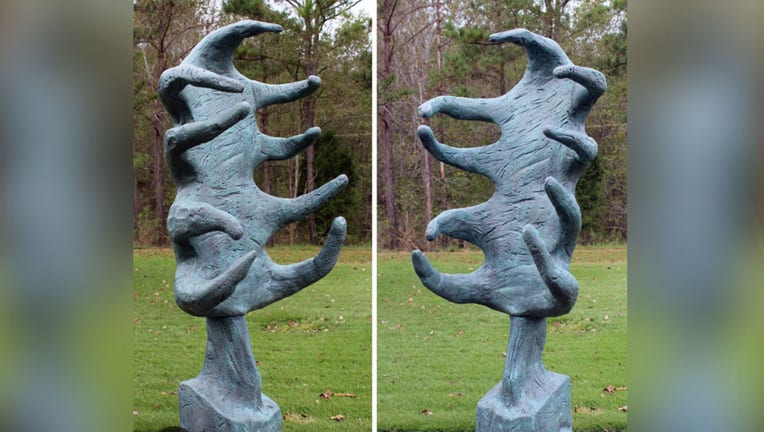 article
"It's showtime" for the Vermont State Police, who say they're investigating a string of thefts from the film set of the movie "Beetlejuice 2." 
The movie is filming in East Corinth, the same little town spot that was transformed in the '80s to the fictitious town of Winter River, Conn. as seen in the movie. 
Vermont police said that two theft reports had been made. 
The first dates back to July 14, when someone in a pickup removed a lamppost from its base that had a "distinctive pumpkin decoration" on top, bundled it into the back of the truck and sped off. 
The second happened on July 17, with movie officials saying a 150-lb. abstract art statue was stolen from the vicinity of the cemetery. 
Police didn't elaborate if the thefts had affected filming at all. 
The cult classic film has viewers following a dead couple haunting their former residence with the help of the eccentric Beetlejuice. 
The film became so popular that it has spawned a musical and an animated series – and now, of course, also a sequel. 
RELATED: 'Barbenheimer' weekend strikes box office gold
Michael Keaton is expected to reprise his role as Bettlejuice with Winona Ryder returning as Lydia Daetz. 
"Wednesday" star Jenna Ortega will also join the project as the daughter of Ryder's character. 
Vermont is the backdrop for most of Beetlejuice 2's outdoor scenes, while interior scenes were filmed elsewhere, according to local paper Seven Days. 
In addition to the thefts, filming was also impacted by the catastrophic flooding that washed over the state.
The town's general store lost its gazebo and parking lot to a nearby river, the paper reported, and dozens of residents helped lay down sandbags to keep the rest of the store safe. 
According to Variety, the film still had one Vermont sequence to film when production wrapped due to the actors' strike.
Anyone with information on the film set thefts is asked to call St. Johnsbury Barracks at 802-748-3111.
This story was reported from Detroit.