Aerial footage shows railroad tracks suspended in air after Vermont flooding wipes out trestle
LUDLOW, Vt. - Excessive rainfall in one Vermont town triggered flash flooding that caused a railroad trestle to collapse.
The dangerous flooding overwhelmed entire towns, like Ludlow, on Monday. The community in Windsor County was one of the hardest hit areas after several inches of rain fell across the state.
Aerial footage by Pat Moore showed a huge gorge that formed under the nearly 100 yards of train tracks that collapsed into the raging waters below.
The incredible force of water at the time even pushed cars against bridges – some even becoming completely submerged.
VERMONT GOVERNOR WARNS 'WE ARE NOT OUT OF THE WOODS' AS DAM SITS CLOSE TO CAPACITY FOLLOWING FLOODING
Ludlow recorded 7.72 inches of rain Monday, the National Weather Service in Burlington reported. Other parts of Windsor County, like Plymouth, saw over 9 inches of rain in 24 hours.
'PRETTY SCARY': VERMONT RESIDENT TALKS TO FOX WEATHER LIVE ON-AIR AS CATASTROPHIC FLOODING RAGES BEHIND HER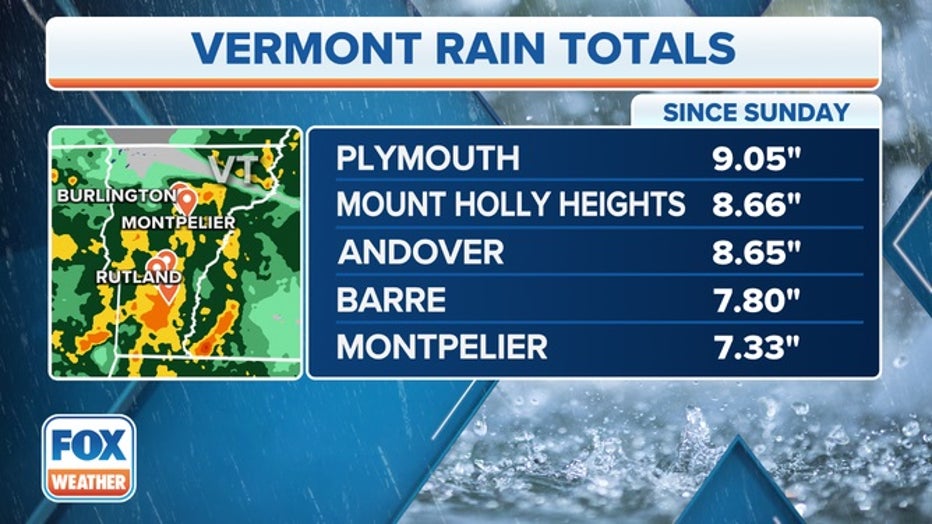 Top rain totals in Vermont over the past 24 hours. (FOX Weather)
Vermont Emergency Management said swiftwater rescue teams were staged in strategic locations throughout the state and evacuated about 10 families from flooded homes in nearby Londonderry, Andover and Ascutney. Vermont State Police said the state's swiftwater rescue teams performed more than 100 rescues across the state.
President Joe Biden approved the state's emergency declaration request to help mobilize federal resources to support the response and recovery efforts for the ongoing disaster.
DRONE VIDEO SHOWS DISASTROUS FLOODING IN LUDLOW AFTER TORRENTIAL RAIN HITS VERMONT
Vermont Gov. Phil Scott held a news conference Tuesday with other state and local leaders to provide updates on the ongoing situation and described it as "historic" and "catastrophic."
"Even though the sun may shine today and tomorrow, we expect more rain later this week, which will have nowhere to go in the oversaturated ground," Scott said. 
The governor reiterated to residents the state was not out of the woods just yet.
"This is nowhere near over," he said. "At this phase, our primary focus continues to be on life and safety before we can shift into a recovery phase."