BearCare recalls thermometers due to reports of injuries, including 'severe skin burns'
HAUPPAUGE, N.Y. - BearCare, Inc. is initiating a voluntary recall of its rechargeable Walnut Wearable Smart Thermometer following consumer complaints of injuries, including minor to severe skin burns and skin irritation, by children that used the product. 
"BearCare prioritizes consumer safety and is thoroughly evaluating these complaints," the U.S. Food and Drug Administration, which conducted the recall, wrote on May 12. "Due to the potential for injury, the Walnut Thermometer consumers are advised to immediately stop using the product." 
The Walnut Thermometer is an over-the-counter rechargeable device intended for continuous chest temperature monitoring for children ages 0-6 years. The item can be identified by its silicone exterior resembling a cartoon penguin. 
According to the FDA, users may identify a failing device if the user observes any substance leaking from the device's exterior, any corrosion near the smart sensor on the back of the device, diminished battery life or connectivity issues with the Walnut App.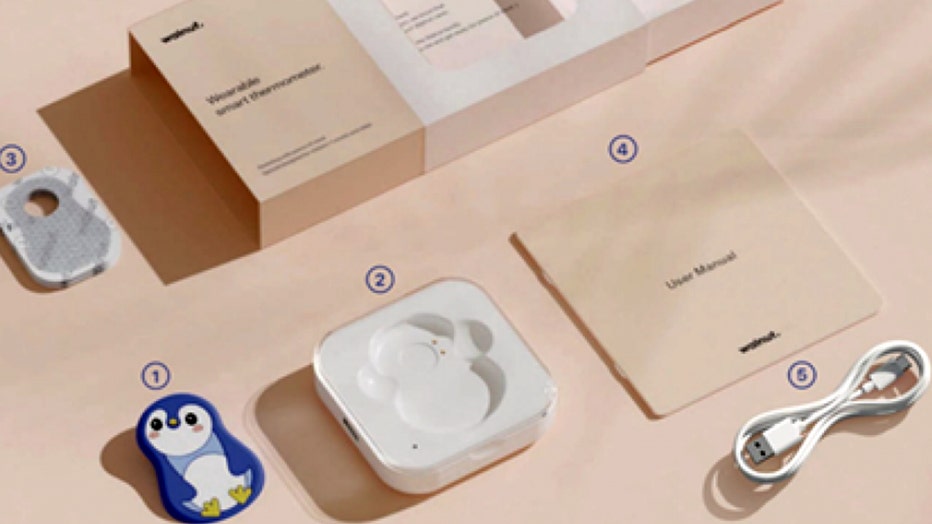 Product photo of Walnut Wearable Smart Thermometer (Credit: FDA)
In addition, a sensation of warming or heat at or near the site, or redness and irritation on the skin are also signs of the device failing. 
The product under recall was sold and distributed from December 2022 to April 2023 through Amazon, Walmart and walnutcares.com.
Consumers are advised to immediately stop using the product. The federal agency also said caution should be taken if there is evidence of moisture or leakage since this "may pose a risk of chemical burns to users as well as caretakers or others handling the product."
RELATED: 131,000 Ram pickup trucks recalled by Stellantis
"Given the vulnerable population of neonates and infants, other areas of the body should be checked, including the mouth and eyes due to possible transfer of corrosive fluids that may cause chemical burns or toxicity if swallowed," the FDA wrote. 
The agency said to seek medical care if you or your child were exposed to moisture coming from the device or experience any symptoms related to this device failure. 
BearCare is asking consumers to return the product to obtain a full refund of the purchase price. Consumers may contact recall@walnutcares.com for a pre-paid shipping label.