American bald eagles build new home at NASA's Kennedy Space Center
KENNEDY SPACE CENTER, Fla. - A trip through a historic 6,000-acre spaceport on Florida's east coast will likely net visitors sights of old rockets, the Vehicle Assembly Building and launch sites. Yet alongside all the human innovations, the Kennedy Space Center has become known for its refuge for thousands of animals including America's national bird.
Every year, the space agency reports American bald eagles take residence at the center and nearby Merritt Island National Wildlife Refuge.
NASA said there are on average 11 active nests at the space center each year but a nest that gained fame for its prominence near the Vehicle Assembly Building since 1973 was no longer used by the migratory birds.
Biologists believe severe storms in 2021, and an invasion of pine bark beetles badly damaged the nest and weakened the tree, forcing a pair of eagles to start building a new nest. It wasn't only until recently that the birds finished the nest and moved in.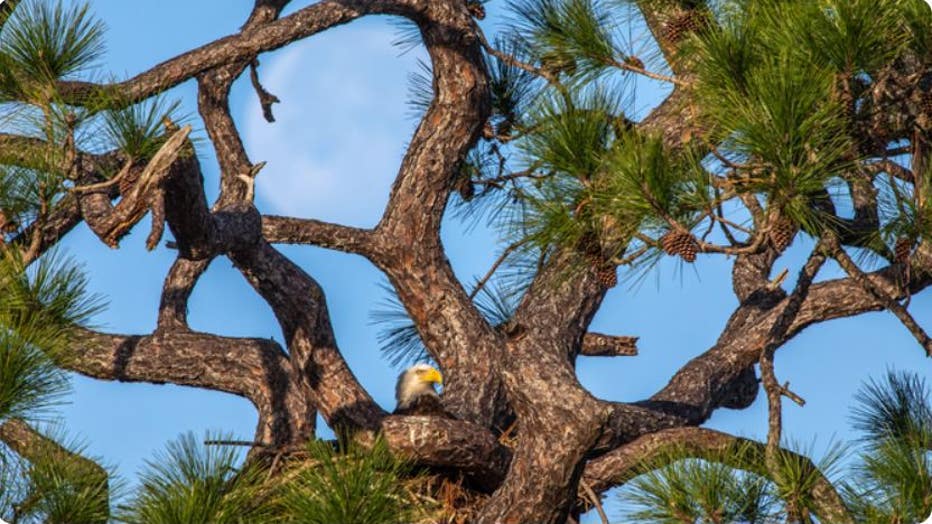 Popular eagles build a new nest at NASA's Kennedy Space Center. (NASA)
"You always wonder where they're going to rebuild. And the cool thing is they built it closer to the road, which creates more wildlife activity for people to see up close," stated Russell Lowers, a longtime wildlife biologist at the KSC. "That's why I'm so excited – because they actually rebuilt the nest closer to viewing by the general public."
SEE THE MASSIVE ALLIGATOR FOUND LURKING IN A SOUTH FLORIDA SWAMP
The new nest is not too far away from NASA's famed Vehicle Assembly Building and is nestled in a tree along Kennedy Parkway.
Biologists said during a recent helicopter flight, an eagle was spotted sitting in the new nest, but they couldn't tell whether she was incubating eggs.
"I have worked out here since 1984, and I will still slow down and look; honestly, it gives me chills," stated Resa Cancro, a geographic information systems analyst at the KSC.
Experts said eagles incubate eggs for about 35 days, and feathers needed to take flight start to emerge on eaglets during the eight-to-14-week timeframe.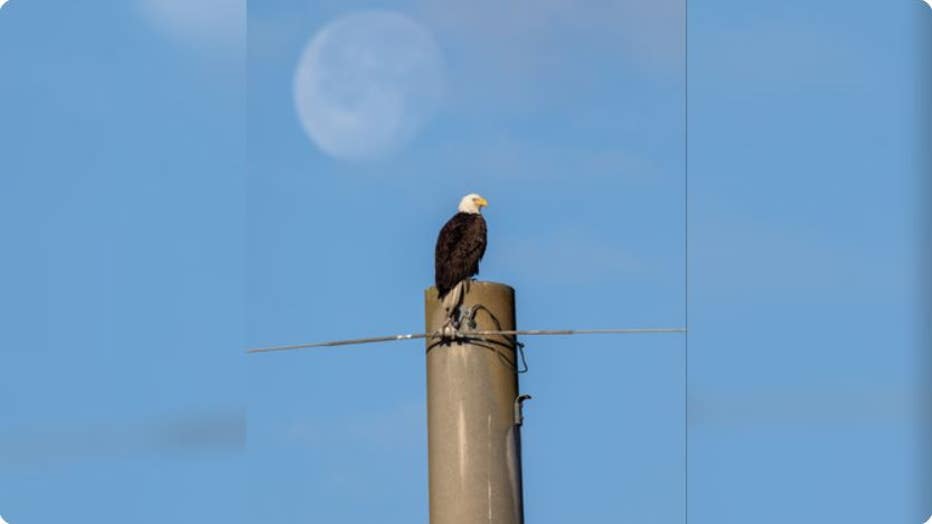 Popular eagles build a new nest at NASA's Kennedy Space Center. (NASA)
FLORIDA MAN DESCRIBES PRYING HIS HEAD OUT OF A 12-FOOT ALLIGATOR'S MOUTH AS 'NOTHING SHORT OF A MIRACLE'
It is likely the eagles will only spend a few more months at the space center, as many of the birds tend to migrate north in the late spring and summer during the non-breeding season.
There are estimated to be over 316,000 bald eagles in the wild throughout the lower 48, according to the U.S. Fish & Wildlife Service.
The agency reports the bird population continues to quickly climb, and because of growth, the American bald eagle was removed from the endangered species list in August 2007.
The animals are still protected under the Migratory Bird Treaty Act and the Bald and Golden Eagle Protection Act, which prevent interference or disruption of the birds.