Pay with your palm: Amazon One technology coming to all Whole Foods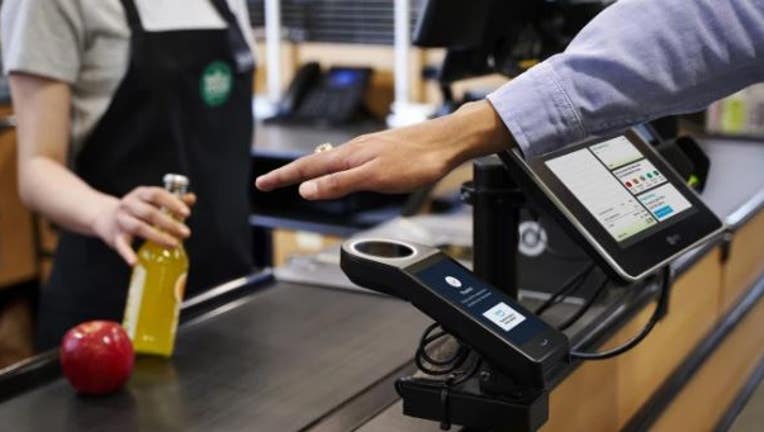 article
Amazon One is bringing its palm-scanning payment technology to all Whole Foods Market stores across the country. 
By the end of the year, the technology will be available at more than 500 locations.
This means Whole Foods Market customers who choose to use Amazon One will no longer need their wallet or even a phone to pay—they can simply hover their palm over an Amazon One device.
The technology is already available at hundreds of other Whole Foods locations, and Panera Bread recently launched Amazon One's loyalty linking at some of their locations. 
First-time Amazon One users can pre-enroll online with their credit or debit card, Amazon account, and mobile number, and the process takes about a minute. They can then complete the enrollment process in seconds by scanning their palm over an Amazon One device the next time they visit a participating Whole Foods Market store—or anywhere Amazon One is available.
RELATED: Starbucks launches immersive coffee experiences, including espresso martini class
What is Amazon One?
Much like your iPhone may scan and recognize your face, Amazon One captures the minute characteristics of your palm and creates a "palm signature." 
Amazon said the technology can be implemented to make certain everyday activities effortless, such as paying at a store, presenting a loyalty card, entering a location like a stadium, or badging into work. 
Amazon said palm scanning is more private and secure than other biometric alternatives.
"You can't determine a person's identity by looking at an image of their palm," Amazon said when announcing the technology. "It also requires someone to make an intentional gesture by holding their palm over the device to use."
Customer's data is encrypted and stored in a custom-built cloud alongside your palm signature, Amazon said, instead of being stored on the physical palm-scanner devices you see in-stores.
Amazon One was first implemented in the summer of 2020 at two Amazon Go stores in Seattle and has expanded to use at over 400 locations across the U.S.
People can sign up for an Amazon One account with a mobile phone number and credit card. An Amazon account isn't necessary.
This story was reported from Detroit.