Even just 1 alcoholic drink a day may increase blood pressure, study finds
A new study finds that drinking alcoholic beverages on a regular basis – even one drink per day –  could raise blood pressure levels as a person ages. 
The study, published Monday in the American Heart Association Journal Hypertension, found that routine consumption of alcohol was associated with a rise in blood pressure.
Paul Whelton, a professor at Tulane University and lead researcher on the study, told FOX Television Stations that the idea for this study came from the team's desire to look at modest intakes of alcohol in contrast to previous studies that have shown that consuming high amounts can lead to higher blood pressure levels. 
Whelton and his research team analyzed health data from nearly 20,000 people across seven studies in the United States, Korea and Japan. What they found was a "very consistent," virtually linear, rise in blood pressure measurements over a follow-up period of four to 12 years.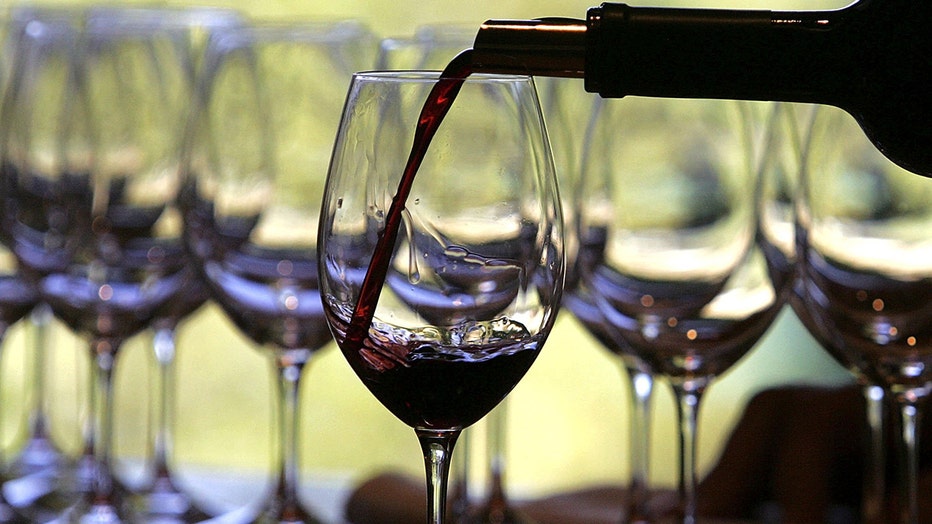 A worker at winery pours a glass of wine for a tasting. (Credit: Justin Sullivan/Getty Images)
"There's no safe level of alcohol," Whelton said of the findings. "The more that you consume and the more that you regularly consume it, the more you're going to get a blood pressure effect."
Comparing people who drank alcohol regularly with those who never drank, researchers found measurements for both systolic and diastolic blood pressure rose more in people who drank. 
While Whelton told FOX he wasn't surprised by the results, he thinks people should be aware of these findings. 
"They should know that there's probably some impact on blood pressure even at low intakes" he continued, adding, "Is it [alcohol] likely to contribute over the long term to an increase in blood pressure? Probably." 
Blood pressure increased after one daily alcoholic drink
In people who drank an average of 12 grams of alcohol per day – equivalent to slightly less than one standard alcoholic drink in the U.S. – systolic blood pressure rose 1.25 mmHg over five years. In people who drank an average of 48 grams of alcohol per day, systolic blood pressure rose 4.9 mmHg over the study period.
Meanwhile, diastolic blood pressure rose 1.14 mmHg over the study period in men who drank an average of 12 grams of alcohol per day and 3.1 mmHg in men who drank an average 48 grams of alcohol per day. Diastolic blood pressure changes were not associated with alcoholic beverage consumption in women.
The researchers are also currently working on another manuscript within the same cohort study that looks into the relationship between alcohol and hypertension. 
According to Heart.org, high blood pressure, or hypertension, is an important – yet preventable – risk factor for cardiovascular disease. Nearly half of U.S. adults have high blood pressure, but because there are often no symptoms, many don't know they have it unless they're checking for it.
Previous research links alcohol to increased risk of diseases 
Prior research has shown a link between alcoholic beverage consumption and diseases, including high blood pressure.
Research, published on June 9 in the journal Nature Medicine, analyzed the health effects of alcohol use on men in China. The team from Oxford University in the U.K. and Peking University in China found that alcohol consumption increased the risks of 61 diseases, including more than 30 diseases not previously established as alcohol-related, such as cataracts, gastric ulcers, and gout.
RELATED: Drinking alcohol could increase risk of more than 60 diseases, study suggests
"Alcohol consumption is adversely related to a much wider range of diseases than has previously been established, and our findings show these associations are likely to be causal," Pek Kei Im, a research fellow at Oxford Population Health and lead author of the paper, said in a statement.
Known long-term health risks associated with excessive alcohol consumption include high blood pressure, heart disease, stroke, liver disease, certain cancers, weakened immune system, depression, anxiety, and learning and memory problems, the U.S. Centers for Disease Control and Prevention says. 
Worldwide, the harmful use of alcohol is attributed to about 3 million deaths annually, according to the World Health Organization.
Some studies suggest alcohol may have health benefits
Some studies have suggested that low-to-moderate amounts of alcohol can actually decrease the risk of mortality and cardiovascular disease.
Research out of the United Kingdom found that wine may be the only alcoholic drink that can be beneficial for health — but it may only be due to the powerful antioxidants found in grapes.
A research team at Anglia Ruskin University in Cambridge, England, aimed to look at different alcoholic drinks, like beer, cider, champagne, white and red wine and spirits, and various health outcomes among those who consumed. 
They found that low-level consumption of beer, cider and spirits was associated with an increased risk of cardiovascular events, coronary heart disease, stroke, cancer and overall mortality.
The only health benefit that the team discovered was a decreased risk of coronary heart disease through the consumption of wine. But the team believes the benefits obtained from wine and champagne are actually thanks to polyphenols, which are antioxidants found naturally in the grapes, and not necessarily through the alcohol itself.
This story was reported from Los Angeles. Kelly Hayes contributed.