Drinking alcohol could increase risk of more than 60 diseases, study suggests
It's known that excessive alcohol use over time can lead to the development of several chronic diseases, but a new study suggests that even moderate drinking can lead to such health issues – as well as many that were previously not linked to alcohol. 
The new research, published on June 9 in the journal Nature Medicine, analyzed the health effects of alcohol use on men in China. The team from Oxford University in the U.K. and Peking University in China found that alcohol consumption increased the risks of 61 diseases, including more than 30 diseases not previously established as alcohol-related, such as cataracts, gastric ulcers, and gout. 
"Alcohol consumption is adversely related to a much wider range of diseases than has previously been established, and our findings show these associations are likely to be causal," Pek Kei Im, a research fellow at Oxford Population Health and lead author of the paper, said in a statement.
Known long-term health risks associated with excessive alcohol consumption include high blood pressure, heart disease, stroke, liver disease, certain cancers, weakened immune system, depression, anxiety, and learning and memory problems, the U.S. Centers for Disease Control and Prevention says. 
Worldwide, the harmful use of alcohol is attributed to about 3 million deaths annually, according to the World Health Organization. The study authors noted how consumption is increasing in many low- and middle-income countries, including China.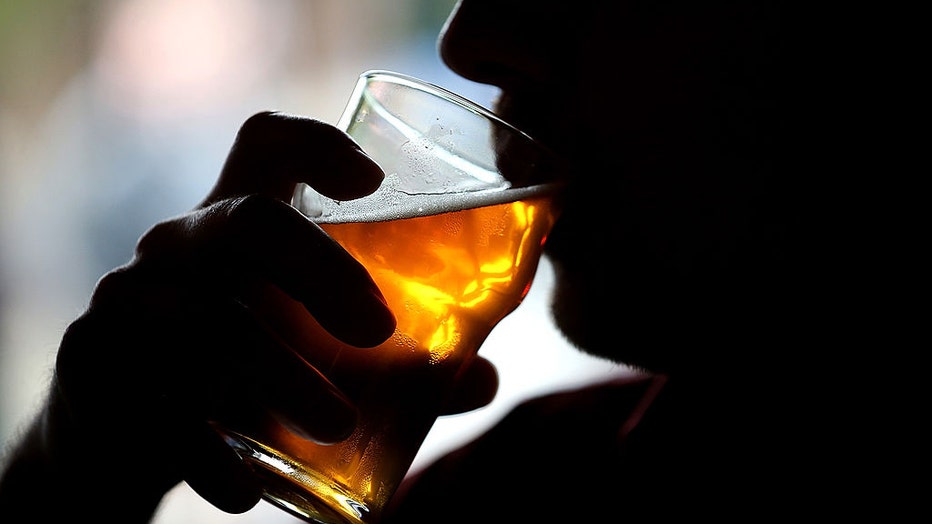 FILE - A person takes a sip of a beer on Feb. 7, 2014, in Santa Rosa, California. (Photo by Justin Sullivan/Getty Images)
The research team used data from over 512,000 adults across diverse urban and rural areas in China. Study participants were interviewed about their lifestyle and behaviors, including detailed alcohol drinking patterns, the team said. 
About a third of men said they drank alcohol regularly – at least once a week – while only 2% of women reported the same. 
The researchers assessed hospital records over a period of about 12 years to better understand the possible health effects of alcohol use. They also did a genetic analysis to clarify whether alcohol intake was responsible for causing disease.
Among the 207 diseases studied, alcohol consumption was linked to higher risks of 61 diseases in men. This included 28 diseases previously established by the World Health Organization as alcohol-related, such as liver cirrhosis, stroke, and several gastrointestinal cancers.
Meanwhile, 33 diseases not previously established as alcohol-related were identified as higher risk – including cataracts and some fractures.
Men who had ever drank alcohol regularly were found to have a significantly higher risk of developing any disease and experience more frequent stays in hospital, compared with men who had only drunk alcohol occasionally, the team said.
Certain drinking patterns, such as drinking daily, heavy "binge" drinking episodes, or drinking outside mealtimes, particularly increased the risks of certain diseases like liver cirrhosis, the study found.
In East Asian populations, there are common genetic variants that greatly reduce alcohol tolerability, according to the study authors. This is because they cause an "extremely unpleasant flushing reaction after drinking alcohol."
People with such genetic variants tend to drink less alcohol, and because these genetic variants are unrelated to other lifestyle factors – such as smoking or socioeconomic status –  the researchers said they can use this information to more accurately assess the cause-and-effect relationships of alcohol with a wide range of diseases.
"This study provides important causal evidence of the scale of alcohol-related harms, which is critical to inform prevention strategies in different countries," Professor Zhengming Chen, a professor of epidemiology at Oxford Population Health and senior author, said in a statement. 
An unrelated study, published in March, found that drinking a glass or two of wine a day will not help one to live longer – challenging the notion of benefits from moderate alcohol consumption.
Previous research has suggested that moderate drinking, meaning two drinks or fewer in a day for men and one drink or less in a day for women, may help prevent heart disease or even a lower risk of developing type 2 diabetes.
The analysis, published on March 31 in JAMA Network Open, reviewed more than 100 studies published as far back as 1980, involving nearly 5 million people in total. 
It found that there was a "significantly increased risk" of death among female drinkers who drank 25 or more grams of alcohol per day, which is about two 5-ounce glasses of wine, two 12-ounce beers, or two cocktails containing 1.5 ounces of distilled spirits. 
The same significantly increased risk was found for males who drank 45 or more grams of alcohol per day, or slightly over three standard drinks.
RELATED: JetBlue to offer non-alcoholic beer on domestic flights
This story was reported from Cincinnati.