Adidas to sell Yeezy line, donate proceeds to charity following split with Kanye
FUERTH, Germany - Adidas has announced that it will be selling parts of its Yeezy product line and donating all proceeds to charity. 
The move comes after the company split from the brand's founder Kanye West and ended its Yeezy business in October.
During the sportswear giant's Annual General Meeting in Germany Thursday, CEO Bjørn Gulden said that the company has found a solution. 
"... For the last four months we have been trying to find solutions on what to do with it. Burning the goods is not the solution," Gulden said in German. "Now, talking to all the NGOs, and a lot of organizations that have been hurt by Kanye, they all say, no, that's not the solution. What we are trying to do now over time is to sell parts of this inventory and donate money to the organizations that are helping us and that was also hurt by Kanye's statements."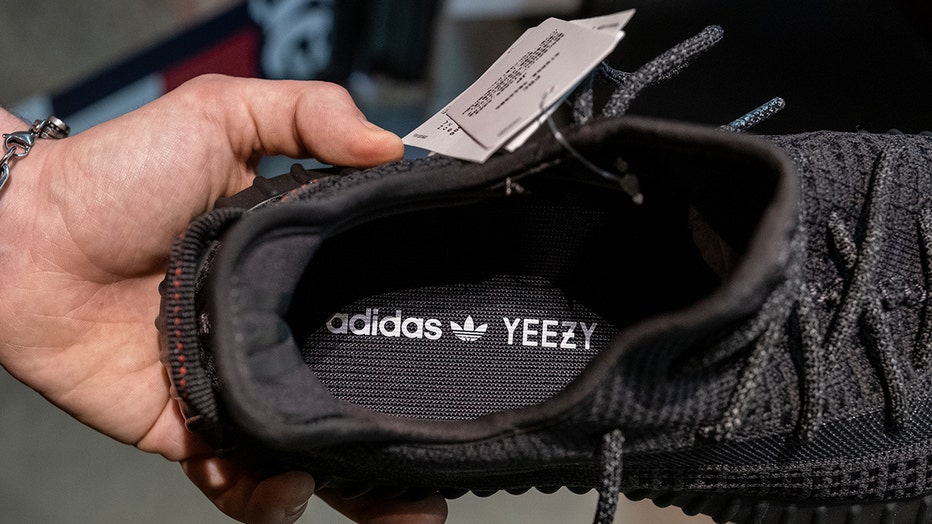 A seller shows off an Adidas Yeezy shoe model at the reseller store. (Credit: Paco Freire/SOPA Images/LightRocket via Getty Images)
He said when and how the company will do this is not clear yet, but that Adidas is coming on these things. 
"But I think burning the products is not the point. And we will update you as soon as that decision is made," he added. 
RELATED: Tattoo parlor will remove Kanye West ink for free
Last year, West made a series of anti-Semitic comments, including praising Hitler in an interview with conspiracy theorist Alex Jones. Ye's remarks led to his suspension from social media platforms, his talent agency dropping him, and companies like Adidas cutting ties with him. 
RELATED: Kanye West suspended from Twitter after swastika post, Elon Musk says
The celebrity was also suspended from Twitter after he posted a picture of a swastika merged with the Star of David.
This story was reported from Los Angeles.