2003 Northeast Blackout: A look back at the historic power outage
August marks the 20-year anniversary of the infamous blackout that left millions across North America without power. 
From New York to Cleveland to Ottawa, elevators stopped, cell phone service was interrupted and airports were brought to a standstill. 
The 2003 Northeast Blackout was all anyone and any news outlet could talk about 20 years ago, at least for anyone who still had power. Here's a look back at what happened on August 14 and the days that followed.
How long did the blackout last? 
The 2003 Northeast Blackout began at about 4 p.m. ET on August 14, according to History.com.
Over a dozen power plants shut down in just three minutes. 
While some power companies were able to resume operations within a few hours, others weren't able to get back up and running for a few days.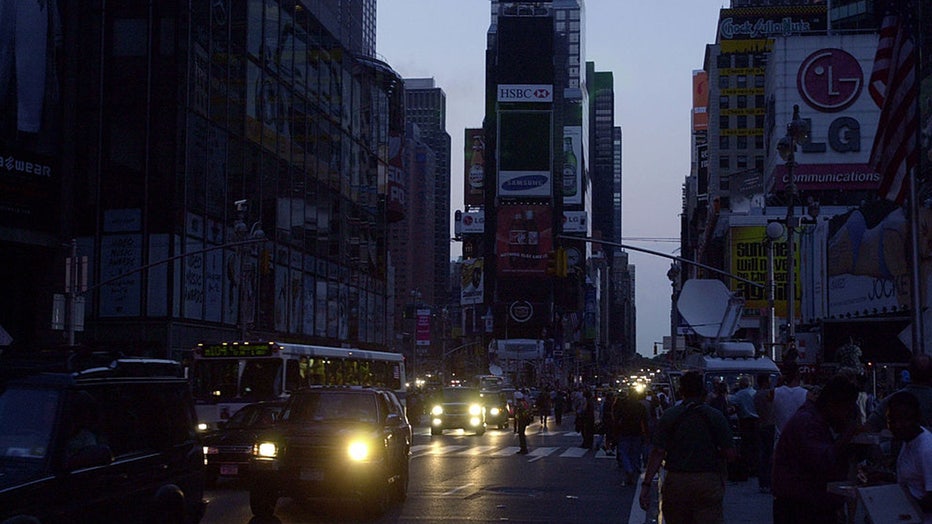 FILE - Times Square is plunged into darkness as the sun goes down after a massive power failure caused the largest power outage in the nation's history, affecting 50 million people in parts of seven states and Canada.  (Robert Rosamilio/NY Daily News via Getty Images)
RELATED: NYC marks 20 years since the 2003 blackout
What caused the power outage? 
An investigation later revealed that the reason for the power outage was due to some overgrown trees that came into contact with power lines in Ohio. 
FirstEnergy Corporation's EastLake plant shut down and the company was criticized for their poor line maintenance. 
Typically, the anomaly would have triggered an alarm, alerting crews of the impacted power line, but the alarm system had failed, according to the magazine Scientific American.
In the year following the blackout, FirstEnergy took several steps to fix their systems to ensure such a catastrophic power outage wouldn't happen again. 
They replaced their dated computer systems and were able to upgrade their user interface to help operators identify problems faster, according to NASA.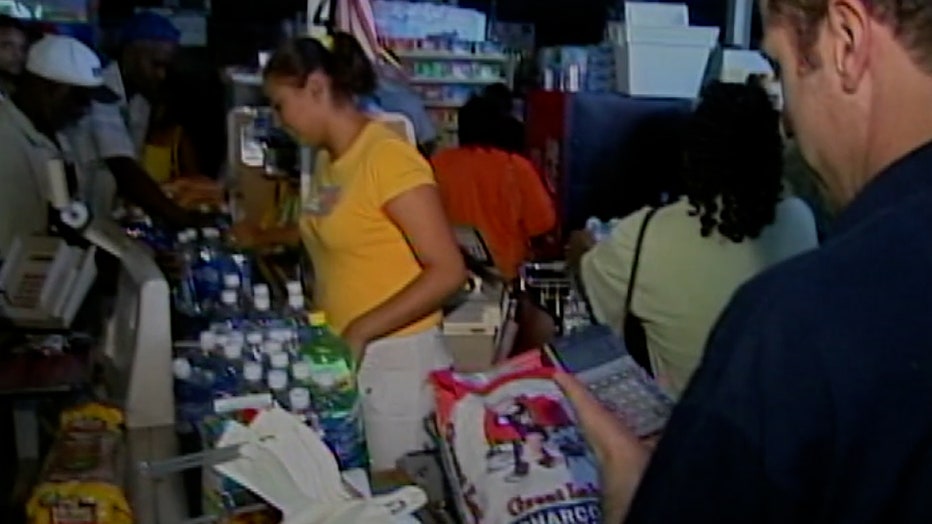 Archival footage showing people shopping for groceries in the dark and workers using calculators to ring up their totals during the 2003 Northeast Blackout. (WJBK FOX 2 Detroit)
How many people were impacted? 
Approximately 50 million people lost power in Canada and the U.S.  
There were at least 11 deaths and the blackout cost an estimated $6 billion in damages, according to Scientific American.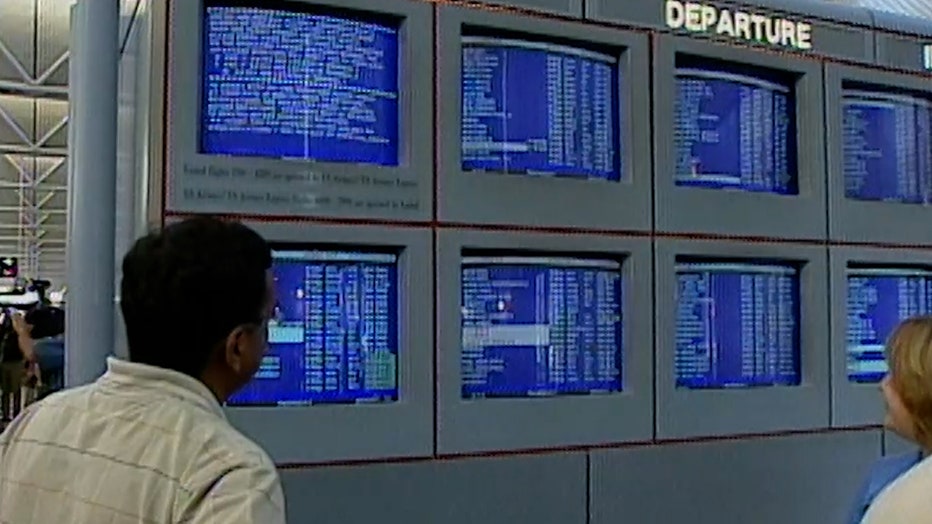 FILE - Freeze frame from 2003 archival footage at Chicago O'Hare International airport showing travelers checking delayed flight statuses. (WFLD FOX 32 Chicago)
Eight U.S. states were impacted including Michigan, Ohio, Pennsylvania, New Jersey, New York, Connecticut and Vermont. 
And in Canada, cities in Ontario were without power, including Toronto and Ottawa. 
MORE LIVENOW & THEN REPORTS:
This story was reported from Los Angeles.