$1.05 billion Mega Millions jackpot is among a surge in huge payouts
DES MOINES, Iowa - Another day, another billion dollar lottery jackpot.
At least, that's how it seems ahead of Tuesday night's Mega Millions drawing for an estimated $1.05 billion top prize.
It's a huge sum of money, but such giant jackpots have become far more common, with five prizes topping $1 billion since 2021 — and one jackpot reaching $2.04 billion in 2022.
The massive prizes are due in part to chance, but it's not all happenstance. Rising interest rates coupled with changes to the odds of winning are also big reasons the prizes grow so large.
HOW DO INTEREST RATES INCREASE JACKPOTS?
Nearly all jackpot winners opt for a lump sum payout, which for Tuesday night's drawing would be an estimated $527.9 million. The lump sum is the cash that a winner has actually won. The highlighted $1.05 billion prize is for a sole winner who is paid through an annuity, which is funded by that lump sum and will be doled out annually over 30 years.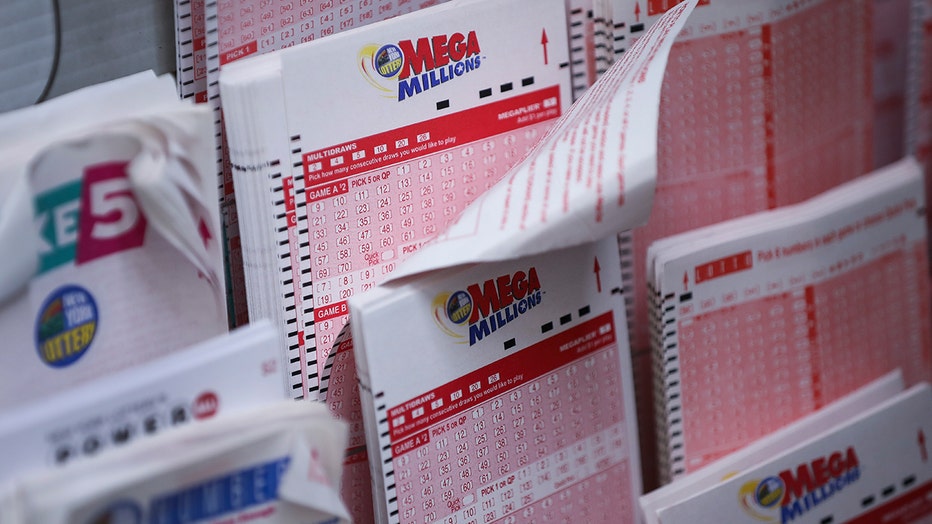 Mega Millions lottery tickets sit inside a convenience store in Lower Manhattan, October 23, 2018 in New York City. (Credit: Drew Angerer/Getty Images)
That's where the higher interest rate becomes a factor, because the higher the interest rate, the larger the annuity can grow over three decades. The U.S. is in the midst of a remarkable run of interest rate increases, with the Federal Reserve raising a key rate 11 times in 17 months, and that higher rate enables a roughly $500 million lump sum prize to be advertised as a jackpot of about twice that size.
HOW DOES THE ANNUITY WORK?
A winner who chooses the annuity option would receive an initial payment and then 29 annual payments that rise by 5% each year. Opting for an annuity has some tax advantages, as less of the winnings would be taxed at the top federal income tax rate of 37%. It also could be an option for winners who don't trust themselves to manage so much money all at once.
RELATED: Pennsylvania man wins 2nd $50,000 lottery prize from same scratch-off game
If lottery winners die before 30 years, the future payments would go to their beneficiaries.
WHY DO WINNERS SNUB THE ANNUITY OPTION?
The annuities pay out big money, but not nearly as big as taking the lump sum.
For example, a sole winner of Tuesday night's Mega Millions could choose a lump sum of an estimated $527.9 million or an initial annuity payment of about $15.8 million. Of course, those annuity payments would continue for decades and gradually increase until the final check paid about $65.1 million, according to lottery officials.
In both cases, the winnings would be subject to federal taxes, and many states also tax lottery winnings.
Given all that, nearly all jackpot winners think they could make more money by investing the money themselves, or they simply want the biggest initial payout possible.
WHAT ABOUT THE ODDS OF WINNING?
That's another factor that has created so many huge prizes for those who match all six numbers.
In 2015, the Powerball odds were changed from 1 in 175.2 million to 1 in 292.2 million. Mega Millions took a similar action in 2019 by lengthening the game's odds from 1 in 258.9 million to 1 in 302.6 million.
For lottery officials, the hope was that by making it harder to win jackpots, the prizes would roll over for weeks and create truly massive pots of money that would in turn generate higher sales.
The result is that all of the billion dollar jackpots have come after the changes in the odds.
HOW LONG UNTIL THERE IS A WINNER?
Luck remains a big factor, as the odds of any ticket being a winner never changes. However, the more people who play Mega Millions, the more of the potential 302.6 million number combinations are covered.
For the last Mega Millions drawing on Friday night, 20.1% of possible number combinations were purchased. Typically, the larger the jackpot grows, the more people buy tickets and the more potential combinations are covered.
Tuesday night's drawing will be the 30th since the last jackpot winner. That is inching closer to the longest Mega Millions jackpot drought, which reached 37 drawings from Sept. 18, 2020, to Jan. 22, 2021.
The longest jackpot run was for a Powerball prize that stretched over 41 drawings and ended with a record $2.04 billion prize on Nov. 7, 2022.
___
The top federal tax bracket has been corrected to 37%.