Kentucky woman's lottery win mistaken for pregnancy announcement by family
OAK GROVE, Ky. - A Kentucky woman said her family didn't believe she had won the lottery, in fact, they thought her good news was that she was pregnant. 
Jacalyn Armstrong of Oak Grove won $2 million from the Kentucky Lottery Powerball. The drawing was held on October 4. She matched the five white ball numbers and added a Power Play which doubled her prize. 
Jacalyn called her husband Jonathan after she had just left the Ob-gyn office for an appointment.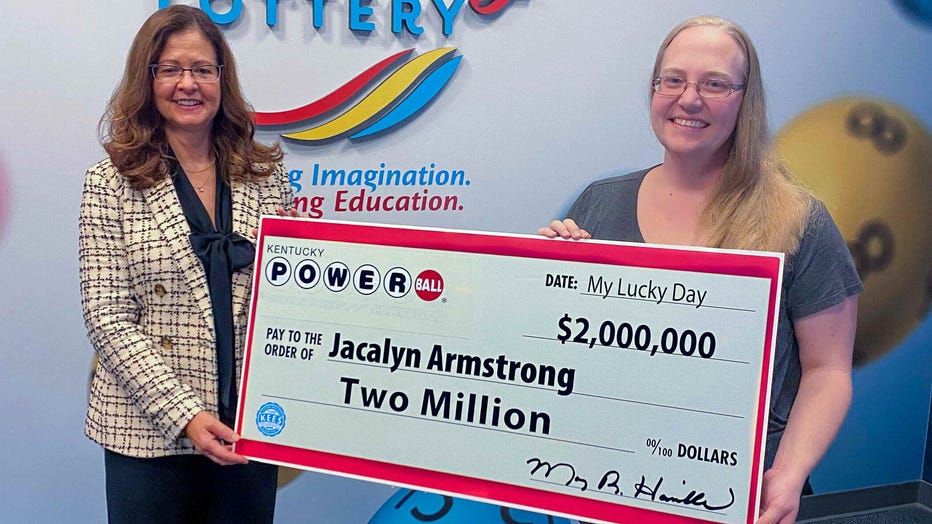 A Kentucky woman won a $2 million lottery prize but her family thought she was pregnant. (Credit: Kentucky Lottery)
"I told him I had some news and at first, he didn't believe me," Jacalyn said in a news release. "You could tell I was in tears, and he thought I was going to tell him I was pregnant." she continued. 
RELATED: Jackpot! $1.76B Powerball ticket sold in California
Jacalyn also said her mother thought the same thing when she called. 
"I was like, what is wrong with you all?" Jacalyn continued. 
The couple already have three children. Their youngest is six months old.
Jacalyn said she doesn't play the lottery often. 
"When it (jackpot) gets big, my co-workers talk about it," she said.  "One of them even said, 'you should buy a ticket.'"
Jacalyn will receive $1.4 million after taxes. The couple plans to give money to their church, buy a new home and buy a new car. 
This story was reported from Los Angeles.