Mike Pence launches 2024 presidential bid with Trump critiques over Jan. 6, abortion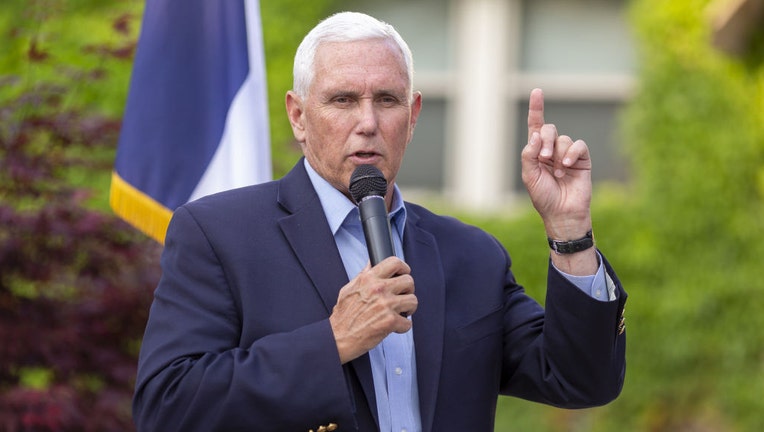 article
DES MOINES, Iowa - Former Vice President Mike Pence opened his presidential bid with an unusually forceful critique of former President Donald Trump over Jan. 6, his temperament and abortion on Wednesday as he became the first vice president in modern history to challenge his former running mate.
Pence, according to excepts released by his campaign, will tell an audience in the Des Moines suburbs that Trump betrayed his voters' trust after the 2020 election when he tried to convince his supporters that Pence had the power to keep them in office.
"The American people deserve to know on that fateful day, President Trump also demanded I choose between him and our Constitution. Now voters will be faced with the same choice," Pence will say. "Anyone who puts themselves over the Constitution should never be president of the United States, and anyone who asks someone else to put them over the Constitution should never be president again."
Pence will criticize leaders who can't "distinguish between starting fights and finishing them."
"Most Americans treat each other with kindness and respect – even when we disagree," he will say. "It's not too much to ask our leaders to do the same."
Pence, who supports a national ban on abortion, will also criticize Trump's current rhetoric on the topic, even after Trump appointed the Supreme Court justices who overturned Roe v. Wade. Trump has declined to say what limits he supports nationally and has blamed some midterm candidates' extreme rhetoric for their losses last November.
"After leading the most pro-life administration in American history, Donald Trump and others in this race are retreating from the cause of the unborn," Pence will say. "The sanctity of life has been our party's calling for half a century — long before Donald Trump was ever a part of it. Now he treats it as an inconvenience, even blaming election losses on overturning Roe v. Wade."
With Pence's entry into the race, on his 64th birthday, the GOP field is largely set. It includes Trump, who's leading in early polls, Florida Gov. Ron DeSantis, who remains in second, former United Nations Ambassador Nikki Haley, South Carolina Sen. Tim Scott, former New Jersey Gov. Chris Christie, former Arkansas Gov. Asa Hutchinson and North Dakota Gov. Doug Burgum, who also launched his campaign Wednesday.
RELATED: Who is running for president in 2024? Meet the candidates
Pence is staking his presidential hopes on Iowa. His campaign will test the party's appetite for a socially conservative, mild-mannered and deeply religious candidate who has denounced the populist tide that has swept through his party under Trump. And it will show whether Pence still has a political future after Jan. 6, 2021, when a large portion of GOP voters still believe Trump's lies that the 2020 election was stolen and that Pence had the power to reject the results of the election, won by Democrat Joe Biden.
Pence and his advisers see Iowa — the state that will cast the first votes of the GOP nominating calendar — as key to his potential pathway to the nomination. Its caucusgoers include a large portion of evangelical Christian voters, whom they see as a natural constituency for Pence, a social conservative who supports a national ban on abortion and often talks about his faith. They also think Pence, who represented Indiana in Congress and as governor, is a good personality fit with the Midwestern state.
"We believe the path to victory runs through Iowa and all of its 99 counties," said Scott Reed, co-chair of a super PAC that launched last month to support Pence's candidacy.
But Pence also faces steep challenges. Despite being one of the best-known Republican candidates in the crowded field, he is also saddled with high unfavorability ratings. Trump critics consider him complicit in the former president's most indefensible actions, while Trump loyalists have maligned him as a traitor.
A CNN poll conducted last month found 45% of Republicans and Republican-leaning independents said they would not support Pence under any circumstance. Only 16% said the same about Trump.
Pence's favorability has also slipped in Iowa, according to The Des Moines Register/Mediacom Iowa Poll. The poll also found Pence with higher unfavorable ratings than all of the other candidates it asked about, including Trump and DeSantis, with 26% of Republicans polled saying they have a "somewhat" or "very" unfavorable view of him.
But Pence, who has visited Iowa more than a dozen times since leaving office, has been warmly welcomed by voters during his trips. During a "Roast and Ride" event over the weekend that drew a long list of 2024 candidates, Pence stood out as the only contender to actually mount a Harley and participate in the event's annual motorcycle ride. When he arrived at a barbecue at the state fairgrounds, he moved easily from table to table, greeting and chatting with attendees.
But there remains lingering skepticism among many Republican voters who still believe Pence could have stopped Biden from becoming president. Trump's lies about mass voting fraud and Pence lacking the "courage" to do the right thing led a mob of his supporters to violently storm the Capitol, with some chanting "Hang Mike Pence!"
RELATED: Cornel West, progressive activist, announces third-party run for 2024 presidency
Pence advisers say they recognize the challenge and intend to explain to voters directly that Pence was adhering to his constitutional duty and never had the power to impact the vote.
"I think it's something you have to walk straight through," said his longtime adviser Marc Short.
Beyond Jan. 6, his team sees their primary goal as reintroducing Pence to a country that largely knows him as Trump's second-in-command. They want to remind voters of his time in congressional leadership and as governor and envision a campaign heavy with town halls, house parties and visits to local diners and Pizza Ranch restaurants — more intimate settings that will help voters get to know him personally.
"People have seen Mike Pence the vice president. I think what people are going to see is Mike Pence the person," said Todd Huston, the Indiana House speaker and a longtime friend who has signed on to help with outreach to state legislators.
Reed believes there is a strong desire in the party for a candidate like Pence who espouses Reagan-style conservatism, including traditional social values, hawkish foreign policy and small government economics.
"We think this nomination fight is going to be an epic battle for the heart and soul of the conservative, traditional wing of the Republican Party. And Pence is going to campaign as a classic conservative. His credentials are unmatched," he said.
Unlike Trump and DeSantis, Pence has argued that cuts to Social Security and Medicare must be on the table and has blasted those who have questioned why the U.S. should continue to send aid to Ukraine to counter Russian aggression.
"We are not going to try to out-Trump Pence. Everybody else is," Reed said. "Pence is the only candidate running not to be Trump's VP."
RELATED: DeSantis, Trump jab at each other while on campaign trail