DeSantis, Trump jab at each other while on campaign trail
LACONIA, N.H. - Former President Donald Trump kept up a steady drumbeat of criticism of his chief rival Ron DeSantis on Thursday, jumping immediately on remarks by the Florida governor on the campaign trail to try to highlight his own strength as the leading GOP presidential candidate.
Trump, appearing in Iowa as DeSantis campaigned in New Hampshire, made a point of telling about 200 members of a conservative club gathered at a Des Moines-area restaurant that they could ask him questions — an offer that came not long after DeSantis snapped at an Associated Press reporter who asked him why he didn't take questions from voters at his events.
"A lot of politicians don't take questions. They give a speech," Trump said to the audience, many of whom wore red Make America Great Again hats espousing his political movement.
Trump also sought to capitalize off a remark by DeSantis that it felt like it would take two terms in the White House to really roll back the actions of the Biden administration — a veiled reference to Trump, who can only serve one more term.
"Who the hell wants to wait eight years?" Trump said Thursday, claiming he could unwind President Joe Biden's policies within six months.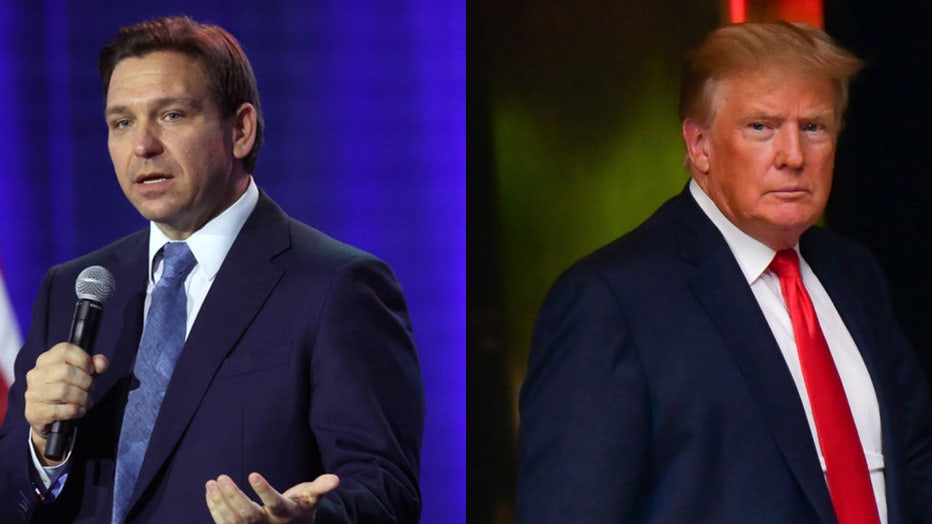 FILE - Side-by-side images of Florida Gov. Ron DeSantis next to a photo of former President Donald Trump.  (Getty Images)
DeSantis, asked about the former president's comment while leaving a voter event in Rochester on Thursday afternoon, noted that Trump had already had a chance to fix the nation's problems in his first term in office. "Why didn't he do it in his first four years?"
Their campaign appearances Thursday displayed an early tableau of the Republican primary that's just getting underway: Trump hammering DeSantis and promising to use a return to the White House to quickly unwind his successor's work, while the governor limits his replies and direct critiques, pitching instead to nationalize his aggressive governing style.
Both men are portraying themselves as the stronger fighter for conservative causes and their party's best chance to block Biden from reelection next year. Thursday was the first time both were on the campaign trail meeting with voters since DeSantis announced his candidacy for president last week.
At his first event in Laconia, New Hampshire, on Thursday, DeSantis left the stage without inviting any questions from voters, which is typically expected of presidential candidates competing for voters in the first-in-the-nation primary state. DeSantis also didn't take any questions on stage from voters in Iowa during his time in the state earlier in the week.
While posing for pictures and shaking hands with voters afterward, DeSantis was asked by the AP reporter why he wasn't taking questions from voters.
"People are coming up to me, talking to me, what are you talking about? Are you blind?" he said. "Are you blind? People are coming up to me, talking to me whatever they want to talk to me about."
Alan Glassman, treasurer of the state GOP, attended the event and was disappointed that the Florida governor didn't include a question-and-answer period. Glassman and his wife decided to skip any subsequent events of the day given that DeSantis wasn't likely to take unscripted questions.
"This is NH. The reality here is the vast majority of political people here in NH, we do our due diligence. We want to know where these people stand. And a lot of that is hearing from them and then asking them questions," Glassman said.
"I'm just hoping that next time the governor does show up here, he'll actually be doing some more interaction with the people," Glassman said.
In Laconia, DeSantis turned his focus to Biden, criticizing him for championing a move to demote the early-voting state from its prominent role picking presidential candidates. He said the president was wrong to back a Democratic National Committee move to have New Hampshire hold its Democratic primary the same day as Nevada as part of a major shake-up meant to empower Black and other minority voters critical to the party's base of support. The Republican Party's calendar is decided separately but the Democrats' changes have irked members of both parties in New Hampshire.
"I'm glad Republicans are holding the line and committed to New Hampshire," DeSantis said.
He used a similar line tailored to the local voters when acknowledging that New Hampshire, like Florida, does not collect personal income taxes. "You've got this one little outpost in New England that's holding the line," he said.
Trump is in Iowa nearly three weeks after canceling his last event, a large rally near Des Moines, due to a tornado warning, reluctantly ceding the spotlight to DeSantis as the governor crisscrossed the state ahead of his campaign launch.
In addition to Laconia, DeSantis' New Hampshire tour included planned stops Thursday in Rochester, Salem and Manchester. He planned to campaign Friday to South Carolina, another prominent state on the presidential voting calendar.
Trump, after appearing Wednesday night at a GOP legislative dinner in Des Moines, appeared Thursday morning at one of the twice-monthly breakfasts of a conservative club at a restaurant in Urbandale. The Westside Conservative Breakfast events are a long-standing stop for Republican candidates for all levels of elected office, including presidential hopefuls.
The former president later had lunch with faith leaders, and was scheduled to visit with activists and supporters. Thursday afternoon, he was set to participate in a town hall with Sean Hannity taped in the Des Moines suburb of Clive. The town hall will air at 9 p.m. Thursday on Fox News.
DeSantis' stop in New Hampshire is scheduled to look similar to his Iowa swing, with a series of appearances around the state and one event billed as a "fireside chat" with his wife, Casey DeSantis.
As Trump and DeSantis make their pitch to GOP voters, the Republican presidential field is shaping up to become even more crowded.
Former New Jersey Gov. Chris Christie is expected to launch a Republican presidential campaign June 6 in New Hampshire. The next day, both Mike Pence, Trump's former vice president, and North Dakota Gov. Doug Burgum are expected to announce campaigns of their own.
U.S. Sen. Tim Scott of South Carolina, former U.N. Ambassador Nikki Haley, former Arkansas Gov. Asa Hutchinson and biotech entrepreneur and "anti-woke" activist Vivek Ramaswamy are among the other candidates already in the race.
___
Price reported from New York and Beaumont reported from Urbandale, Iowa. Associated Press writer Jill Colvin in New York contributed to this report.