Volunteer shovel brigade clears snowy path to help migrating Yellowstone bison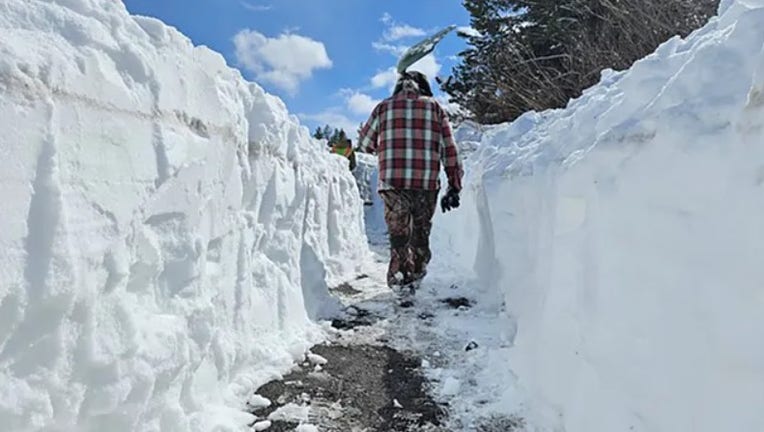 article
WEST YELLOWSTONE, Mont. - Volunteers have created a wildlife corridor by hand shoveling a path through the deep snow at Yellowstone National Park to help bison get off a nearby highway quicker.
Nearly five feet of snow fell this winter in West Yellowstone, resulting in giant berms created by snowplows along Highway 191, according to the Buffalo Field Campaign, a nonprofit that works to create permanent year-round protection for bison.
YELLOWSTONE UNDERGOES CLOSURES TO PREPARE FOR SPRING TOURISM INFLUX
Concern has been growing for as many as 500 bison from Yellowstone's central herd who are expected to begin migrating to their calving grounds when park officials begin plowing this month.
In an effort to protect the species, the Buffalo Field Campaign decided to take action to help Yellowstone's declining wild bison population which is expected to be reduced by at least 30% this winter. Already, 19 bison have been struck and killed on area highways, including 13 from one accident involving a semi-truck on a stretch of Highway 191 near the Madison River crossing, according to the campaign.
"I couldn't stand the idea of any more pregnant mama bison being killed on the road this year as they attempt to reach their calving grounds to replenish their depleted herd," said Mike Mease, co-founder and long-time coordinator for Buffalo Field Campaign.
Mease reached out to Montana's Department of Transportation, who agreed to work with the campaign to create corridors along the Madison River that will allow bison to cross the highway quickly. Without the corridors, bison would be forced to migrate down the walled highway in search of roads that would take them to Horse Butte.
Montana officials were able to punch holes through the berms while Mease led a mostly volunteer shovel brigade last weekend to finish creating the corridors by hand.
"It took a crew of six most of the weekend to complete," Mease said. "Everyone was quite sore afterward - but satisfied."
7 THINGS TO KNOW ABOUT YELLOWSTONE NATIONAL PARK
Yellowstone's central bison herd prefers to migrate along the river corridor, and the strategically placed snow tunnels will make it easier for them, according to Jackson Doyel, a wildlife biologist with the Buffalo Field Campaign.
"If you build it, they will come," Doyel said. "If you don't, they'll use the roads as trails."
Read more of this story from FOX Weather.