Hurricane Watch issued for North Carolina coast ahead of Tropical Storm Ophelia's powerful impacts, landfall
Potential Tropical Cyclone Sixteen organized and was designated Tropical Storm Ophelia on Friday, just hours before it was expected to make landfall in North Carolina with strong winds, dangerous storm surge and heavy rains. 
Tropical Storm Warnings covered 3 million along the East Coast on Friday. Already, gusts were nearing 50 mph along North Carolina's Outer Banks as the 15th-named storm of the season bore down on the mid-Atlantic coast. Piney Island, North Carolina, hit a gust of 47 mph at 10 a.m. ET.
Due to the cyclone's quick strengthening, a Hurricane Watch has been issued for parts of the Tar Heel State even though the official forecast keeps the cyclone a strong tropical storm before landfall.
WHY YOU SHOULDN'T BE ON AUTO-PILOT WHEN IT COMES TO YOUR INSURANCE
With weather conditions deteriorating in North Carolina, some coastal ferry routes have been suspended, according to the state ferry system. 
Several airlines, including Delta, United and Southwest, have issued travel advisories, warning of potential flight delays along the East Coast. Many weekend events in the Hampton Roads area of Virginia have been canceled due to the threatening weather.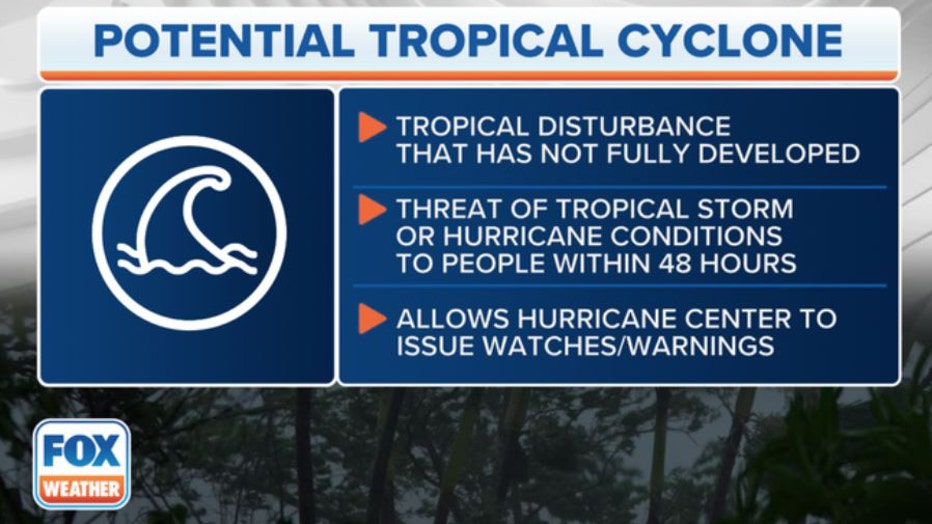 What is a potential tropical cyclone? This graphic breaks down what you need to know. (FOX Weather)
Where is Tropical Storm Ophelia?
The storm is 90 miles southeast of Cape Fear, North Carolina and 90 miles south of Cape Hatteras, North Carolina.
Ophelia is moving north-northwest at 12 mph and has maximum sustained winds around 70 mph.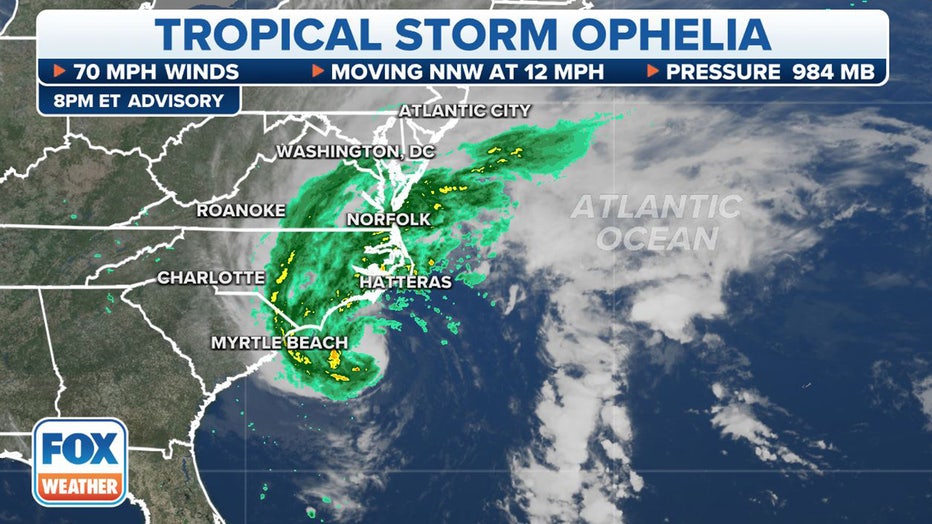 Current stats for Tropical Storm Ophelia. (FOX Weather)
Where are watches and warnings issued for Tropical Storm Ophelia?
Tropical Storm Warnings stretch from near Cape Fear, North Carolina, north through all of coastal North Carolina, Virginia and Maryland to southern Delaware, including Albemarle and Pamlico sounds in North Carolina and parts of Chesapeake Bay.
A Tropical Storm Warning is issued when tropical-storm-force winds (39-plus mph) are expected in the warning area within 36 hours. These winds may be accompanied by storm surge and coastal flooding.
While the cyclone is expected to remain below hurricane strength a Hurricane Watch has been issued for the coast of North Carolina from north of Surf City to Ocracoke Inlet.
More than 7 million residents are under some type of tropical weather alert from North Carolina to the Delmarva Peninsula.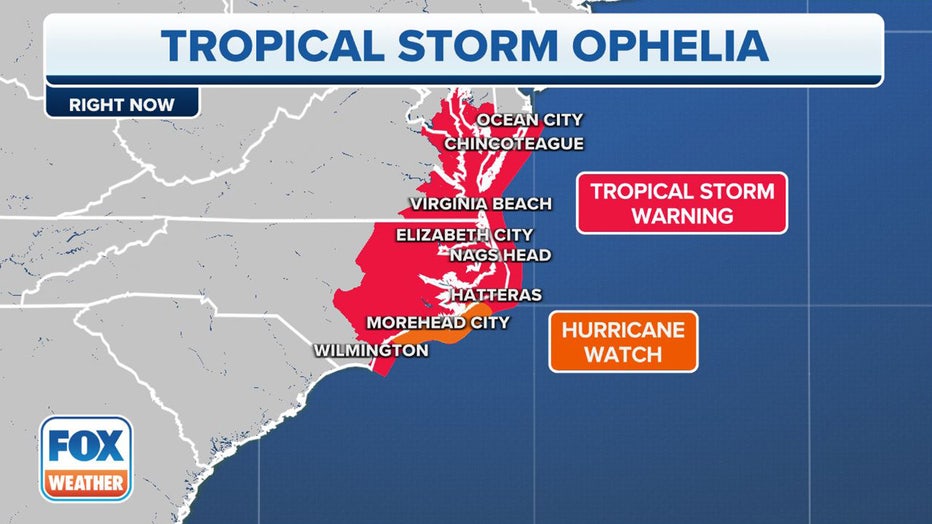 Alerts for Tropical Storm Ophelia. (FOX Weather)
Coastal communities from North Carolina to the Delmarva Peninsula are either under a Storm Surge Warning or Watch. The combination of a dangerous storm surge and the tide will cause normally dry areas near the coast to be flooded by rising waters that move inland from the coast.
The highest storm surge levels are expected in eastern North Carolina, with a storm surge of 3-5 feet expected.
"We also have Storm Surge Watches because the Storm Surge Watch means that the water could be more than 3 feet above high tide," said FOX Weather Hurricane Specialist Bryan Norcross. "When we look at that in more detail, we see that it's up to 3 feet down there - northern South Carolina into North Carolina. Then on Cape Hatteras, there's where the kind of the peak of this is - Cape Hatteras and then up north. So we're talking about in Pamlico Sound and then also up into Chesapeake Bay and the southern half of Chesapeake Bay."
WHAT TO DO WHEN HURRICANE OR TROPICAL STORM WATCHES AND WARNINGS ARE ISSUED FOR YOUR TOWN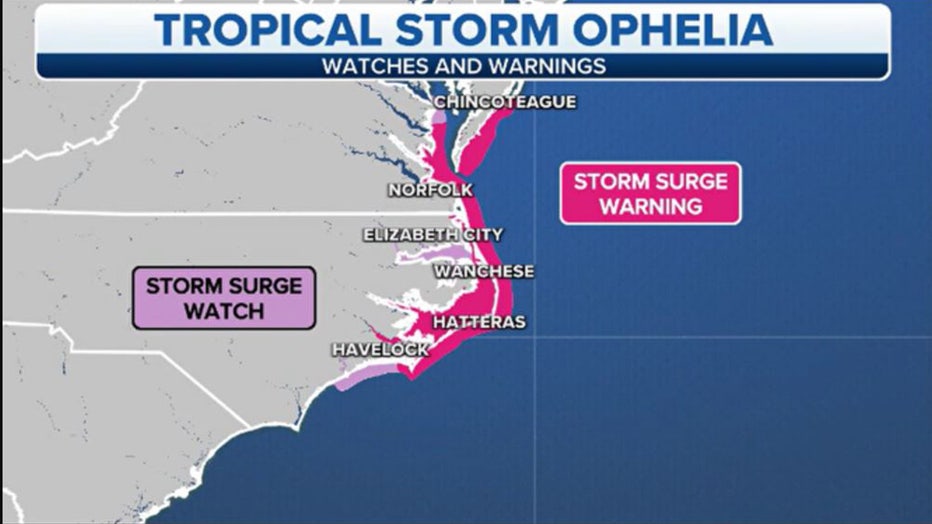 Storm Surge Watches and Warnings (FOX Weather)
Meanwhile, in the farther inland waters, Coastal Flood Advisories are in effect Friday night into Saturday morning, including Washington, D.C. 
Some shoreline inundation up to about a half foot is expected in the nation's capital along portions of the seawall adjacent to Ohio Drive and Hains Point Loop Road, according to the National Weather Service. Farther south, closer to the ocean, waters may reach 1-3 feet above tidal levels. Coastal flooding of 1-3 feet is also expected along the shores of Delaware and much of New Jersey.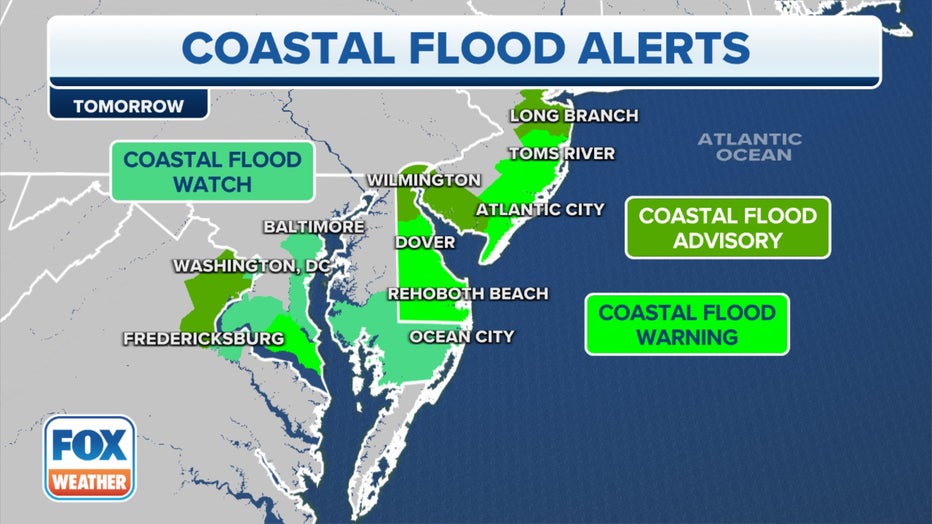 Coastal flood alerts for Tropical Storm Ophelia. (FOX Weather)
What is the forecast for Tropical Storm Ophelia?
The NHC has forecast Ophelia to track north-northeast and make landfall over eastern North Carolina early Saturday morning. Ophelia is expected to maintain tropical storm strength and travel north along the coast of Virginia and Maryland.
After the cyclone starts to feel the impacts of land, the potential tropical cyclone is expected to weaken and become a post-tropical cyclone Sunday.
No matter the classification, impacts will be felt along much of the Interstate 95 corridor, including Washington, D.C., and New York City. 
WHAT IS THE 'CONE OF UNCERTAINTY' IN HURRICANE FORECASTS?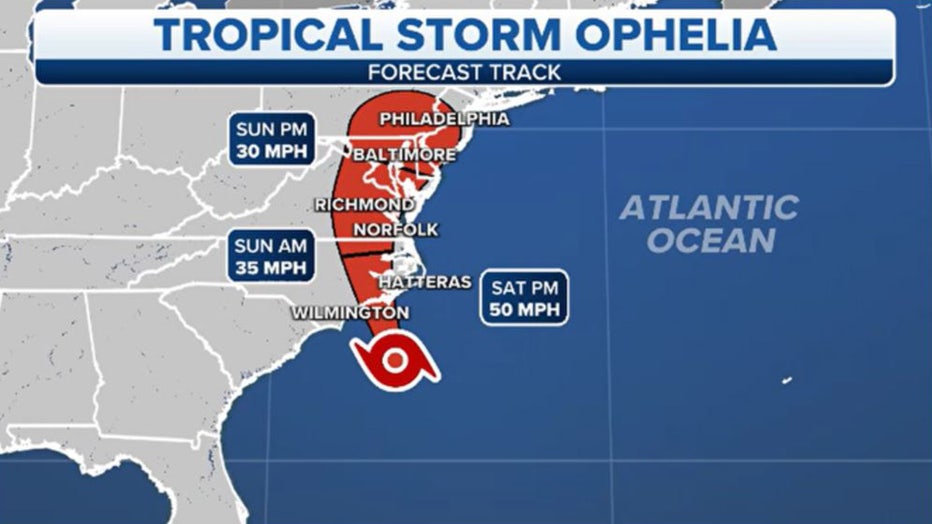 Ophelia storm track (FOX Weather)
What are the impacts of Tropical Storm Ophelia?
Ophelia will dump heavy rain on the mid-Atlantic and lash the area with strong winds and life-threatening storm surge along the coast, as well as produce heavy rain and even the possibility of isolated tornadoes. 
"There is the potential for life-threatening storm surge inundation from Surf City, North Carolina to Chincoteague, Virginia, the Pamlico and Albemarle Sounds, and the lower Chesapeake Bay," the NHC wrote.
HOW MUCH FLOOD WATER DOES IT TAKE TO DAMAGE A CAR? DOES IT MATTER IF IT IS SALT OR FRESH?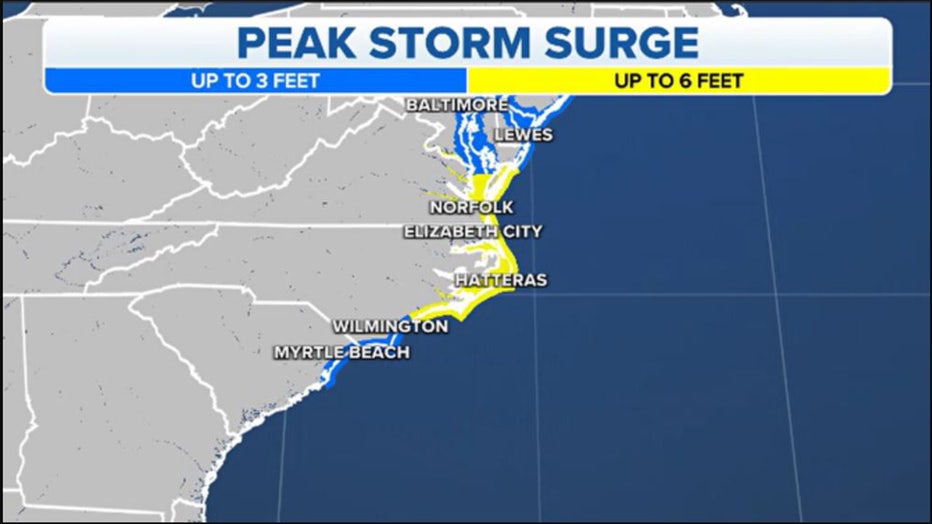 Peak storm surge (FOX Weather)
Several inches of rain are expected to fall from North Carolina to the Northeast and New England during the event, and strong winds pushing in from the ocean could cause coastal flooding. NOAA's Storm Prediction Center has also issued a Level 2 out of 5 risk for severe thunderstorms, including a risk of tornadoes, for coastal North Carolina on Friday.
Two to 4 inches of rain, with locally higher amounts of up to 7 inches, are forecast across eastern portions of the mid-Atlantic states from North Carolina to New Jersey.
THE HISTORY OF TROPICAL CYCLONES NAMED OPHELIA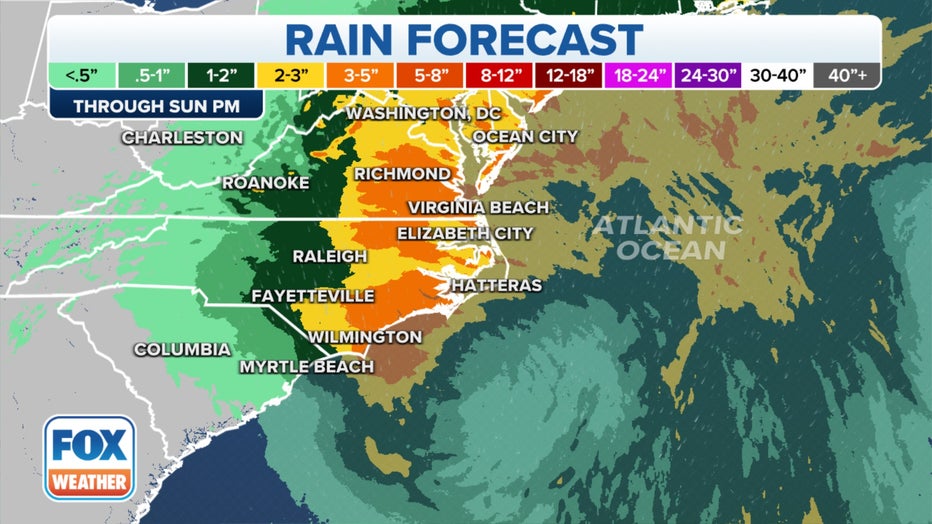 Potential rain from Tropical Storm Ophelia. (FOX Weather)
"Heavy rainfall from this system could produce localized urban and small stream flooding impacts across the eastern mid-Atlantic states from North Carolina to New Jersey Friday through Sunday," wrote the NHC.
Parts of the Northeast and southern New England could also see rainfall totals of 2–3 inches with locally higher amounts.
Power outages are also a concern due to the whipping winds that could bring down trees onto power lines.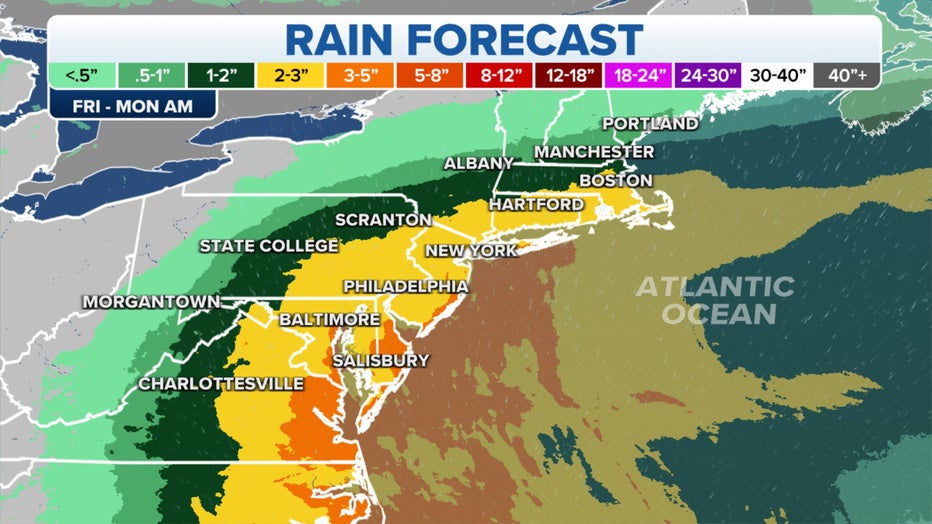 Potential rain from Tropical Storm Ophelia. (FOX Weather)
Impacts from Ophelia
Overwash was reported along State Highway 12 that runs through the Outer Banks. The North Carolina Department of Transportation said, "Our crews are out clearing sand and water from the roadway where they can. The road is open and passable, but if you must be out today, drive with extreme caution as there will be sand and water on the roadway, as well as our heavy equipment. Slow down, stay safe!"
Some the highest reported wind gusts of the event so far during the event:
Fayetteville 37 MPH
Burlington and Maxton 36 MPH
Fort Liberty 34 MPH
Fayetteville 32 MPH
Greensboro, Hoffman, Siler City 31 MPH
Asheboro, Raleigh Durham, Sanford and Albemarle 30 MPH
State Highway 12 in Cedar Island, North Carolina, was flooded on Friday by Ophelia's storm surge. Coastal flooding of the roadway is common during significant storms such as hurricanes, strong tropical storms and nor'easters.
NCDOT said if drivers much venture they must use extreme caution, especially on rural, coastal roadways.