Portland sees snowiest day since World War II as rare Blizzard Warning issued for Los Angeles-area mountains
PORTLAND, Ore. - Rare Blizzard Warnings have been issued for parts of Southern California as a powerful winter storm is expected to snarl travel through the weekend.
According to the FOX Forecast Center, this is the first Blizzard Warning for the mountains of Los Angeles and Ventura counties since 1989. As much as 5 feet of snow and wind gusts to 75 mph are expected in those mountains. The highest elevations could see up to 7 feet of snow. This dangerous combination of heavy snow and high winds will be blinding.
"Your eyes are not deceiving you," FOX Weather meteorologist Britta Merwin said. "All the way down in Southern California, that orange box is a Blizzard Warning that's in effect for Friday morning until 4 p.m. on Saturday afternoon."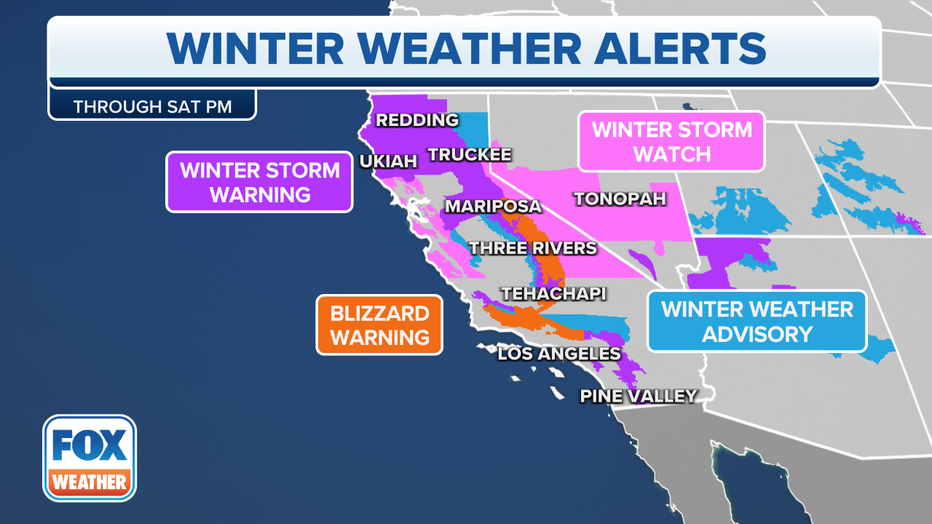 Here's a look at the winter weather alerts posted through Saturday, Feb. 25, 2023.
The National Weather Service also issued Blizzard Warnings for the higher elevations across Santa Barbara and Fresno counties through Saturday afternoon.
Yosemite and Sequoia National Parks are included in the Blizzard Warnings as well. The FOX Forecast Center warned that 60-mph wind gusts could lower wind chills to 40 below zero, which can cause frostbite on exposed skin in 10 minutes.
Portland, Oregon, reports second-snowiest day on record
Already, the storm has packed a punch in the Pacific Northwest. Portland, Oregon, had its second-snowiest day on record Wednesday as 10.8 inches piled up in the city. The only snowier day was during World War II, when 14.4 inches of snow was measured on Jan. 21, 1943.
As the storm heads south into California, snow, gusty winds and even thunderstorms will impact much of the Golden State beginning on Thursday. The weather will get even more intense Friday and Saturday as the low-pressure system strengthens.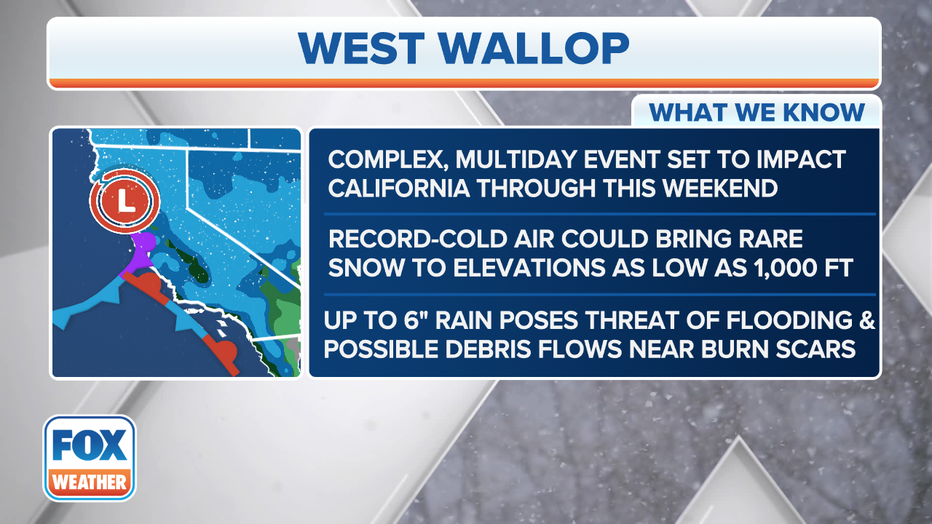 A dynamic and unusual period of weather is expected in California starting Thursday and lasting into the weekend. (FOX Weather)
Snow
Northern California
The impressive cold will lead to a significant lowering of snow levels. 
While snow above 3,000 feet is fairly common, snow levels for this event could drop as low as 1,000 feet or even 500 feet in some places. This would lead to snow in places that don't usually see it, including the North Bay Mountains, Santa Cruz Mountains and the Diablo Range in the San Francisco Bay Area. According to the FOX Forecast Center, San Francisco will see only rain from this event.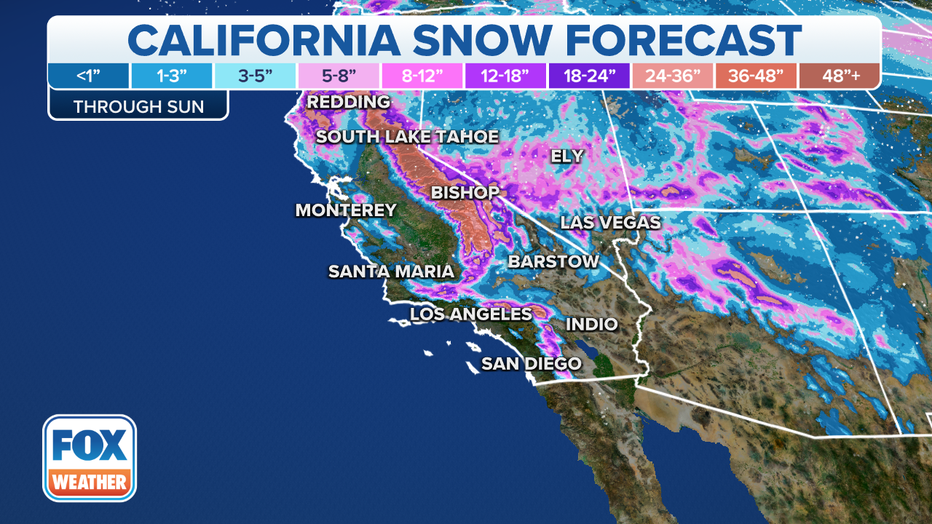 Here's a look at the snow forecast through Sunday in California.
For higher elevations above 3,000 feet, between 8 and 12 inches of snow can be expected. The Sierra Nevada mountain range could pick up 4 feet of snow. 
Grass Valley, California, in Nevada County, hasn't seen a foot of snow since 2001. Its average high for this time of year is 55 degrees.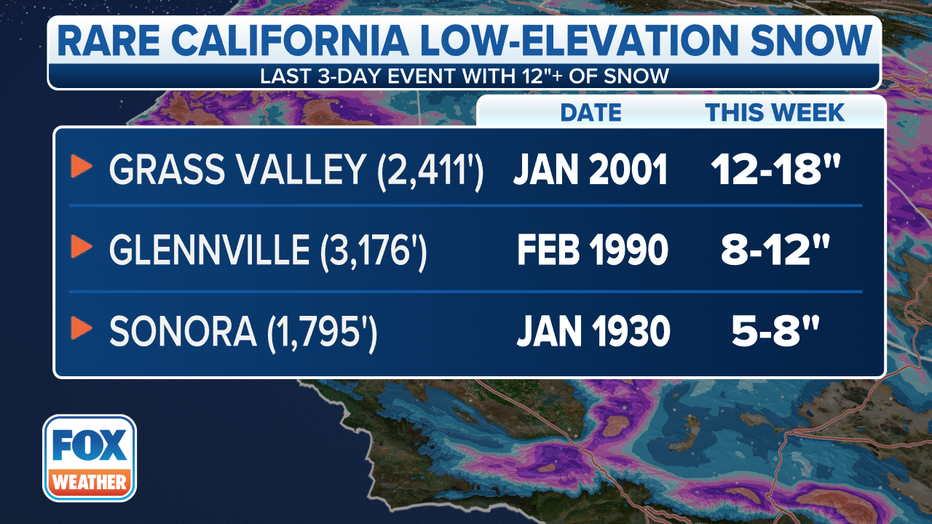 Here's a look at the rare low-elevaton snow forecast through Sunday in California.
Southern California
Coastal ranges in the Blizzard Warning will see heavy snow Friday and Saturday. Snow levels will be around 3,000 to 4,000 feet.
"The storm has the potential for dropping historic amounts of snow for a 24 to 36-hour period from Friday through Saturday," the NWS office in Los Angeles wrote in a forecast discussion.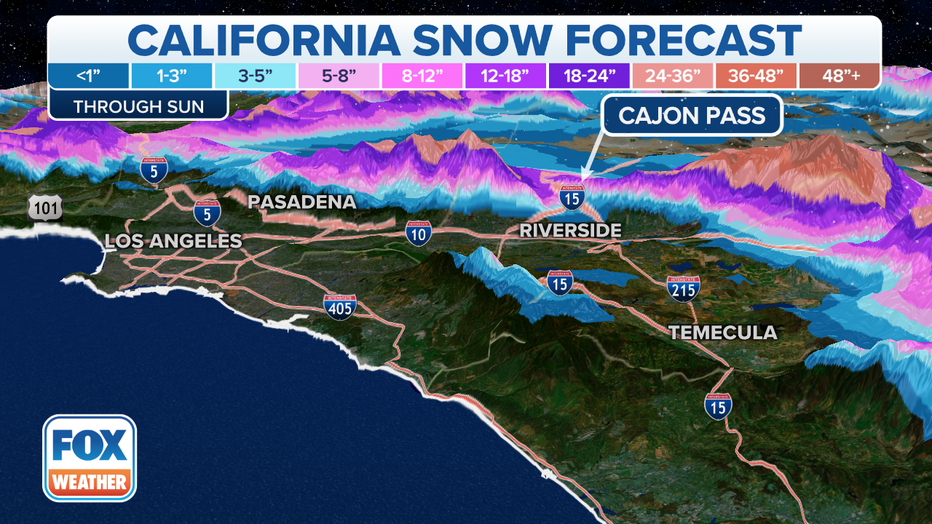 Here's a look at the rare low-elevaton snow forecast through Sunday in California.
Depending on the elevation, between 2 and 5 feet of snow could fall, with as much as 7 feet collecting at the highest elevations. Along the coast, the FOX Forecast Center expects rainfall rates to reach about 1 inch per hour at times.
Paired with up to hurricane-force wind gusts, travel will be treacherous, with near-whiteout conditions in some areas.
High winds
Winds will be gusty throughout most of California as the storm system strengthens offshore. Valleys and lowlands will see widespread gusts between 35 and 50 mph. Mountains could feel hurricane-force wind gusts to 75 mph.
The NWS posted High Wind Warnings and Wind Advisories from California to the Four Corners region and the southern High Plains. Areas as far east as New Mexico could endure gusts to 85 mph.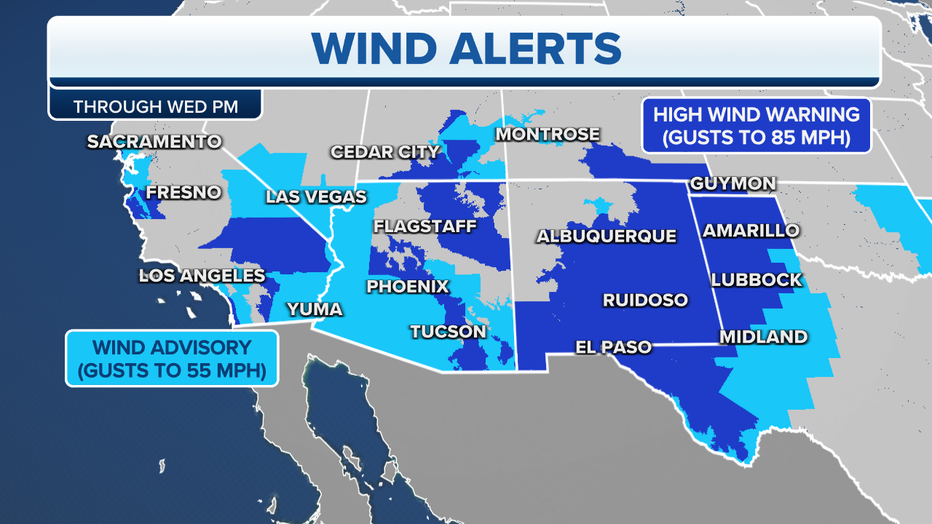 Wind alerts have been issued throughout the Southwest.
Flooding rain
The NWS issued Flood Watches for lower elevations along the coastal ranges in Los Angeles and Santa Barbara counties for Friday and Saturday.
"The lower snow levels will limit the amount of water coming down off the mountains in the short term. However, with the potential for one inch per hour rates and thunderstorms and the longer duration of heavy rain, flooding or flash flooding is possible just about anywhere, not just in burn areas," the NWS office in Los Angeles wrote in a forecast discussion.
Computer forecast models suggest 1-inch-per-hour rainfall rates are likely. Coasts and valleys are forecast to receive between 2 and 5 inches of rain. South-facing mountains could see as much as 5 to 10 inches of rain.
Local rivers are in jeopardy of exceeding flood stage.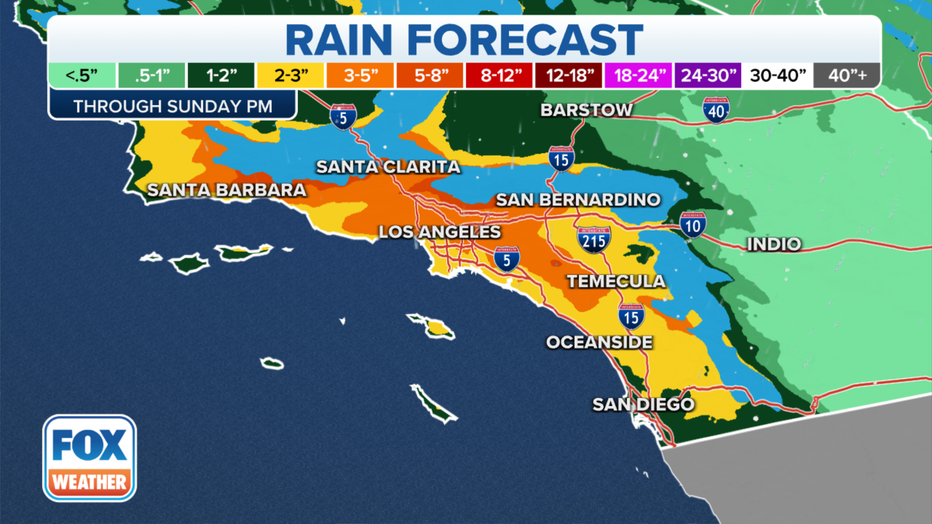 The rainfall forecast in California through Sunday. (FOX Weather)
Heavy rain paired with high winds will mean downed trees and power lines are possible.
Additionally, the FOX Forecast Center believes that the position of the upper-level area of low pressure will raise the chance of thunderstorms containing hail from later Friday into Saturday.
Bitterly cold temperatures
If the snow, thunderstorms and winds weren't enough, the West will also see a significant blast of cold air with this system. 
Many record-cold highs, which is the lowest high temperature recorded on a particular date, will be shattered on Thursday. This includes major metros like San Francisco and Los Angeles. 
This will equate to highs in the 30s and 40s, which is 10 to 20 degrees below average for this time of year.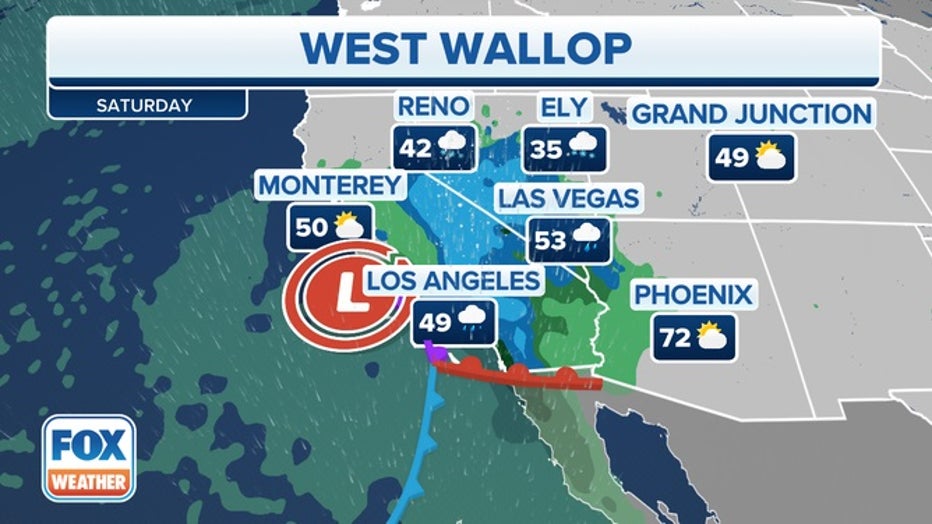 If the snow, thunderstorms and winds weren't enough, the West will also see a significant blast of cold air with this system.  (FOX Weather)