Hurricane Lee threatens New England with tropical-storm-force winds, dangerous surf over weekend
A Tropical Storm Watch has been issued for Bermuda as powerful Hurricane Lee continues to churn in the open waters of the Atlantic Ocean, and as the once Category 5 hurricane gets ready to make a turn to the north, millions of people in New England will need to begin to prepare for potential impacts including possible tropical-storm-force winds, dangerous surf and life-threatening rip currents. 
A U.S. landfall from Hurricane Lee is not expected as of the latest National Hurricane Center (NHC) advisory and instead, the forecast calls for Lee to hit Canada. But on Monday, land was included in Lee's forecast cone for the first time in the storm's history.
Forecasters expect Hurricane Lee to continue weakening as it moves closer to New England and become extratropical, so for those living in New England the potential impacts will be more like a nor'easter during the winter rather than a land-falling hurricane.
There is also the potential for those areas to see tropical-storm-force winds of 40 mph or greater. Large waves, too, will be slamming up against the shore, bringing the risk of beach erosion and coastal flooding.
Where is Hurricane Lee?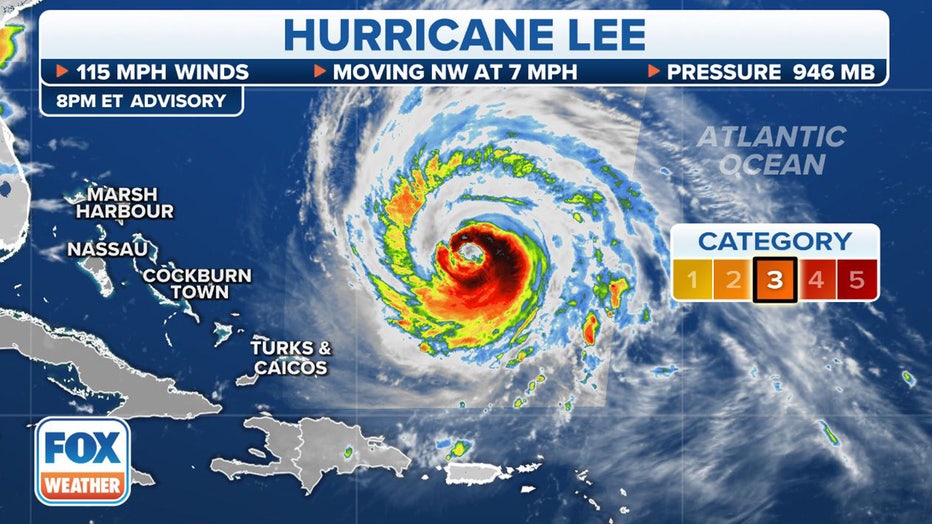 Where Hurricane Lee currently is. (FOX Weather)
As of the latest NHC advisory, Hurricane Lee is located about 515 miles south-southwest of Bermuda and is moving to the northwest at 7 mph and has maximum sustained winds of 115 mph, making it a Category 3 hurricane on the Saffir-Simpson Hurricane Wind Scale.
Slow weakening is forecast to begin over the next two days, but Lee is still expected to remain a large and powerful hurricane, according to the NHC.
What is the forecast track for Hurricane Lee?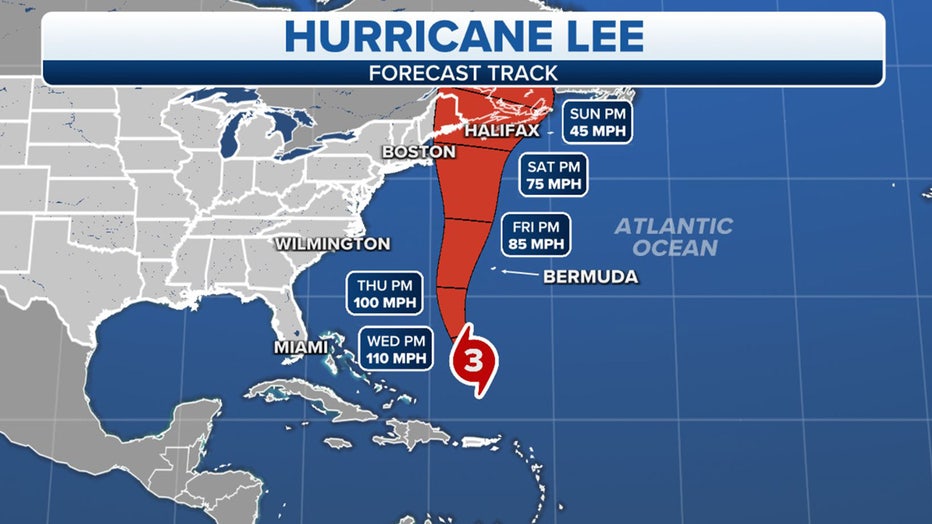 Hurricane Lee forecast track. (FOX Weather)
The NHC said Hurricane Lee will continue its slow west-northwest to northwest movement for the next day or so before it begins a turn to the north on Thursday. On that track, Lee is expected to pass near but to the west of Bermuda.
The storm is then expected to continue north well off the mid-Atlantic and Northeast coast for the rest of the week, reaching Nova Scotia by Sunday morning.
What Watches or Warnings are in effect due to Hurricane Lee?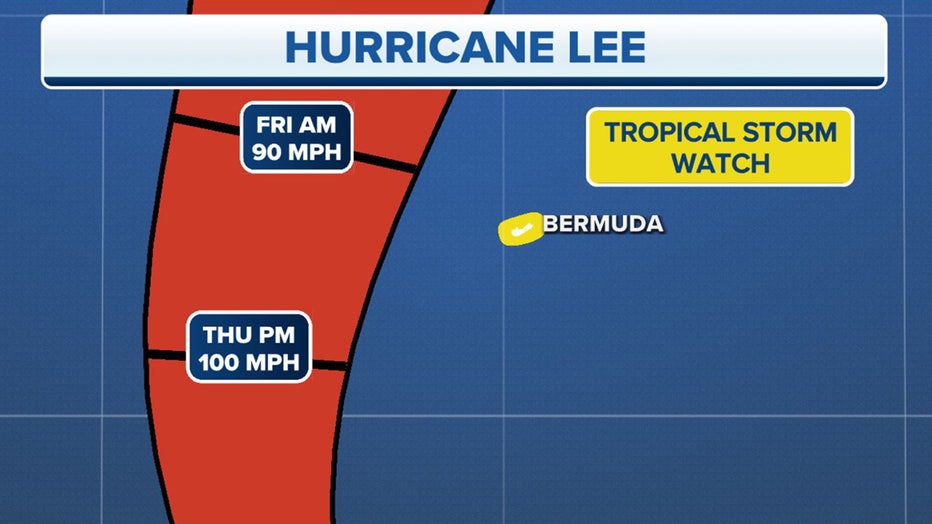 Current Tropical Storm Watches in effect as Hurricane Lee nears Bermuda. (FOX Weather)
The NHC says a Tropical Storm Watch was issued for Bermuda that will remain in effect until further notice.
A Tropical Storm Watch means tropical-storm-force winds (sustained winds of 39 to 73 mph) are possible within 48 hours. Those winds may also be accompanied by a storm surge, coastal flooding and/or river flooding.
In addition, the NHC said interests in the Northeast and New England, as well as Atlantic Canada, should continue to monitor the progress of Hurricane Lee.
What will Lee's impact be in New England?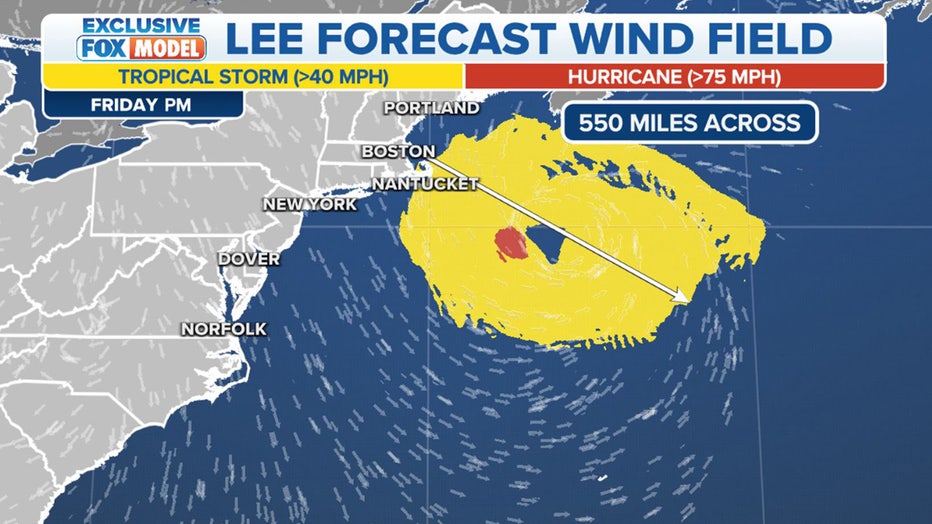 Lee's forecast wind field. (FOX Weather)
Hurricane Lee is expected to begin to pick up forward speed after it makes its turn to the north, and as it does so, the storm's wind field is expected to grow in size.
The FOX Forecast Center expects Lee's wind field to extend more than 550 miles across, which would make impacts far-reaching in New England.
HURRICANE LEE LIVE TRACKER: SATELLITES SPAGHETTI COMPUTER MODELS, CONE OF CONCERN AND MORE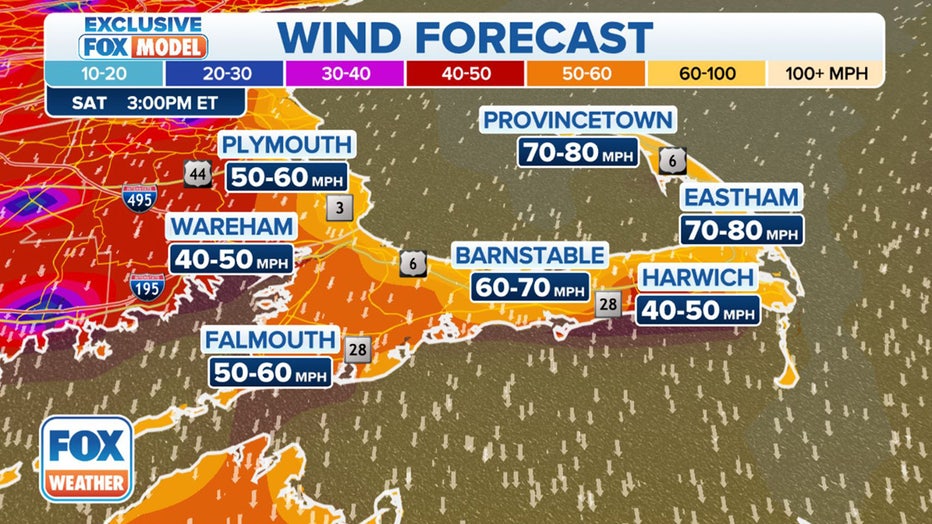 Potential wind gusts in eastern Massachusetts and Cape Cod. (FOX Weather)
Winds could be whipping across eastern Massachusetts and Cape Cod as Lee makes its move. The strongest wind gusts will likely be felt on Cape Cod in communities such as Provincetown, Eastham, Barnstable and Harwich.
"Lee is going to start to undergo extratropical transition where it becomes less like a hurricane and more like a nor'easter, which folks up in New England are familiar with in the colder time of the year," National Hurricane Center Director Michael Brennan told FOX Weather on Monday. "So, those can be impactful storms, too. Just because it doesn't look like a classic hurricane – nothing that gets up into this latitude is going to look like a classic hurricane. It's going to be fast-moving, and it's going to have hazards extending hundreds of miles from the center, regardless of the track of the center."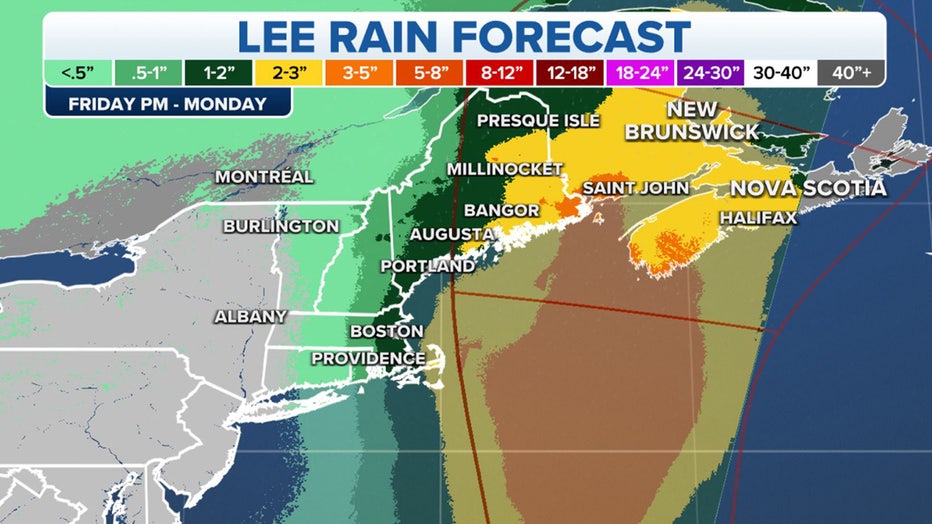 Forecast rain totals from Hurricane Lee. (FOX Weather)
Most of the heavy rain is expected to fall over Atlantic Canada, but depending on Hurricane Lee's track a few inches of rain could fall in New England.
Coastal regions from Massachusetts to Maine will see the highest rain totals, with Massachusetts, New Hampshire and most of Maine seeing about 1-2 inches. However, eastern Maine could see more with forecast totals between 2-3 inches.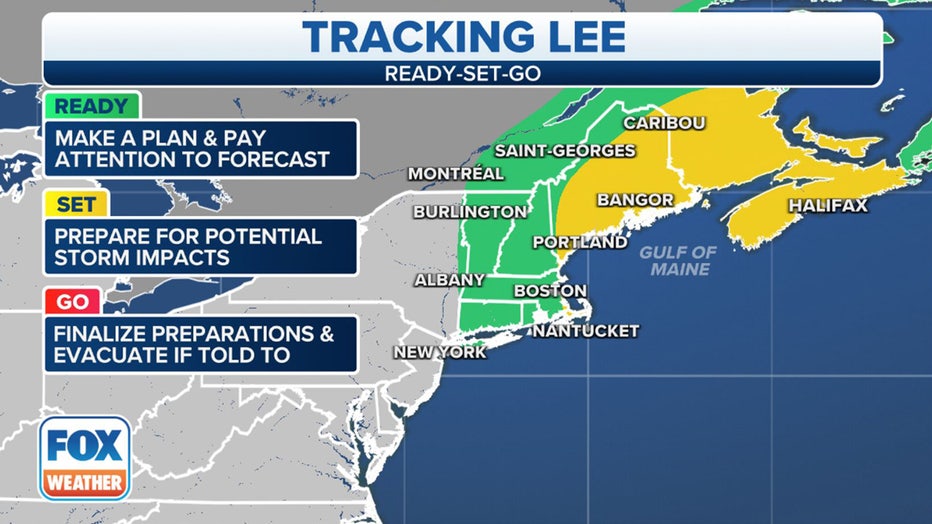 Millions of people in New England should be monitoring Hurricane Lee's progress as the storm moves to the north later this week. (FOX Weather)
People living in New England still have a few days to prepare for any potential impacts Lee will have on the region, but time is running out.
And while potential impacts could be seen in all parts of New England, residents along the Massachusetts coast as well as those who live in Maine should pay attention to Lee's progress and get a plan of action ready to go.