WATCH: Chicago's Wills Tower zapped by lightning amid severe storms
CHICAGO - The Chicago area has been battered with multiple rounds of severe weather over the last several days, with large hail, vivid lightning, strong winds and even a deadly tornado in its outer suburbs.
The Windy City has been inside Severe Thunderstorms Warnings both Tuesday and Wednesday, with lightning bolts dancing across the skyline Tuesday night. Photographer Craig Shimala captured several vivid bolts around 10 p.m. Tuesday during one such Severe Thunderstorm Warning, including one strike hitting the Willis Tower.
Shimala told Storyful that the city "had quite the light show" and described the strike as "one of the biggest" he'd seen in a long time.
"Even though my camera had a tight view of the Willis Tower you can still take in how large this giant bolt of lightning was," Shimala said. "If the frame was wider, you would have seen the lightning reach out and strike multiple parts of the city all within a couple seconds."
Data from Vaisala's lightning detection network shows there were not one, but five lightning strikes of buildings on and around the Willis Tower just within the first 5 minutes of the 10 p.m. hour Tuesday.
What's more: Dr. Scott Mackaro, Vaisala's Head of Innovation, told FOX Weather their equipment detected 1,106 lightning strikes within 30 miles of Downtown Chicago Tuesday night in the hour surrounding the Willis Tower strike -- of which 440 bolts hit the ground somewhere! Yikes!
For the entire day, Chicago witnessed 4,131 flashes of lightning -- of which 828 hit the ground somewhere within 30 miles of downtown. This is why they say when thunder roars, go indoors.
The skies were no less ominous after day broke on Wednesday with an eerie shelf cloud spotted atop the Willis Tower approaching the city ahead of yet another line of thunderstorms.
These clouds are formed from strong winds rushing ahead from the downdrafts of approaching thunderstorms. Heavy rain and gusts up to 46 mph rolled through town as this cell moved through.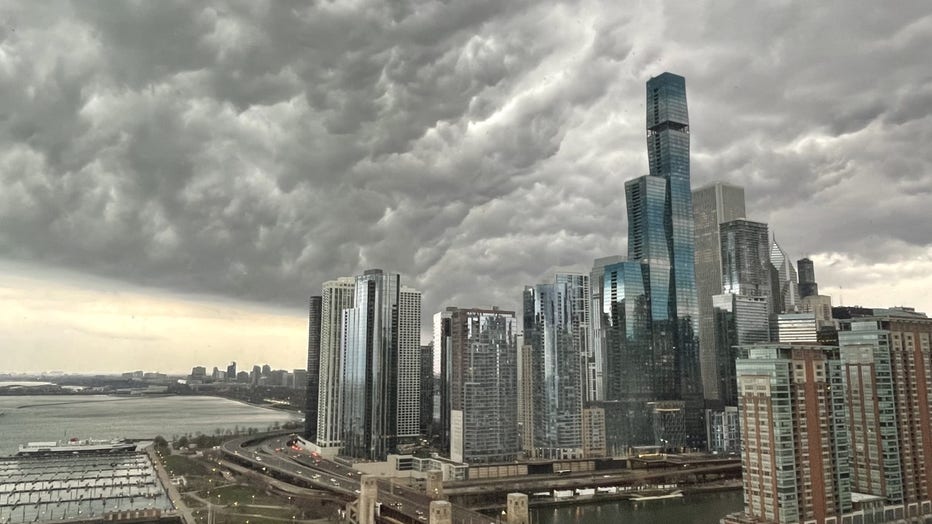 Dark shelf clouds rolling over Lake Michigan ahead of Wednesday morning's thunderstorms. Photo Courtesy of Johnny O
The stormy weather again prompted a temporary ground stop at O'Hare Airport, adding another day of delays to one of the nation's busiest airports just roughly 18 hours after storms had triggered ground stop delays Tuesday.
In addition to quite a bit of lightning, the storms brought large hail to the area on Tuesday. While hail was "only" reported at penny-sized at O'Hare Tuesday, up to ping-pong-sized hail was reported in the Chicago suburbs, while golf-ball-sized hail or larger was found in northwestern Illinois, including Aurora.
Golf-ball-size hail falls in Aurora Tuesday. Photos Courtesy of Allan Benson
Of course, the stormy two-day severe weather outbreak comes just four days after another round of severe weather led to a deadly tornado in the Chicago suburb of Belvidere. Hundreds of fans were packed into the city's Apollo Theater when a tornado struck, causing the roof to partially collapse, leaving one dead and 48 injured.