Women's World Cup: Spain advances to first-ever World Cup final with win over Sweden | August 15, 2023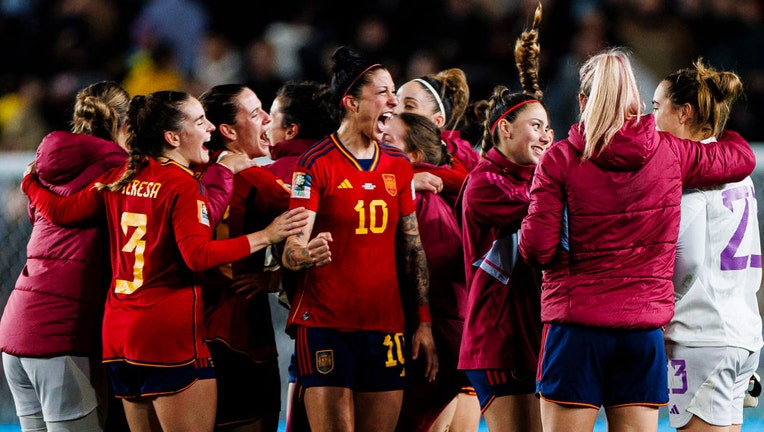 article
CHICAGO - The FIFA Women's World Cup only happens once every four years, and whether you're a soccer devotee or someone who just tunes in when the Cup comes around, you won't want to miss the action. Never fear: We've got you covered.
Every day through the Final on August 20, FOX Digital will be breaking down the details on all the can't-miss matches, players to watch and other essential details. What's next: Can the stalwart Swedes finally make a break for the top of the podium – or will the determined Spanish side keep them at bay?
Watch the 2023 FIFA Women's World Cup only on FOX and FS1.
Women's World Cup matches on August 15, 2023
With only four matches remaining, the 2023 FIFA Women's World Cup schedule has become much less grueling. Here's the lone fixture scheduled for this matchday:
Spain vs. Sweden (winner of group G) Final score: Spain 2 Sweden 1
           Watch the replay of Spain vs. Sweden here 
For details on the results of concluded matches, scroll down to the 'Soccer spoilers' section. 
RELATED: Can Sweden finally get over the hump and win the World Cup?
Spain vs. Sweden: What to watch for 
From here on out, every match has the potential to be a barnburner – this one in particular. On the one side, you've got Spain, confident and aggressive. The team currently sitting atop the FOX Sports Women's World Cup power rankings includes three contenders for the Golden Boot (they're tied for third with three goals apiece), and that's not counting mega-star Alexia Putellas. They've been playing hard and, give or take one early defeat at the hands of the Japanese, getting results. 
Here's how Martin Rogers put it for FOX Sports: "Spain might be steadfast in its confidence that it's headed for World Cup glory, but that doesn't stop it from embracing the emotion of success when it comes.
"We have left our hearts and souls on the field," defender Ivana Andres said. "And our claws.""
RELATED: Spain talking a big game, backing it up with run to World Cup semifinals
On the other side, you've got the roster responsible for the ousting of the U.S. team (in the round of 16), as well as the Japanese side, who seemed to be unbeatable – until Sweden beat them. 
And this is familiar territory for the Swedes, who've been to the semis four times in the last six tournaments. As FOX Sports notes, they've also "reached the semifinal eight times in the last 10 European Championship" and earned silver medals at the last two Olympics – all that without ever securing the top spot. 
So there's an argument to be made that they're due. 
Nor is Sweden short on star-power. Striker Stina Blackstenius is as valuable to the Swedes on defense as she is scoring goals, and while Spain has its three triple-scorers, the Blue and Yellow have defender Amanda Ilestedt, whose four tournament goals make her the current favorite for the Golden Boot. (Hinata Miyazawa of Japan is still in the lead with five goals, but Japan's elimination means she won't be adding to that number; nor will France's Kadidiatou Diani, Jill Roord of the Netherlands or German star Alexandra Popp, who all exited the tourney with four goals apiece.) 
In short, the odds are that this will be a thumping good match. Set your coffee-maker to start automatically while you sneak a little extra sleep before tuning in at 4 a.m. EST, only on FOX.
RELATED: Amanda Ilestedt found scoring knack at perfect time for Sweden
Players to watch: August 15
Spain: Alexia Putellas, midfielder
This back-to-back Ballon d'Or winner is one of the best players on the planet, period. FIFA calls her a " skilful playmaker [who is] equipped with a mesmerizing left foot and an unerring ability to decisively affect matches by creating viable scoring opportunities for herself and her team-mates," while FOX Sports says that, like Beyoncé, Britney and Cher, "her one-name status as 'Alexia' is well-earned."
Also of note: Teammates Jennifer Hermoso Fuentes, Aitana Bonmati and Alba Maria Redondo Ferrer have knocked down three goals apiece so far. And 19-year-old Salma Paralluelo, who came off the bench to score Spain's game-winning goal against the Netherlands, certainly knows how to make an entrance.
Sweden: Stina Blackstenius, striker
"I always say that one of my best defenders is our center forward," FIFA quotes coach Peter Gerhardsson as saying of this versatile Arsenal star. The player that soccer's governing body calls "the most potent attacker in Sweden's senior side" has dealt with some injuries of late, but "if she can arrive at the Women's World Cup fit and firing, Sweden's opponents are all but certain to suffer the consequences."
Also of note: Amanda Ilestedt's four goals of the tournament made her a frontrunner for the Golden Boot. 
RELATED: Golden Boot race tracker: 2023 Women's World Cup top scorers
What teams are still in the 2023 Women's World Cup?
Spain
Australia
England
What teams have been eliminated in the knockout phase of the 2023 Women's World Cup? 
Switzerland
Sweden
South Africa
Norway
United States
Denmark
Nigeria
Jamaica
Morocco
The Netherlands
Japan
Colombia
France
How is third place determined?
Great news, sports fans – third place is decided with another match! The teams defeated in their semifinal matches will go head-to-head on Saturday, August 19; the winner gets the honor of being second runner-up. 
Where is the 2023 Women's World Cup taking place?
The eyes (and cameras) of the world have turned toward host countries Australia and New Zealand. 
In what time zone is the Women's World Cup taking place?
Well, there's more than one time zone involved, as the battles for the Cup will take place in 10 stadiums in two countries. But suffice it to say that you're looking at times that are anywhere from 12 hours (for matches in Perth, Australia) to 16 hours (all New Zealand-based matches) ahead of EST. 
That means some matches – like Nigeria vs. Canada, the first match of day two (July 21) – will be played early in the day locally but air on what's technically the evening before in the U.S. (in this case, July 20). Who said there's no such thing as time travel?
RELATED:Megan Rapinoe on missed penalty: 'That's like a sick joke'
Where can you stream the FIFA Women's World Cup?
We're living in the future, baby! All matches will be live-streamed on FOXSports.com and via the FOX Sports app, and full replays will also be available. So if you're not into watching soccer at 3 a.m., you're covered! 
How can I watch the FIFA Women's World Cup on live TV?
The FIFA Women's World Cup will air on FOX and FS1. The complete schedule awaits your perusal at FOXSports.com. In addition to all FIFA Women's World Cup matches, head to your preferred FOX platform for game highlights, replays, stats, player stories, analysis and more. 
How does the knockout phase work in the Women's World Cup?
Good question! It's a lot simpler than the knockout phase. From here on out, every match is a "get it done or go home" situation – a loss means it's the end of the line. 
But what does that mean in a sport that often ends in a tie, and in a tournament that's seen plenty of them? It still means every showdown is a must-win – it's just that the matches will last longer. Here's the exact rule, per FIFA: 
"In the knockout stages, if a match is level at the end of normal playing time, extra time shall be played. Extra time shall consist of two 15-minute periods, with an interval not exceeding five minutes before the first period of extra time begins and a short drinks break (interval) not exceeding one minute at half-time. The players shall remain on the pitch during both of these intervals. 
"If the score is still level at the end of extra time, kicks from the penalty mark shall be taken to determine the winner, in accordance with the procedure specified in the Laws of the Game."
In short, play continues for up to another 30 minutes, and if it's still tied at the end of that half-hour, it's time for penalty-kick-a-palooza.
RELATED: 2023 Women's World Cup betting primer: How to bet on soccer
When does Team USA play next?
In the Women's World Cup? 2027. 
Soccer spoilers: today's results
Spain vs. Sweden: Both teams entered the match unscathed, and it was even for most of the match until a flurry of activity from the 80th minute and beyond where there were three goals scored in just 10 minutes of game action.
For Spain, the win gives the team its first-ever final appearance at the World Cup, led by young superstar Salma Paralluelo, who delivered the first goal of the match for Spain. Later Olga Carmona would add the winner for Spain just one minute after Rebecka Blomqvist knotted the game for Sweden. 
Watch this space!
Watch the 2023 FIFA Women's World Cup only on FOX and FS1.