Women's World Cup: Spain edges Netherlands to reach semifinals | August 10, 2023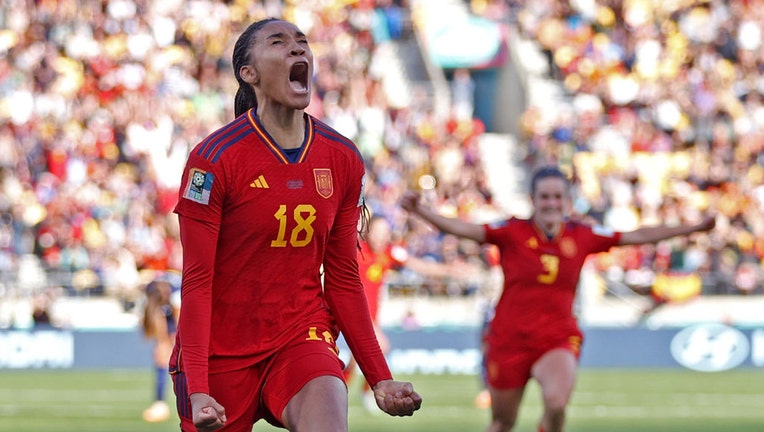 article
CHICAGO - The FIFA Women's World Cup only happens once every four years, and whether you're a soccer devotee or someone who just tunes in when the Cup comes around, you won't want to miss the action. Never fear: We've got you covered.
Every day through the Final on August 20, FOX Digital will be breaking down the details on all the can't-miss matches, players to watch and other essential details. What's next: An offensive powerhouse squares off against an imposing defense. 
Watch the 2023 FIFA Women's World Cup only on FOX and FS1.
Women's World Cup matches on August 10, 2023
Day 22 of the 2023 FIFA Women's World Cup features one match – the first of the quarterfinals.
Spain vs. the Netherlands Final score: Spain 2 Netherlands 1
          Watch the replay of Spain vs. Netherlands here
For details on the results of concluded matches, scroll down to the 'Soccer spoilers' section. 
RELATED: Women's World Cup power rankings: Where does each quarterfinals team land?
Match spotlight: Spain vs. Netherlands
It's the quarterfinals, so every match from here on out is going to be a good one. But these two teams, which are both strong overall, come into this match with very different hot streams in play. 
Spain has notched 13 goals in four matches, the second-most of any team in the tournament (after Japan). Additionally, three different players are within striking distance (pun intended) of the Golden Boot award: While none have matched the five goals scored by Japan's Hinata Miyazawa, no less than three La Roja players – Jennifer Hermosa Fuentes, Aitana Bonmati and Alba Maria Redondo Ferrer – have scored three goals each. 
Meanwhile, the Oranje are also no slouches in this department, with 11 goals in the tourney thus far, a number which places them third behind Japan and Spain. (And speaking of the Golden Booth, Netherlands midfielder Jill Roord is also in the mix with four goals.) But when it comes to goals conceded, the Dutch are perched right on top. Technically, the single goal they've allowed ties the Netherlands with eight other teams for first, but of those eight, only three others (England, Japan and Sweden) are still alive. 
What's the old question about an unstoppable force meeting an immovable object? This match may give us something of an answer. 
In short, the first quarterfinal match of the 2023 FIFA Women's World Cup has makings of a barn-burner – and that's before you take into account the presence of superstars like Alexia Putellas (Spain) and Lieke Martens (the Netherlands). And since it's in primetime (only on FOX), you won't even need coffee. 
RELATED: How USA's fate was sealed by goal-line technology
Women's World Cup: Upcoming quarterfinals matches
Saturday, August 12 
Australia vs. France, 3 a.m., FOX
England vs. Colombia, 6:30 a.m., FOX
RELATED: World Cup NOW: Should Sam Kerr start Australia's quarterfinal match?
Players to watch: August 10
Netherlands: Lieke Martens, forward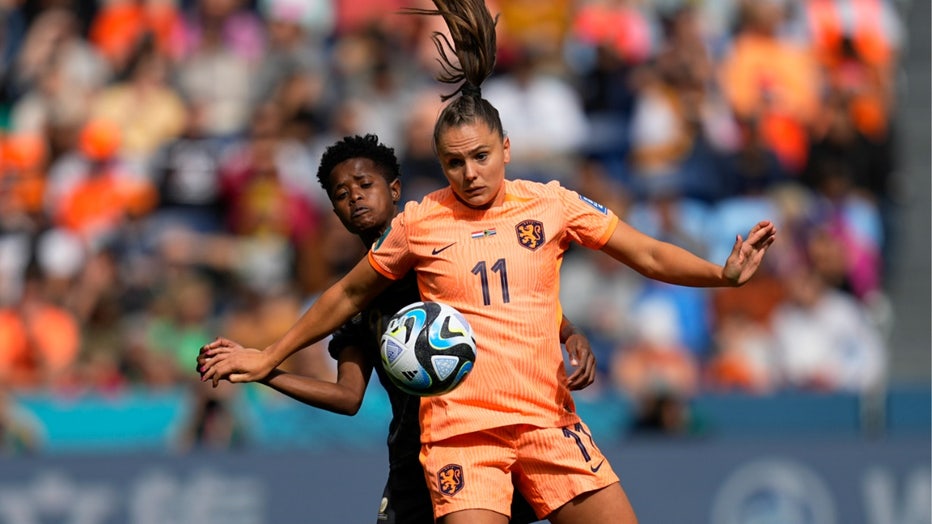 SYDNEY, AUSTRALIA - AUGUST 6: Lieke Martens of Netherlands and Lebohang Ramalepe of South Africa battle for the ball during the FIFA Women's World Cup Australia & New Zealand 2023 Round of 16 match between Netherlands and South Africa at Sydney F (Getty Images)
Called "one of the most exciting attacking players of her generation" by FIFA, this former UEFA Player of the Year isn't her team's only source of firepower, but she's formidable – and not just as a goal-scorer. Now playing in her third WWC, FIFA praises the Paris Saint-Germain star's "exceptional ability to pass her way out of tight spaces," adding that her "pinpoint accuracy from long range and excellent reading of the game pulls opposition defenses out of shape, allowing the 30-year-old to create opportunities for her team-mates in the penalty area."
Also of note: Jill Roord, whose four goals in the tournament thus far put her in the mix for the Golden Boot.
Spain: Alexia Putellas, midfielder
This back-to-back Ballon d'Or winner is one of the best players on the planet, period. FIFA calls her a " skilful playmaker [who is] equipped with a mesmerizing left foot and an unerring ability to decisively affect matches by creating viable scoring opportunities for herself and her team-mates," while FOX Sports says that, like Beyoncé, Britney and Cher, "her one-name status as 'Alexia' is well-earned."
Also of note: Teammates Jennifer Hermosa Fuentes, Aitana Bonmati and Alba Maria Redondo Ferrer have knocked down three goals apiece so far.
RELATED: Golden Boot race tracker: 2023 Women's World Cup top scorers
What teams are still in the 2023 Women's World Cup?
Advanced to quarterfinals
Spain
Sweden
Australia
England
Colombia
France
What teams have been eliminated in the knockout phase of the 2023 Women's World Cup? 
Switzerland
South Africa
Netherlands
Japan
Norway
United States
Denmark
Nigeria
Jamaica
Morocco
Where is the 2023 Women's World Cup taking place?
The eyes (and cameras) of the world have turned toward host countries Australia and New Zealand. 
In what time zone is the Women's World Cup taking place?
Well, there's more than one time zone involved, as the battles for the Cup will take place in 10 stadiums in two countries. But suffice it to say that you're looking at times that are anywhere from 12 hours (for matches in Perth, Australia) to 16 hours (all New Zealand-based matches) ahead of EST. 
That means some matches – like Nigeria vs. Canada, the first match of day two (July 21) – will be played early in the day locally but air on what's technically the evening before in the U.S. (in this case, July 20). Who said there's no such thing as time travel?
RELATED:Megan Rapinoe on missed penalty: 'That's like a sick joke'
Where can you stream the FIFA Women's World Cup?
We're living in the future, baby! All matches will be live-streamed on FOXSports.com and via the FOX Sports app, and full replays will also be available. So if you're not into watching soccer at 3 a.m., you're covered! 
How can I watch the FIFA Women's World Cup on live TV?
The FIFA Women's World Cup will air on FOX and FS1. The complete schedule awaits your perusal at FOXSports.com. In addition to all FIFA Women's World Cup matches, head to your preferred FOX platform for game highlights, replays, stats, player stories, analysis and more. 
How does the knockout phase work in the Women's World Cup?
Good question! It's a lot simpler than the knockout phase. From here on out, every match is a "get it done or go home" situation – a loss means it's the end of the line. 
But what does that mean in a sport that often ends in a tie, and in a tournament that's seen plenty of them? It still means every showdown is a must-win – it's just that the matches will last longer. Here's the exact rule, per FIFA: 
"In the knockout stages, if a match is level at the end of normal playing time, extra time shall be played. Extra time shall consist of two 15-minute periods, with an interval not exceeding five minutes before the first period of extra time begins and a short drinks break (interval) not exceeding one minute at half-time. The players shall remain on the pitch during both of these intervals. 
"If the score is still level at the end of extra time, kicks from the penalty mark shall be taken to determine the winner, in accordance with the procedure specified in the Laws of the Game."
In short, play continues for up to another 30 minutes, and if it's still tied at the end of that half-hour, it's time for penalty-kick-a-palooza.
RELATED: 2023 Women's World Cup betting primer: How to bet on soccer
When does Team USA play next?
In the Women's World Cup? 2027. 
Soccer spoilers: today's results
Spain vs. Netherlands: Spain defeated the Netherlands 2-1 in the opening quarterfinal game at Wellington Regional Stadium in New Zealand.  Salma Paralluelo broke the tie for Spain, knocking in a goal on the left side of the net.  Stefanie Van der Gragt got away from the crowd and powered in the game-tying goal on the left side of the net for the Netherlands.
Spain advances to play Sweden in next week's semifinals. 
Watch this space!
Watch the 2023 FIFA Women's World Cup only on FOX and FS1.