How USWNT is prepping for Vietnam in World Cup opener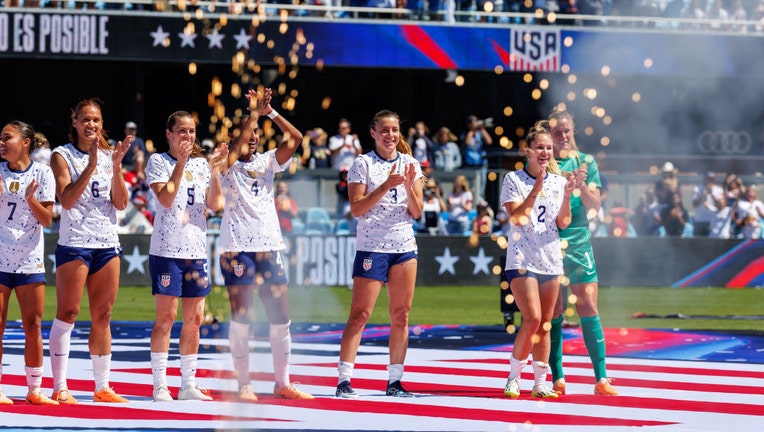 article
When Sophia Smith used to play World Cup video games growing up, she was always Team USA. 
It's hard to grasp this now, given the 22-year-old USWNT forward is on the brink of global superstardom, but Smith never could have imagined back then that she would be here today.
Playing in her first World Cup, she said, feels "surreal."
"I didn't really fully know that this could be me one day," Smith said this week. "So, yeah, I'm still kind of at a loss for words."
Smith is one of 14 World Cup newbies on the U.S. women's national team roster. The Americans are two-time defending champions and are intent on making history by completing a three-peat — something no men's or women's team has ever achieved in the World Cup. 
The USWNT's quest begins Friday (9 p.m. ET on FOX and the FOX Sports app) against Vietnam at Eden Park in Auckland.
There are high expectations for this U.S. side, as there always are. Even though she's never been on this particular stage, Smith is used to the spotlight by now. But she's not thinking about the Nike ads she has been in or being projected to win the Golden Boot, given to the tournament's leading goalscorer.
"I'm thinking about winning the World Cup," Smith said. "I'm thinking about winning the first game against Vietnam — whatever that looks like, whoever scores, whatever the score is. A win is a win. And that's the biggest thing to me as a team.
"If it takes me scoring a lot of goals for us to win, I'll do that. If it takes me playing a lot of defense, I'll do that. We all have the same goal, and it's to win, and it's to start off by beating Vietnam and whatever it takes to do that. Whoever it takes, whoever is on the field, we believe in everyone. So I'm not thinking about individual things like that."
Vietnam is making its World Cup debut and has never played the USWNT — not even in a past friendly match. While they are a bit of a "wildcard," as forward Lynn Williams described the squad this week, Vietnam has had some close results recently. This includes a 2-0 loss to co-host New Zealand earlier this month and a narrow 2-1 loss to Germany in June.
Four years ago, the USWNT went on a scoring frenzy in a 13-0 opening match rout of Thailand. While many pundits and analysts are predicting a similar outcome, the U.S. isn't so sure.
"You can't take them for granted," Williams said of Vietnam. "I think that every single opponent we come up against is going to be tough. Every single person is qualified [to play in] the World Cup. So, there's that.
"I think they're going to play a different style than we're used to, so it's just our ability to adapt. Obviously, every opponent we play we scout them, and then half the time it's not what we scouted."
The USWNT, which has won six of its opening eight World Cup matches, expects Vietnam to sit in a low block. This is a tactic teams use to be compact, protect their defensive third of the pitch and make it difficult for teams to make runs behind the back line. It's also a ploy many opponents like to implement against the U.S.
"A setup like that definitely requires some different tactics to break a team down," Smith said. "There's not a lot of running in behind. It's a lot of movement and little details going a long way. Whatever a team comes out in, we will be prepared, and we know what it will take to break that down. Every team is going to be different, and we're ready for that."
Vietnam captain Huynh Nhu has scored 67 goals in 103 appearances for her country and the Lank Vilaverdense attacker is the only player on this squad that doesn't play for a domestic club. She will be an early test for a U.S. back line that's playing its first World Cup match without Becky Sauerbrunn in more than a decade.
The USWNT has been in Auckland since July 11. Players have been training, recovering, watching film and taking many coffee breaks. 
At this point, on the eve of their first match, they know what to expect from Vietnam. They don't want to talk about the rest of their group stage opponents (the Netherlands and Portugal). They just want to get into the rhythm of the tournament.
"I'm trying to live in every single moment," said Williams, who is also playing in her first World Cup. "It's gonna get weird. It's already gotten a little weird. You've got to roll with it.
"I'm just trying to enjoy it and recognize the magnitude of what we're doing. Recognize how lucky we are to be here. But also recognize that at the end of the day, it's soccer. So when the nerves get going and you start to think, 'Holy crap, we're on the big stage!' [think of] the calmness and say, 'OK, this is just soccer and I have people to lean on.' I think that's what this group has done well. …
"So, I'm just excited for it to start. Like, I can't wait."2
Get the latest updates on this story at FOXSports.com. 
Laken Litman covers college football, college basketball and soccer for FOX Sports. She previously wrote for Sports Illustrated, USA Today and The Indianapolis Star. She is the author of "Strong Like a Woman," published in spring 2022 to mark the 50th anniversary of Title IX. Follow her on Twitter @LakenLitman.